Bastille 21/3/2013
Bastille, the London indie quartet, headlined a sold out Rock City on 21st and Lousia Clack went along for the ride.
bastille
lousia clack
pompeii
rescue rooms
Rock City
to kill a king
On arriving to the gig, even before the first support act was up, it was obvious to see why Bastille had been upgraded from Rescue Rooms.
Bastille, the London indie quartet, stormed Rock City this Thursday to greet its screaming masses in the biggest gig of their current headline tour.
Quietly but confidently Bastille have worked their way through the radio air waves since 2012. In this time they have collected an impressive fan base considering their debut studio album 'Bad Blood' was only released 4th March.
The Ramona Flowers were the first support act who gave a gutsy performance considering  the great sea of faces before them – check them out here
[youtube]Ihttp://www.youtube.com/watch?v=F5VRAsN4VH0[/youtube]
Second support act To Kill A King were pleasantly melodic but really caught the crowd's attention when Bastille themselves casually swanned onto the stage to join them in the soothing number 'Choices'.
This only further fuelled the audience's hunger and a steady chant of the band's name created an electric atmosphere.
Bastille they wanted and Bastille they got. Starting with a pounding performance of 'Bad Blood' followed by swaying techno lullaby 'Overjoyed', the hits kept coming and the band were treated to the entire of Rock City screaming the lyrics right back at them.
But even if you didn't know the words to the album then all of the 90's kids would certainly recognise their covers of City High 'What Would You Do' and  Snap! 'Rhythm is a Dancer' which instantly transformed the gathered hipsters back to their wildly dancing teen selves.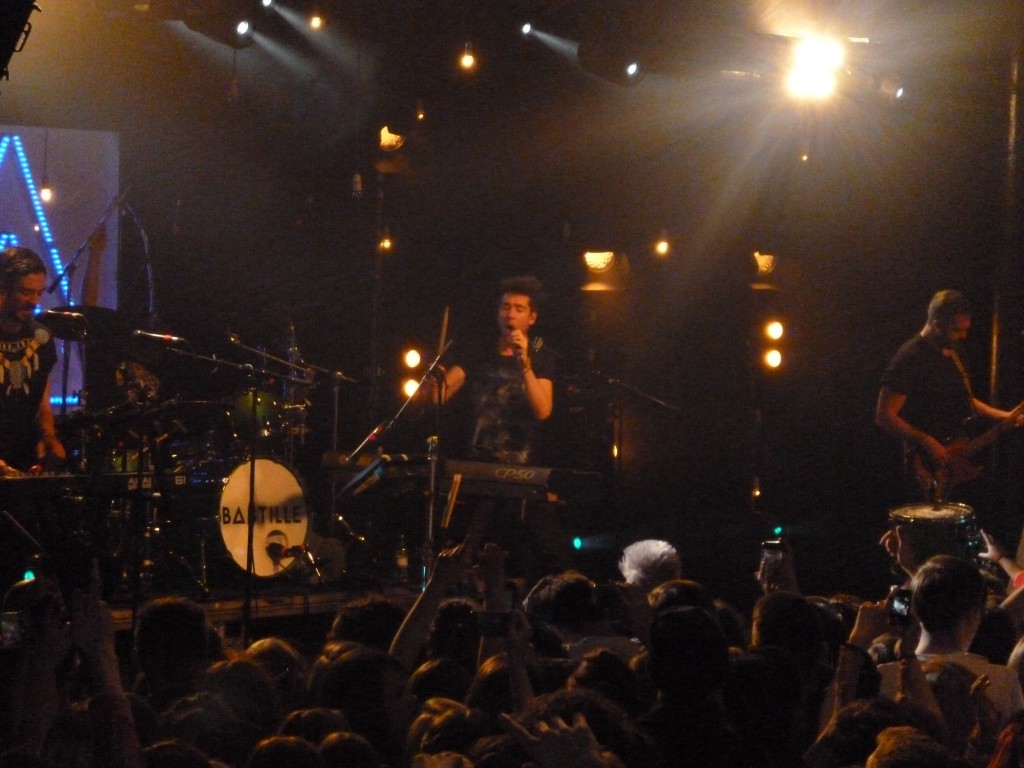 Ice well and truly broken, 'Thing We Lost In Fire' involved a fierce drum battle between the band members, increasingly dramatised by Rock City's incredible lighting effects – best track of the night for me.
Frontman Dan Smith was extremely modest throughout the gig , usually only throwing the crowd a few '"Y'right?"'s and LOTS of thank you's. However after the closing song 'Pompeii' and surged by his encore, he returned, not to the stage but walked through the whole of Rock City to sing 'Flaws', chased by several harassed looking techies. The noise was deafening but it was a brilliant end to electrifying gig.
Look out for Bastille this upcoming festival season; the future is bright for these London lads.