A Reverie: The Photoshoot
Sometimes inspiration doesn't come so easily. Especially when sitting in Hallward Library procrastinating and daydreaming whilst writing essays or dissertations. We ponder over the reasons why we are toiling away for hours and ask ourselves: Why am I applying for internships and trying to persuade employers to give me a chance? Why me and not any other person trying to stand out from the crowd and be that one lucky person, their missing jigsaw piece?
Everyone wants that particular confidence that comes hand in hand with success. We all have a dream. To be a banker at Morgan Stanley, a lawyer at Linklaters or a journalist at Vogue.
Right now, you are working towards your dream. That's why you're toiling away in Hallward. For the future… To buy the dream Chanel handbag or the Patek Phillipe watch, to walk out of a meeting knowing you've changed the face of your company's future.
Everything we are doing here and now, at University, is for the World beyond Nottingham, filled with opportunities and excitement.
So here it is. Your reverie brought to life. This is you in 10 years…
The Bankers
The men who mean business but can also be charming and suave for his clients.
A waistcoat, braces or a tailored blazer are simple touches yet show you are conscious of your appearance, despite being at work!
The Fashion Journalists
The ladies who have it all. Press passes to London Fashion Week, a closet to die for and a contacts book filled with the who's who of Condé Nast. Working their way up the ladder by running around London in stilettos armed with five Starbucks soy lattes, they each hope to be the future Miranda Preistley.
The Mulberry Handbag, in all its sleek simplicity is a must for a girl-about-town; its spacious and matches almost any outfit. Blazers can either be oversized or perfectly tailored and always remember to accessorise with big sunglasses or pearls. The fashionista must never be caught looking plain!
The Lawyers
Young, fiesty and ambitious. Nothing gets past these budding lawyers; they will stop at nothing to get to the top. They will spend their lives doing the honourable job of fighting for justice and defending the innocent.
Men can never go wrong with a tailored, sharp suit. For the ladies, hair pushed back and a simple, fitted black dress shows you mean business. Accessories are kept to a minimum: a chic neck scarf and smartphone are all you need!
The Joint Venture
Don't interrupt the meeting!
Negotiations, sweet-talking and being charming are all skills we must acquire in order to get ahead.
The Company Cocktail Dinner
And where there is hard work, there are always rewards.
The colleagues set out to their boss' house for an evening of cocktails, lobster and chocolate fondant. They dress to impress, leaving their work at home and enjoying their success.
Men must learn that the pocket square and the cravat are timeless. The simple addition of either of the two will give an aura of a smooth-tongued, refined gentleman; a Christian Grey persona that no woman can resist.
The ladies aim to turn heads as they walk in the room. An asymmetrical hemline is more modern and cutting-edge whereas a large slit is an old-fashioned glamour trick that will forever enchant a spectator. The LBD (little black dress) is always a perfect option. By pairing the dresses with a clutch, or if you're lucky enough, a classic Chanel quilted handbag, the ladies below are the belles of the ball.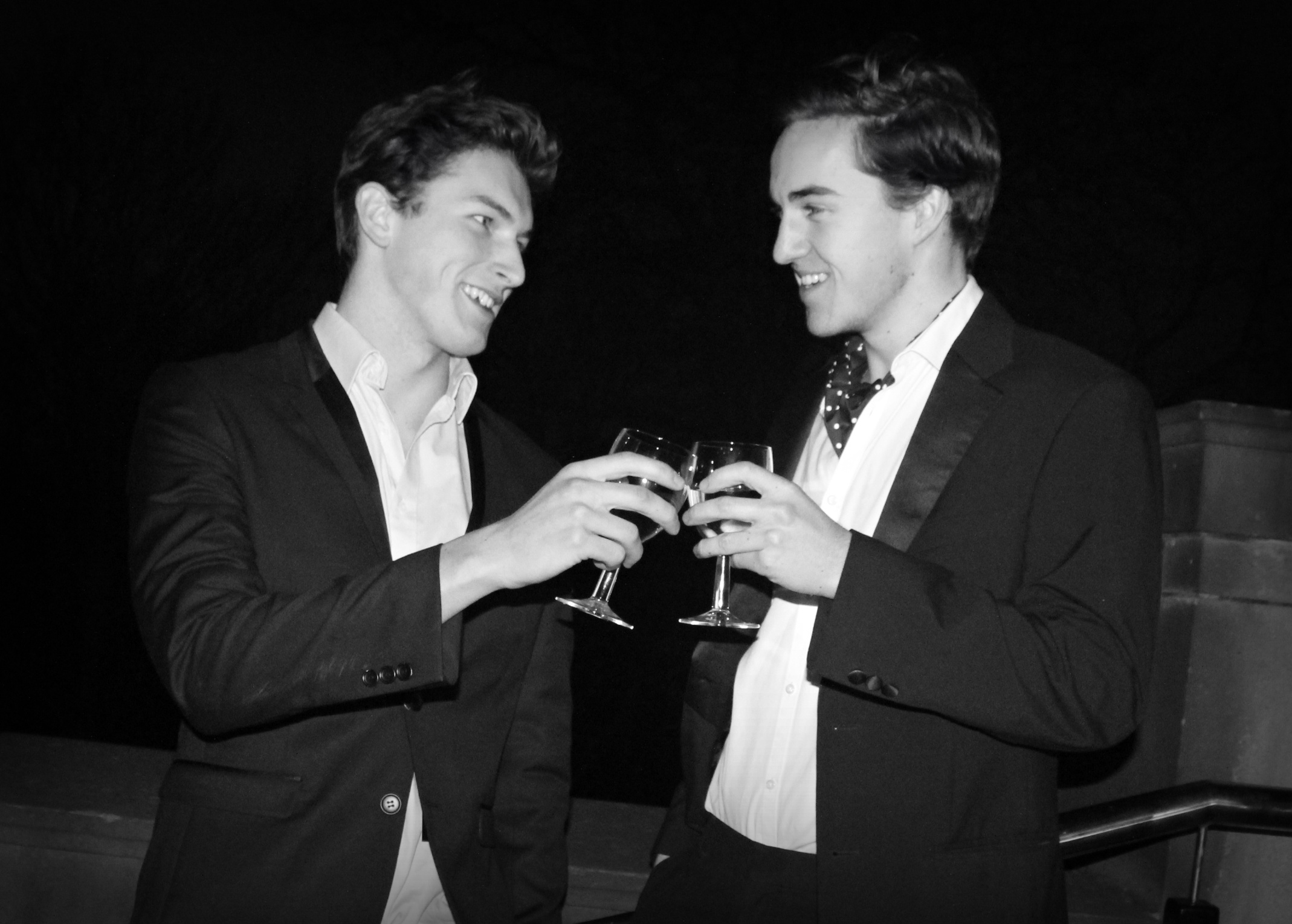 The Power Couple
When you're finally ready to give up on the debauchery of a single life, the ideal partner will truly be your partner. Someone to share your stories with at the end of a tough day and someone who will make you look better when they stand beside you…
Make your daydream a reality and send off those CV's! You never know where you may end up as a result…
Photographer: Ashiana-Ishara Pradhan
Models: Oli Lacey, Nick Slater, Christine Jin, Sophie Joscelyne and Charlotte Boland
Stylists: Ashiana-Ishara Pradhan, Pippa Mead, William Karkar and Luke Robert Black
Makeup: Xanthea Heynes