BOOZE, BABES AND BRAWLS: VARSITY DARTS
The most exciting night of Varsity is back! Trent may be the favourites but UoN President is 'pretty sure' their captain has an STI.
Next Tuesday, Rock City will host a thousand hammered students from UoN and Trent in one of the showpiece events of Varsity 2013.
It may be an unofficial Varsity contest but, judging by last year, it's going to be one of the best nights of the year.
The Tab spoke to UoN Darts President and Team Captain Conor Jones to talk about what happened a year ago and to give you an idea of how 'entertaining' Varsity Darts 2013 is going to be…
'It's a full-on darts game. It's got the 'Chase the Sun' song and everything. The organisers did a really good job last year and I'm sure they'll do the same this time around.'
This is no ordinary game, and Jones was quick to emphasise how this will be much better than your average darts contest: 'If you watch darts on TV, it is nowhere near as good an atmosphere as last year was at Rock City.'
(Better atmosphere than this!)
The SU seem equally excited for the game, saying this on their website: 'If Darts makes you think of a silent smoked filled room, think again grandma – prepare for the atmosphere of a football match squeezed into a rock concert! Lights, music, walk on girls – it's going to be electric! Chuck in some Domino's pizza, local rivalry and perhaps even the odd cheeky beverage or two and you're in for an unforgettable night!'
Unfortunately for Notts, Trent won last year. However, typical Trent stupidity meant that they didn't actually bring enough players. Because of this, UoN had to lend them a few members of their team, so when the 'rowdy' Trent fans were cheering on their team, they were actually supporting Notts students.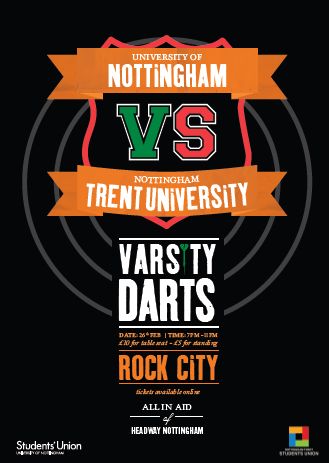 The two rivals have played since then, and both times Trent have been victorious. A couple of weeks ago they won 9-4 and they also triumphed 7-2 when they faced each other at The Den in November.
'Trent are definitely the favourites,' said Jones, 'They have got a few serious players and their top 5 are definitely as good as our top 5. The Trent captain is a level above everyone else really. He's very good, but I'm pretty sure he's got an STI.'
You can see Trent's embarrassing promo vid below:
Get tickets for an unforgettable night at http://www.su.nottingham.ac.uk/ents/event/4612/