The Great Escape: LIVE BLOG!
All the action from this weekend AND a live map!
In third are 'Team Idiots Abroad' who made it to Zagreb Croatia. Congrats Hannah, Rosie and Dave. Great name. Karl would be proud. 
Runners up were Team Amigos in Morocco, who are actually called Usain's Insane Bolts. Much cooler name. Congrats.
8:00 pm: IT IS OVER! And TEAM DESTINATION UNKNOWN are your winners. They reached Istanbul travelling 1905 miles! They raised £507! Big congratualtions to them and to everyone involved.
A fantastic effort and a very eventful weekend. £11,721.94 was raised!!
We'll bring you updates ad photos as and when we get them for the rest of the evening.
7:30 pm: Half hour left. According to the map there is someone in Sydney, but that's a glitch. It's still neck and neck between Team Amigos and Team Destination Unknown!
7:08 pm: Less than an hour to go! Awaiting updates from the team in Morocco.
6:55 pm:  Hannah, Dave and Rosie have arrived in Zagred, Croatia. It's snowing there as well, so if you're still stuck in the UK count yourself lucky you're warm
6:30 pm: Less than an hour and a half to go and Team Destination Unknown are sitting in a hotel bar in Istanbul. Will team the four amigos beat them by making through Morocco??
5:13 pm: Less than three hours left and Matt Bennett and his team make a late dash to Brighton.
4:50 pm: James O'Malley and his team made it to Milan thanks to their head start. They've raised £1275.07. Great effort.
4:46 pm: Great video from those at Enactus, who are running this Great Escape if you didn't already know.
4:40 pm: Phoebe Marsh and her team in a snowy Paris.
4:02 pm: There was us thinking they'd all given up when Rosie Chiang, Dave Poulton and Hannah Schofield board a plane to Zagreb, Croatia! Good luck girls
2:39 pm: The things these students do for charity… 
2:33 pm: Quick update for you on who's leading. A lot of teams seem to be stuck in airports but a few making their way. Neck and neck with only five and half hours left.
1:03 pm: Calvin Lee is busy quoting Romeo & Juliet with his team in Verona!
1:00 pm: The four amigos, having reached gibraltar, are now booked for a ferry to Tangier, Morocco at 2. ONLY 7 HOURS LEFT!
12:30 pm: Guess this is one way to do the great escape… classy.
12:00 pm: Yet another technical glitch, not our fault this time but due to UCL doing this at the same time. But to confirm, there are NO teams in New York.
8 hours left and we can confirm that the three entrepreneurs are in Istanbul and NOT San Francisco.
11:27 am: There are two teams in New York! It also seems team destination unknown have left Istanbul, so maybe they are in San Francisco! We'll tell you more once we know.
The total now stands at £11608.22! This is how the map stands:
11:16 am: The three entrepreneurs, Joe Green, Ben Yager and Andrew Goodman are in Istanbul. 
This has to be the most keen team, they have their own website: enactusjailbreak.co.uk. Apparently their site tells us they're in SAN FRANCISCO!
9:20 am: Phoebe Marsh and her team are on their way to France! Lots of people getting out of the country now.
7:00 am: Team amigos have got their flight to Gibraltar. Andale arriba!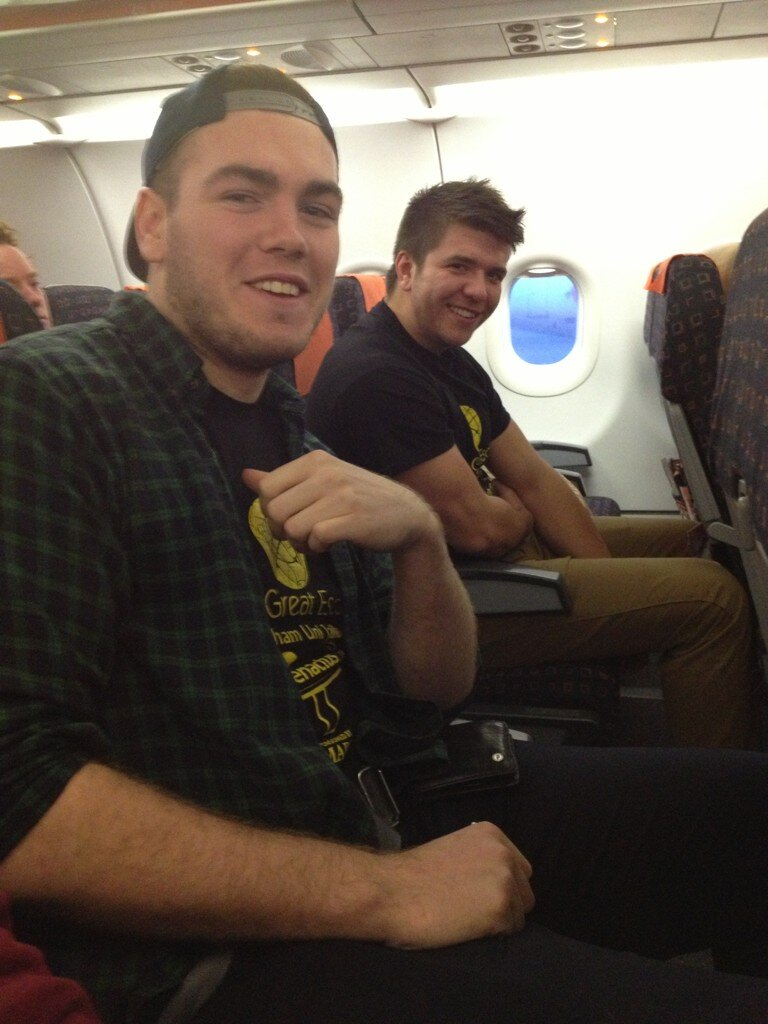 2:00 am: Amy Zeidel and her team must be in Italy by now!

24th Feb. 12:00 am: Beth Thayne and the Willoughby Rangers have booked a flight to Prague!
WE ARE BACK! Massive apologies for that technical hitch! But we are back now and there will be looooads of updates coming in for you.
VIDEO: This was the scene at 8am this morning in Lenton rec…
12:30 pm: Few teams looking to reach the other side of the world. Will anyone do it?
12:17 pm: Few teams on their way to the airports. Looks like a few of them will make it out of the country!
12:03 pm: Ben Tolliday and his team have booked a flight to SLOVENIA!
The total now stands £10993.85! 32 hours to go… keep those updates and photos coming in.
11:19 am: Here's a few more from the start line… 
11:07 am: The lovely people of Trowell service station are helping out Rosie Chiang and her team… 
11:00 am:  The total now stands £10937.18! 33 hours left…
10:50 am: Some gentle soul is giving Liz Conolly and her team a lift to Leeds.
10:42 am: Another map update for you. Seems like someone has made it to London.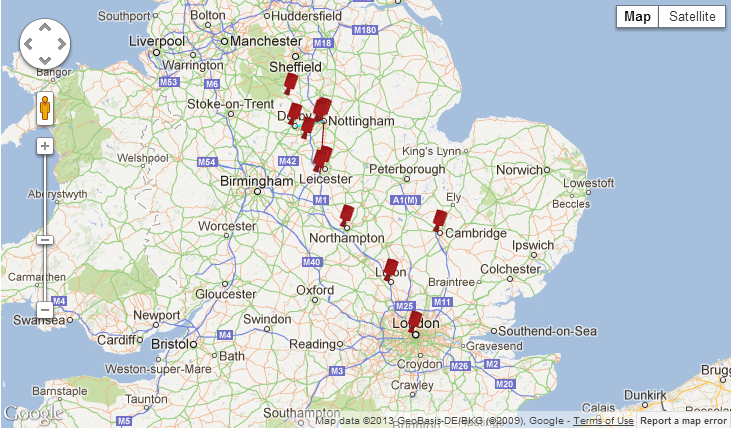 10:07 am:  Hitching is definitely working for some! Antonia Hodges and her team are on the M1 heading south…
9:50 am: Congrats to Ben Tolliday and the team who have made it to Luton already!
9:49 am: Quick map update for you…
9:30 am: Most of the teams are out fundraising in the middle of Nottingham, like Hannah Schofield's team fundraising in Primark… 
but some have blagged lifts or even successfully hitchhiking…
9:21 am: Updates are starting to come in. Here's Beth Thayne and the Willoughby Rangers on their way to London after haggling a free coach! Must have been the socks.  
7:00 am: The teams are lining up in Lenton Park and we're off! If any of these guys managed Ocean last night we're impressed. Expect photos as the day goes on.
The final total yesterday came in at around £13,000! 
James O'Malley and his team were given a head start ticket for raising £1927.44! 
Janice Cheung and her team also received a helping hand for raising £1702.40! 
Here's a few from the starting line…
13:44pm Total is now £11013.85 keep it up guys!
Looks like some teams are going international.