The Humble Backpack
The Backpack is back- in all its effortless glory!
 Gone are the days in the fashion world where strapless clutches and cumbersome mega totes rule supreme. The days of wearing impractical couture to affirm your place in society are solidly behind us.
We now face a revolution in fashion culture; I believe that fashion has forked and left all fashionistas with an important choice to make: does fashion revolve around an effort to look good or is it, in fact, a place where 'blasé' and effortless style takes precedence?
With the tomboy-chic looks of Alexa Chung and Agyness Deyn, the humble and sweet backpack would fit in quite nicely.
In fact, you must only look as far as Oxford Street in London to verify the fashionable virtues of the backpack. Topshop and Urban Outfitters models are flying off the racks and finding themselves draped over the shoulders of young girls looking for a practical but fashionable way to carry, well, everything. The plethora of backpacks on ASOS also include a (less pricey) alternative for the Chanel backpack…
Fear not, girls. Whack on your parka, grab that backpack, and get yourself to uni, 'cos the fact that you don't care is what makes you look so damn good.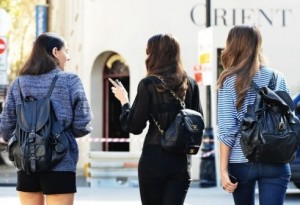 If you are interested in being involved in The Tabs fashion section email [email protected].