Cold War
The Tabs guide to Men's winter coats – plus your looks on campus.
As you wake bright and early (at least I hope) to engage in another day full of educational bliss the probability of being greeted with a strong bout of bad weather is high. Don't let this get you down, let it get you shopping. Technically, it's only cold if you can feel it; even the rain loses all powers of upset upon failing to touch your skin. So this winter, as the chilling weather conditions make the yearly commute to a neighbourhood near you, prepare for battle – ready yourself for full on combat against wind and other things – win the cold war in the most stylish of high-street armour.
A weather war waged without a Parka in your wardrobe is one you'll undoubtedly lose; as such this Topman parka is crucial. Equipped with a multitude of pockets to house cold fingers, and a hood (reinforced with faux fur) to protect the head from cross-winds, this coat will surely serve its purpose this winter.
Topman, Bottle Green Borg Lined Parka, £95.
For the 'suave but sensible', this Bellfield pea coat is perfect. Its shawl neck collar brings something a little different to the table, setting it aside from other pea coats.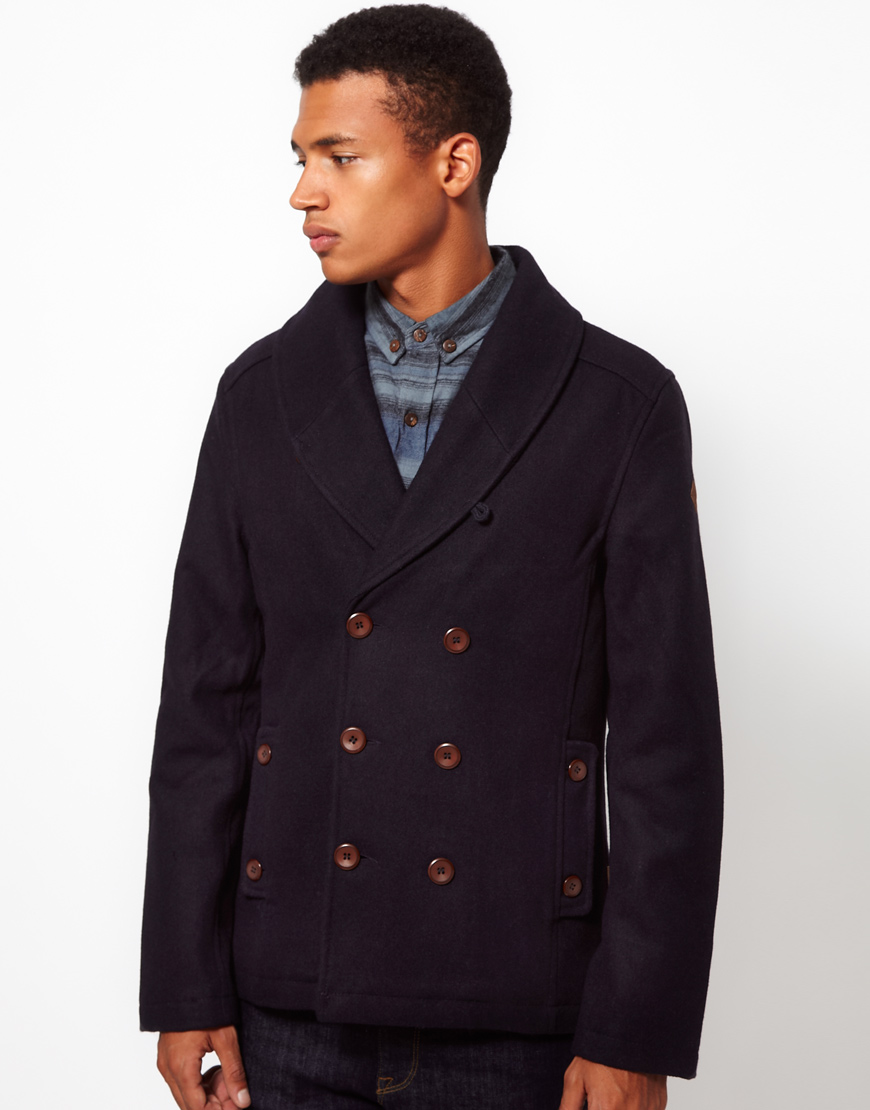 Asos, Bellfield jacket, £85.
The Barbour jacket is a staple item in many students' wardrobes. Or maybe it's more the Barbour look-a-like that we're seeing on campus. If you want a cheaper alternative try not to go for something that is too similar to a real Barbour, as they're usually obviously fake. Instead, River Island's waxed parka or the contrast collar jacket by Asos is an individual take on a classic and it doesn't scream 'fake'!
Asos, Jacket with contrast collar, £70
River Island, Green waxed patch parka, £80.
Sheer cold is one thing, but when faced with a new enemy, rain to be precise, one must employ a new defence – a fisherman jacket or anorak will fit the role. Luckily both these jackets are stylish and effective.
Topman, Red Pattern Lined Trek Jacket, £60.
Asos, Anorak Jacket With Removable Hood, £55.
We've been out and about on campus and we've selected some of the best coats you're wearing.
We love Leo's parka! The off-centre tortoise shell buttons add another dimension to the coat.
Masters student Tom looks effortlessly stylish in this sheep-skin jacket. It's a trend that will return year after year.
Second year Sociology student Ray has styled his Barbour jacket perfectly with a vintage jumper. Shop at Braderie on Pelham Street for a knit to complete the look, and if you don't own a Barbour yet, thankfully they have a great selection of vintage Barbours too! http://thebraderie.blogspot.co.uk/2012/02/braderie-nottingham-opened-100212.html
To check out more styles on campus this season click here to view our most recent 'Spotted' article. https://thetab.com/uk/nottingham/2012/11/21/spotted-on-campus/