Halloween Costumes: Scary or Sexy?
What is the real aim of Halloween costumes? To scare people off or sex them up?
After a messy monster mash at Crisis last night, it seems that girls had a vital decision to make when selecting their costumes: 'When people look at me, do I want them to shit their pants… or cream their pants?'
As most of you are probably still too hungover too remember any of this, Amy Webster and Holly Cook have took it upon themselves to argue whether 'sexy' or 'scary' was the right way to go.
Last night, many of us took to Crisis in celebration of the chilling, thrilling and drink spilling moment of the year that is Halloween. However, did anyone happen to notice that people's outfits weren't actually that scary?
In recent years, costumes have become somewhat diversified as high street stores are filled with blood stained stockings, raunchy corsets, skimpy devil outfits and latex galore amongst the other more traditional scary approaches that no one seems to go for.
Now, forgive me if I'm being silly, but last time I checked Halloween was supposed to be scary? That's the point – isn't it? Zombies, Vampires, Witches… they're not meant to be pretty, they're meant to make us flinch as we set eyes upon their repulsive faces and give us the impulse to run for our lives.
Okay so maybe this might not be the exact reaction we wanted last night, but still, in today's society we simply cannot escape the sexualisation of Halloween. Take the internet for example; many fancy dress websites are packed full of saucy little numbers.
When looking for inspiration, I happened to type in 'women's Halloween costumes' on eBay to be presented with result after result mentioning the word 'sexy'… 'Broomstick babe sexy witch', 'Sexy tea time: Alice in Wonderland', 'Sexy Catwoman suit' – I mean really?!
Is it really the case that some students take themselves thatseriously that they can't just slap on some face paint, wear a DIY costume and just have a good time? Isn't this the one time of year where the aim is to scare people away rather than lure them in?
Now, I know some lads will be thinking "What are you moaning about? Girls dress up in sexy outfits… so what?" If that's what floats your boat then so be it, but I for one believe we should not to be reduced to merely 'tits' and 'ass' and must attack ourselves with face paint and fake blood in an attempt to stay true to the spooky spirit of Halloween.
It is easy to take the higher ground and criticise those who chose to dress sexily rather than scary, but did any of us really look as horrifying as we thought? In reality, none of us actually went out to Crisis with the intention of looking genuinely repulsive. And let's face it; none of us wants to look like Cady as the zombie bride in Mean Girls.
So with this in mind, is it that bad that many of us used Halloween simply as an opportunity to wear crazy costumes in aid of a fun night out and a new Facebook album?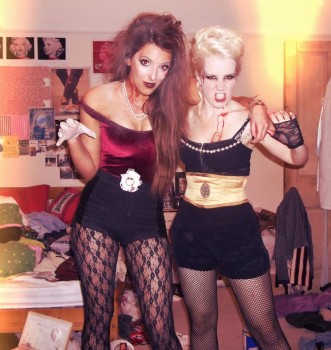 As children we opted for the 'cute' look; dressing up in little pumpkin or fairy costumes to try and blag as many sweets as possible when out trick or treating…so why should we be judged in later life for wanting to make ourselves look good for the same event? At the end of the day, many of us wouldn't have gone out or had a good time if we felt we looked inadequate in any way, whether we felt sexy or not.
Fashion retailers and fancy dress stores have managed to make almost anything look sexy, so shouldn't we be embracing these opportunities? Long gone are the times when you only had the choice between 'slutty nurse' and 'cheerleader', now even a lumberjack complete with axe can be considered sexy!
Brandon Wade, CEO and Founder of WhatsYourPrice.com (an online dating site) was recently quoted as claiming that 'the imagination is the greatest aphrodisiac' in an article investigating what Halloween costumes say about you.
So really… does it even matter whether your costume was considered to be sexy or scary? As long as you entered into the spirit of the night, felt great and had a good time, who actually cares whether your outfit was leaning towards 'sexy' rather than 'scary'!
As quoted in the bible that is Mean Girls, 'Halloween is the one night a year when a girl can dress like a total slut and no other girls can say anything about it.'
So which one is it? Sexy or Scary? Comment your views below. Want to write for The Tab's Debate section? E-mail [email protected]…