Vote for UEA's BNOC of the Year: Group two
BNOC of the year is back and it's bigger than ever. 
Across five rounds, UEA's biggest BNOCs will fight it out to reach the final. Hundreds of you voted in the first round but it's time to move on to group two.
Vote now to secure your favourite a place in the final.
Rob Klim, first year History
Where do you start with Rob's antics? Whether he's stripping off in clubs, jumping in the lake naked, wrestling in lube or turning up to the LCR dressed in just a towel you can be sure to have a good time when Rob's about. This troublemaker has streaked across campus, fallen out of a bus window and been caught operating a crane.
Rob shot to BNOC fame after The Tab named him the most badass fresher at UEA. But Rob didn't stop there – he went on to win the title of 'Maddest Fresher in the UK'
Sharmin Hoque, first year International Relations & Modern History
Apparently "the nicest person ever", Sharmin has been working hard to bring a little bit more happiness to campus. She's currently the LGBT+ Officer elect and has been working hard to make campus a better place. Sharmin says "I hope to make every LGBT+ Student have a great time at UEA"
When Sharmin's not working away in Union House you'll find her at one of the many parties that she's guaranteed to be invited to.
Matthew Mulligan, first year Environmental Science
"Pretty much all of first year know, or have heard of Matt. His deep Irish tones, ginger beard and pasty white skin make him easily recognisable.
"Admin of fifteen group chats Mulligan is always in the know, and can regularly be found smashing VKs, be it at Mercy, Mantra, Loft or the LCR.
"The complete charmer he claims to have pulled over 100 people, both male and female since arriving at UEA. Ask him nicely and he'll tell you all about his tattoo plans or why he made the sober choice to get a nose ring."
Akash 'Kush' Kulavirasingham, first year Actuarial Science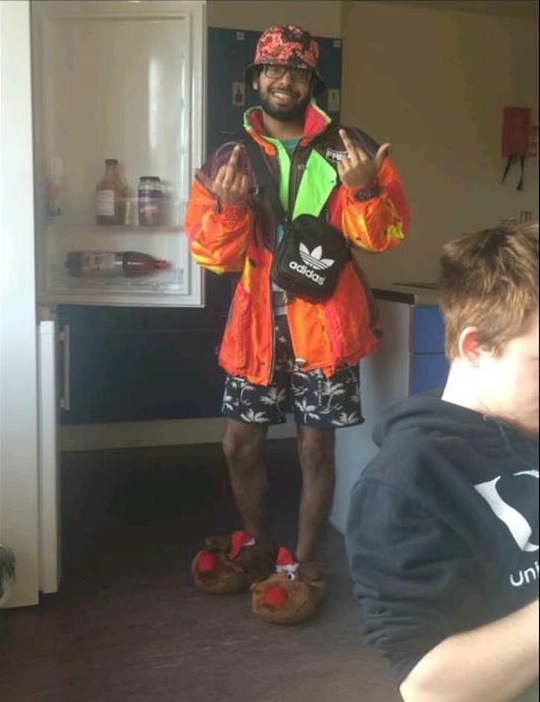 UEA's most forgetful fresher, Akash spent his first three nights at UEA sleeping outside in a dressing gown and reindeer slippers after being locked out of his flat.
According to his nominations Akash has got a "crazy personality" and is "genuinely such a nice guy"
Adam Romo, fourth year Environmental Science
"This cheeky East London lad is the king of the LCR aka resident DJ of A List playing UEA's favourite songs every week.
Over his four years at UEA he has been involved in the Rugby club, UEA Pirates, been on the Ski trip, joined ACS and got himself banned from the Feminist Society page. He's worked in Unio and the Bar, even been voted 'Best Bar Boy' of 2015 so it is impossible to go onto campus with him without him chatting to people on the way.
"On his days off he can be spotted grooving on the LCR dance floor with his outrageous moves, if that fails look for the person in a kimono, or trying to get naked."
Cloud Dog
UEA's favourite ball of floof is the cutest thing to hit campus since baby bunnies. Cloud Dog is often seen wandering around campus flaunting his Yik Yak celebrity status.
Only the truly blessed get to be friends with Cloud Dog.
[polldaddy poll=9425616]