SIGN THE PETITION to 'let UEA students throw their hats' in graduation photos
People are not happy with the photoshop alternative
Due to the "gradugate" uproar over the last 24 hours a petition has been launched by finalist Alice Reeves demanding that students be permitted to throw their hats.
If you haven't heard yet, UEA students have been told not to throw their hats on graduation day, and that the hats can be photoshopped instead. Alice said: "Graduation is the end of our wonderful time at UEA, steeped in tradition including throwing our mortarboards! We do not want to pay £8 to have them photoshopped in! Let us throw our hats."
Since the petition was launched a few hours ago, it had amassed over just short of supporters at the time of publishing.
In response to the outrage and confusion about the £8 photoshop, Penguin Photography said, "We normally do two photos – a formal photograph followed by a mortar board-throwing photograph.
"This year we were asked by UEA not to do the photo of the students throwing their mortar boards in the air, due to safety reasons and at the request of the company that hires out the mortar boards.
"Rather than lose this classic photograph completely, we have offered to continue the mortar board-throwing photograph tradition by offering to Photoshop the hats in afterwards."
Despite initial reports that this would cost students more money, Penguin claim they are making no profit from the photoshopping.
They added, "We have actually reduced the price of this second photograph in recognition of it not being ideal.
"We would much prefer to do these photos the traditional way but have to comply with the university's wishes."
Speaking to Concrete, Postgraduate Education Officer Liam McCafferty said, "Whilst it's now clear that the £8 charge isn't for photoshopping, it remains the case that any students who wants a photo with mortarboards in the air will have to stump up another £8 for what is an already expensive day.
"This is just one of a range of costs on campus that next year the SU will be looking to reduce or eradicate".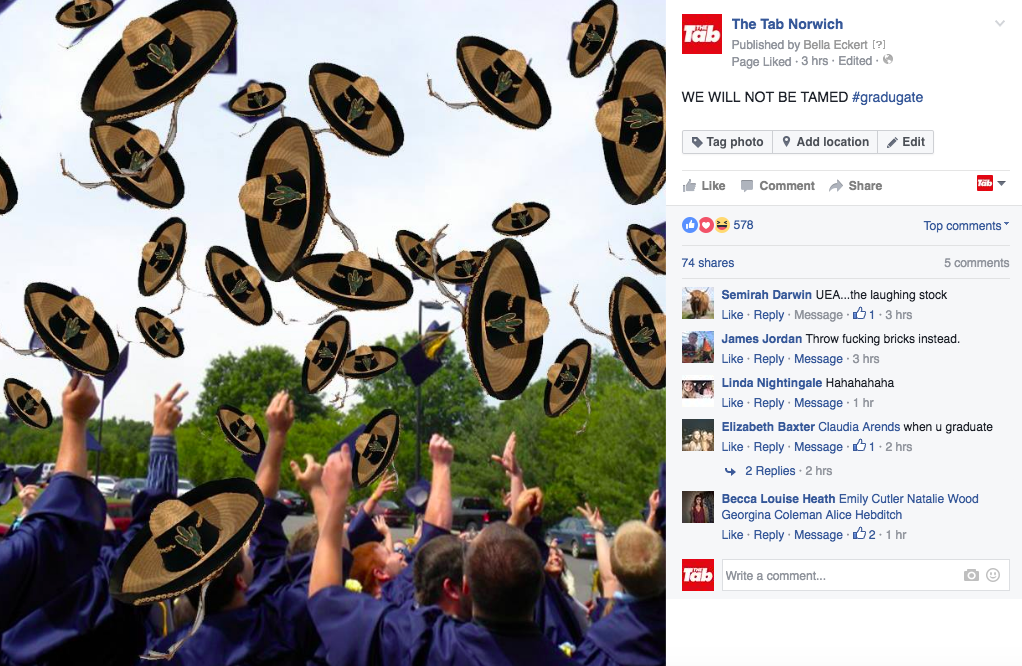 There has been talk of health and safety and political correctness taking over at UEA, with many making reference to sombrerogate at the beginning of the year.