The results are in: Here are UEA's top 20 singletons
Last week we told you that Livewire was looking for its top 20 single students to take part in a Valentine's Day countdown special.
Flurries of emails were sent in and we've sifted through them all to present you with the best 20 lonesome students.
If you're in the below list, keep an eye on your Facebook inbox for a message from either Siân Cooper or Issy Panayis for details of what's next – and maybe thank your friends for the charming nominations.
Claire Hagger
"Claire is a classy chick, the classiest of the classy I would say. Sadly, when alcohol comes into play, this goes fully out the window, and this is where the tragic nature of her single life comes into play.
"Claire is getting a bit desperate to find a Valentine's date – she's so desperate to find love that she even managed to still go clubbing on New Year's Eve after breaking her ankle while peeing in a field that same night, just so she could get her midnight kiss – the class once again going out the window."
Siân Cooper
"Sian needs to be nominated because she is a SEXY SINGLE SASS-PANTS who will even resort to Freshers to satisfy her thirst for love."
Charlotte Meek
"Poor Charlotte Meek is so alone. She is one spicy human being so I am unaware as to why no one would want her! Previous lovers speak so highly of her and her lack of a gag reflex. She has a slight alcohol problem though this is probably made worse by her loneliness.
"Charlotte can regularly been found in the LCR being cockblocked by other girls whose man she is after. Don't let this foxy lady fool you though, she does struggle to pull. All she needs in life is a man to sexually satisfy her and cook her pasta. Please give your heart to this drunk lonely singleton this Valentine's and make sure she is not alone."

Amy S
"She's a freak in all definitions of the word from Chelmo on the prowl for a sexy lil sugar daddy to show her a good time this Valentine's Day. Recently recovered from a freak cold, she's ready to Chelmo up your life 24/7 all day every day of the week… for reals."
Sophie Tod
"Sophie Tod should be in the top because if her stunning good looks weren't a reason enough, she has above average in banta and is a high level netball player."
Elsa L
"Elsa, who recently starred in Flat Dates is still looking for love – yes, it's true, she is yet to meet the one. She enjoys eating bananas on the daily (if you know what I mean) and has the worst hygiene imaginable – yes, she's dirty.
"With her platinum blonde hair and man-like voice, what is not to love? PS, she once made out with a carrot in the LCR."
Alice Cassinos
"Alice had her heart broken and is alone and single, having fun in her room alone at night."
Sarah Kirk
"Sarah has been single for nearly a year and a half and we genuinely fear that her virginity is growing back. At first, second and third glance, it is truly a wonder as to why Sarah is still single. She's extremely attractive, intelligent and outgoing – she's also Northern, so she's got the banter/loves to get absolutely mortal.
"She spends her time either doing drugs (she's a pharmacy student) or wielding a rifle in the cold (she's an OTC army cadet too). If you want a woman who's beautiful, snowboards, kayaks, has bigger arms than you and enjoys taking selfies with our adopted cat, then this is the woman for you. Please end Sarah's single life – I'm genuinely getting a bit worried."
Rainey Sandersier
"Rainey is all-American, hailing from California (specifically Fresno, but she has family in Beverly Hills and Culver City). She has great taste in TV, and is always up for binge watching That '70s Show or Monty Python. She has a Netflix subscription, and she'll even let you have the password if you ask nicely.
"She's a trained chef, having been to culinary school in the US before coming to UEA – so she's always got a freshly baked bagel about her person. She's also a dab hand at massages and is happy to work out any kinks in your neck. Ultimately, she's a top babe and deserves to be one of UEA's Top 20 Singles."
Lydia (no surname provided)
"Lydia is a great girl who has been on numerous dates however, she can't seem to find that Mr Right. She is a strong, independent woman who spins verbal pirouettes with her linguistic gymnastic skills. Maybe men are intimidated by her useless knowledge base on song intros or can't see beyond her edgy, curly, 80s loving locks.
"Who knows – who cares? I think that with her going on your show she'll add charm, humour and a bit of cous cous to the mix: and maybe that Mr Right will call up and whisk her away like in one of those romcoms she's always watching."
Ryan Newington (nominated twice)
Nomination 1: "My pal Ryan Newington has been single his whole bloody life, doesn't get more tragic than that. If he doesn't deserve a spot on your top 20 singletons then I just don't know who does."
Nomination 2: "Ryan dishes out all the 'best' romantic advice yet doesn't apply it to himself. Ryan filters his Tinder matches by asking them what their favourite Star Wars film is. And he has a beard. He is also one of the masters of the friend-zone!"
Thomas Rees
"There's no-one quite like him. An extremely unique character which leaves an element of mystery to what he will come out with next. Very talented at the kazoo, he can wow you with many more talents."
Harry Stevens
Towering 100ft above the average man, Harry Stevens has more limbs than anyone could ever want. With his cheery smile, and his creepy obsession with his cafetiere hes got the charm and the coffee beans to keep you company this valentines day. Weighing in at an average amount of pounds, and always wanting you to know he's had his haircut even though it looks the same, he's been lonely since May last year – help him through the drought ladies and gents.
Alwyn Newstead
"He didn't shave or get a haircut for over 6 months. He made pancakes for himself, using a recipe accurately entitled 'Lonely Girl Pancakes'. He regularly goes 3-4 days without changing his socks, and wears his underwear inside out more than you'd like.
"His favourite pasttime is watching Wheeler Dealers, with sprinklings of Bear Grylls: Born Survivor. He developed what the doctor called "a mild alcohol dependency" in order to construct a Christmas tree with the resulting empty cans."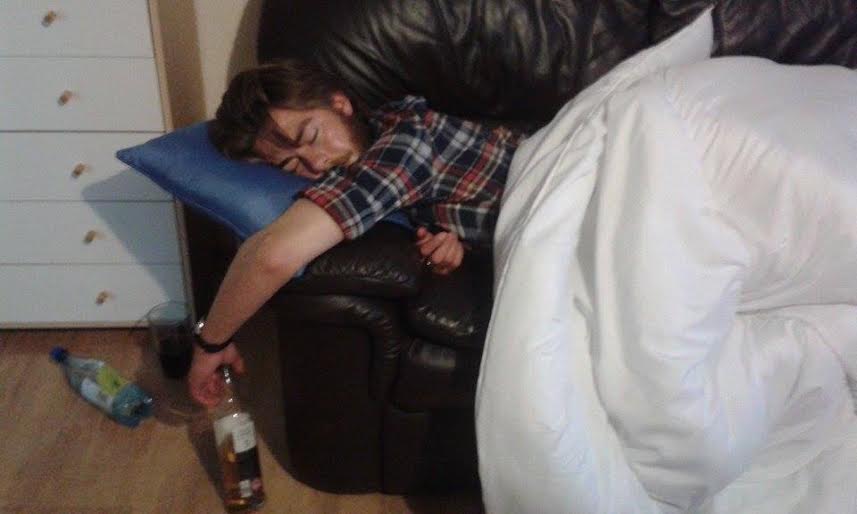 Brynn Monkman
"Lovely guy, cries every night for his loss in love."


Rowan Gatfield
"Tiger RG by nickname and tiger by nature, a pro out on the football field and with his banterous sense of humour, gets all the super likes on tinder. A true gentleman and a fiery red head, what more would you want?"
Lawrence Tyrrell
"This is for my friend who unfortunately is very unlucky in love – he is a bachelor by choice, the only choice seeing as God made him so damn ugly. His perceived arrogance and BNOC status sometimes puts off ladies but don't let that fool you ladies below this is insecurity, about various things be it whether his beard is a mm too long, or his facebook statuses don't get enough likes. So please make him one of your bachelors so he can find his Mrs Right."
George Brown
"If you want a guy who dresses like a Surrey road man fuckboy but that has a heart and feeds elephants he's your guy."
You guys really are a lovely lot.