Norfolk Police campaign accused of 'victim blaming'
It'll be rolled out across Norwich over Christmas
advert
assault
campaign
Norfolk
norwich
police
rape
uea
uni
A Norfolk Constabulary campaign has come under fire today after accusations of "victim blaming" people who have been raped. 
The campaign, called Time To Stop, will be promoted across Norwich during the Christmas and New Year period.
It includes posters and campaign boards encouraging young women to "know your limits" and "stay with your friends".
On their website, the police have stated that one of Time to Stop's key messages is "Look after yourself and stick with your friends when out and about, don't let alcohol cloud your judgement and always arrange safe travel home."
There will also be a number of Police Support Unit vans decorated with the slogans
Despite the constabulary insisting the campaign is aimed towards "potential victims" and "potential offenders", Time To Stop has sparked outrage among some members of UEA Student Union.
Welfare, Community and Diversity Officer Jo Swo said: "This is another Police campaign that targets women who are most likely to be victims and puts the responsibility on them to prevent their own and friends' attacks.
"We forget that the people who have the most power to prevent rape and sexual assault from happening are not victims, friends or bystanders but rather the perpetrators of the crime – the rapists.
"This kind of victim blaming that Norfolk police seem to be a fan of is ineffective, offensive and deeply outdated, and mistakenly imagines that women drinking less and having a map are the keys to curbing violent men."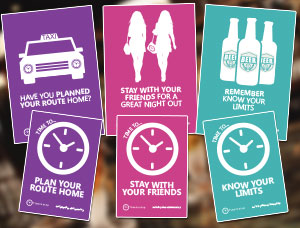 She added: "It discourages women from coming forward because it makes them think that rape and sexual assault is somehow their fault.
"There have been a number of successful campaigns around the UK that target men to think about their behaviour, their limits and to step in to prevent assaults and we would suggest that Norfolk police try to learn from them"
In response to these claims, Norfolk Police said: "The Constabulary has been working with a number of partners including local taxi firms, licensees and bar staff from across the county to encourage party-goers to take a few simple steps to avoid becoming a victim of crime this festive season.
"The three key messages, as part of the 'Time to Stop'  rape campaign for this year are; Plan your route home, Stay with your friends and Know your limits.
"The campaign has been running since June 2012 and it is clear working together is the key to addressing such issues and hopefully helping to avoid people becoming victims of crime.
"We would hope other agencies would stand with us in getting such safety messages across to ensure everyone has a Merry but safe Christmas."
Despite the campaign being run for three years already, 'Time to Stop' is being relaunched to help prevent further accounts of sexual assault.
This is partly because since 1 April 2015, there have been 310 rapes reported to date, and 30 of those were reported in the night time economy.