We attempted Zapatista's Triple Burrito Belly Buster Challenge
food challenge
Newcastle
tabvfood
zapatista
You may have been to Zapatista burrito bar in Newcastle, but would you dare to try their 'Belly Buster Challenge'?
 A two kilo burrito made with 3x tortillas, 3x meat, 3x rice, 3x beans, 3x salsa, 3x lettuce cheese and sour cream is enough to make you quake in your boots.
The challenge costs £15 but you certainly get your money's worth!

Two very stupid Tab girls with eyes bigger than their belly decided to attempt to finish them in ten measly minutes. Only nine people have managed to chomp down the burrito in time.
We were very eager to conquer the beast just so we could get on the wall of fame and a free t-shirt.
"Are you sure?" is the reply we got from the burrito guy when I asked him for the 4.5 pounder – "do you mean you want one between you?" he said.
I was convinced he was severely underestimating us but we played it cool although the nerves were kicking in.
It really didn't help when they asked us to sign a waiver, assuring them that we were stupid enough to try to defeat it.
"I hereby confirm that I am brave enough to attempt the Burrito Belly Buster challenge. For some reason attempting to eat a triple burrito in 10 minutes or less seems like a good idea. I will allow Zapatista to take pictures of me and my humongous burrito, safe in the knowledge that I will be made an example out of. If I fail to complete this challenge I will not try to blame anyone else for my failure and I will take any abuse thrown my way on the chin. When I go home I will reflect upon my experience and encourage others to attempt the Burrito Belly Buster Challenge in the hope that they too fail miserably."
It also told us that we weren't allowed a "sick break" which meant that my new handbag was looking like the most plausible chunder bucket.
When I saw that it took two people to wrap the beast I knew we were in for a lot of trouble.

 The challenge required us to wear a sombrero for the duration of the feast, just to draw even more attention to our stupidity.
 With a ring of a bell and a click of a stopwatch the ten minutes began and we face dived into the giant burrito.
 Five minutes into it we needed a fork because the contents of the wrap were erupting out onto our laps and onto the floor.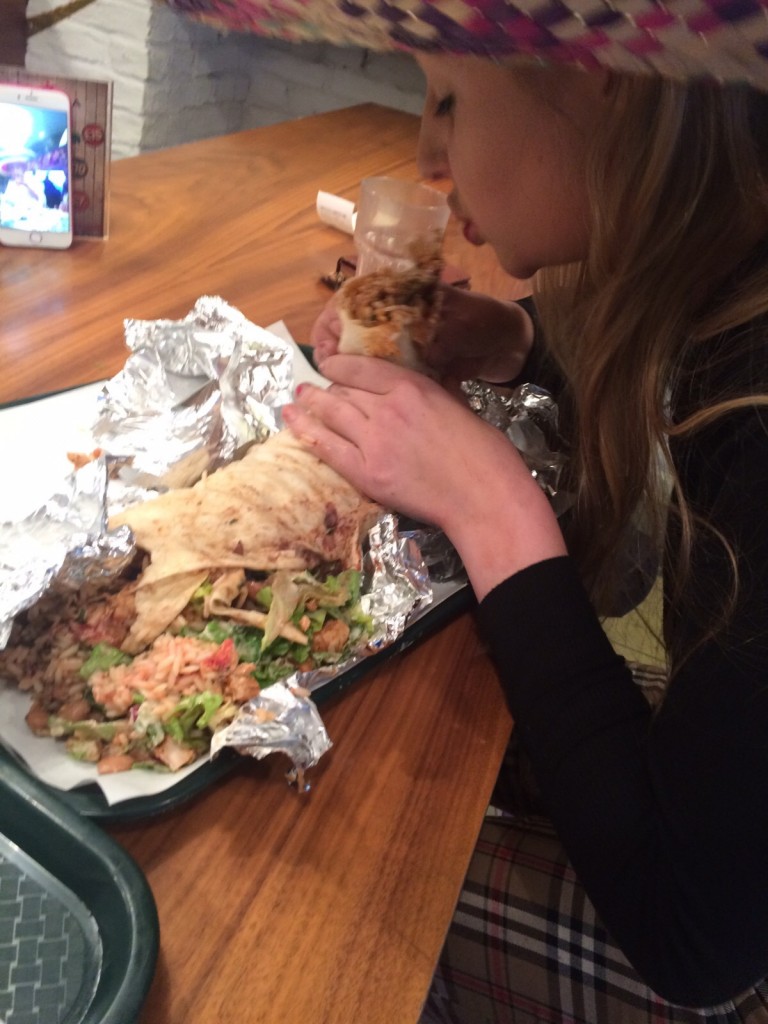 My technique changed from chewing fast to not chewing at all and gulping down whole bites.
Rose, my fellow competitor struggled with the spicy beef whereas my option of hot salsa distracted me from the screams of pain my stomach was giving me.
Before we knew it the ten minutes were up and we were both left with about a fifth of it. We had been well and truly defeated but damn did it taste good.

Now our faces will be on Zapatista's wall of shame FOREVER.
 We can't decide if that is worse than the shame of walking home with a giant food baby and refried beans all over our faces.
The leftovers went down a treat for supper, although a good few hours of recovery was necessary .
Big up to the Zaps team who sorted us out. Sorry we failed you.