We marched with Newcastle Unites against far-right group Pegida
'Islam, immigration, it's all connected. To me this is a predominantly white Christian country'
national
noad
Far-right group Pegida say they have an "established following" in Newcastle.
The anti-Islam group holds weekly demonstrations in Germany, where thousands turn up to protest for tighter immigration.
But when they held their first rally in the UK this weekend, they only showed up with an estimated 400 out of a previously predicted 1000.
We went down to the Bigg Market to spend a day with Pegida and Newcastle Unites, the counter-protest group set up against them.
Even before we made it to the main road, we could hear the chorus of "Jerusalem" teaming down Grainger Street.
When we entered the crowd of Union Jack flags and skinheads we were treated to verses of "Land of Hope and Glory", and of course "Rule Britannia"  — we were in the thick of Pegida.
But the longer we stood in the crowd with the Pegida supporters, we felt like we were taking part in the Nuremberg rallies in Nazi Germany. When George Galloway was mentioned by one of the speakers the Pediga crowd began to shout "scum scum scum".
We were also quickly informed if Islam was to occupy Britain, Russell Brand would be the first person they would execute. Unfortunately Russell couldn't make an appearance on the day, though there had been talk of him speaking for the Pegida opposition, Newcastle Unites.
The topic of three school girls who recently entered Syria was raised. The answer to their departure? "We don't want them back". Muslims were described as "alien colonisers" with a "supremacist ideology" — we don't think the crowd appreciated the irony they were the only supremacists in the City Centre.
The crowd was told "One third of Muslims think it is okay to kill journalists" and "They have no objection to killing us" by the irate Paul Weston, an ex-UKIP parliamentary candidate. Being in the middle of a hate march was intimidating but it was difficult to feel anything other than pity and distaste for the people who were genuinely buying into this backwards propaganda.
A reporter from VICE London approached us and said someone had called her news team "a bunch of Nazis". The irony.
Local Simon Biggs explained why he was supporting Pegida: "To show my support to this group which is obviously against radical Islam, which is sweeping across Europe.
"Anyone who shows their opposition to what the government is doing to this country and to Europe, I'll go along to support it."
We asked him what he thought about Islam.
"Islam, immigration, it's all connected. To me this is a predominantly white Christian country, we've helped all these countries around the world and now they're coming over here and they're bombing, raping, killing us, they're grooming our kids and I feel very strongly about it.
"Something needs to be done to protect our children.
"It's a white city, it's an area that hasn't been touched by immigration like all the other cities and it needs to be protected."
We then spoke to 24-year-old Louis Cohan, who explained why he came to march for Pegida.
"To show my solidarity, I'm actually living in Israel, I'm from Israel initially, we're going through a similar thing with Palestinian terrorists right now.
"A few weeks ago my friend was stabbed by a Palestinian in Jerusalem, and I potentially believe it could happen here. I believe the UK and Israel are going through a similar thing."
There was only so long we could stand listening to "Islam promotes terror" so spending as much time as we could bear rubbing remarkably tattooed shoulders with the Pegida lot, we crossed over the much larger and more positive Newcastle Unite, who were situated on Newgate Street.
We asked Green Party supporter Alison Whalley why she was marching against Pegida.
"I've come today to support all the anti-fascist groups who want to protest against the hate Pediga are spreading, and any sort of racism, or anybody who labels people because of their religion."
What advice does she give to young people who are considering joining fascist groups?
"Going down that road is not the way to go, all it does is sow more hatred and derision, what we should be doing is trying to have a message of tolerance."
We also spoke to a young Muslim who studies at Northumbria about people marching against Islam.
"This is racist because that used to happen a few years ago, but not now, it shouldn't happening. We're all humans."
One angry Pegida protestor stormed up the cordoned-off Newgate Street to scream at the Police and Newcastle Unites supporters. She felt the need to cover her face, to protect her identity.
Someone shouldn't be prevented from covering their face for their beliefs. But there's a difference between that and covering your face because you're too cowardly to face the repercussions of being heard as a racist.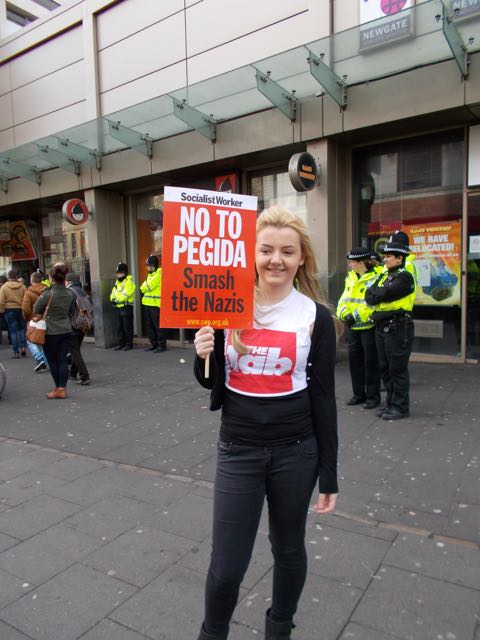 Police had to force out some protestors from Pegida who had snuck past their group and were challenging other demonstrators. Five arrests were made.
They made us feel embarrassed to be British. As tough as they look, they're laughable because they were completely shown up by their opposition.
Newcastle united against them to say not today, not in our city.