Covid marshals have allegedly been harassing students despite following guidelines
Newcastle Council deny allegations of harassment but have committed to look into anything reported to them
Students have reported allegedly being harassed by Covid marshals, despite following government guidelines.
Licensed Covid marshals have been deployed by Newcastle City Council to support Northumbria Police in ensuring students are following government guidelines amidst the pandemic. This comes as a response to residents' concerns over students breaking regulations, like hosting large gatherings and not following social distancing measures.
Newcastle and Northumbria's joint funding of Operation Oak is a long-standing partnership to support students and permanent residents. Both universities have supported extra policing to extend patrolling in student dense areas including Jesmond and Heaton to cover every night of the week.
Newcastle Council deny allegations of harassment but have committed to look into anything reported to them.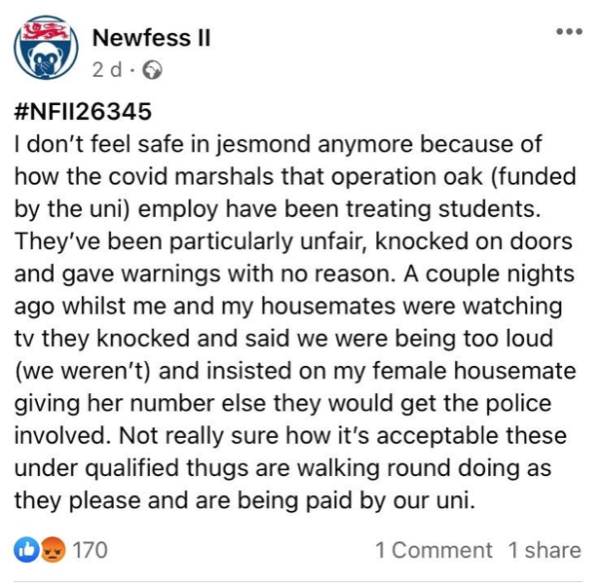 A student told The Newcastle Tab that she had tested positive for coronavirus, so she and her housemates had to self-isolate. During their isolation, they were having some drinks and playing music when seven Covid marshals "piled in" to their home because they had received a noise complaint. She told them that she had tested positive and their house was self-isolating, but she claimed they entered the house anyway, without even wearing masks. The student said: "They were so close to me they would've just spread it from house to house".
Additionally, a household of female students in Jesmond reported that they were confronted by Covid marshals while not breaching any guidelines, stating that the marshals "acted creepy" around them. They said: "10 minutes after the marshals initially left, they returned to the house asking for our phone numbers. They then proceeded to our front garden to press their faces up against our front window, trying to look in through the blinds."
Similarly, another household of female students living on the same street in Jesmond told The Newcastle Tab that they found marks on their windows, indicating someone had pressed their face up against it, trying to look in.
Other students have said that marshals have threatened female students with calling the police if they refused to hand over their personal phone numbers.
When a student who had a negative experience contacted the university for advice on the situation, she was told that 18-30 year-olds were causing the spread of coronavirus. She was additionally advised that her complaint was "only her word against theirs", which made her feel hopeless, because "it takes a lot to go to the uni for advice and getting shut down like that is so invalidating".
Another student reported that she was in their student house garden with her housemates when they saw Covid marshals patrolling their street through their gate. The marshals allegedly did not come up to the students or speak with them. However, the students received an email from Northumbria University for anti-social behaviour without receiving any warning or caution or having their names taken by the marshals.
The only male student that came forward to The Newcastle Tab with a bad experience with Covid marshals stated that he was harassed whilst waiting in a queue outside Sainsbury's with friends and were asked for their personal details when they weren't breaching any guidelines.
A spokesperson for Northumbria University said: "Together with Northumbria Police and Newcastle University, we have worked together to support community policing through Operation Oak for a number of years.
"Operation Oak covers a number of residential areas in the city centre with an aim to maintain good relations between students and residents. The scheme has been extended this year to run on weeknights as well as weekends to remind everyone of the importance of adhering to the latest Covid-19 regulations and staying safe.
"We are concerned to hear reports of these alleged incidents and have passed these on to the teams coordinating Operation Oak for investigation. In the meantime, if any Northumbria student has any concerns around their own safety and wellbeing, they can contact University Security at any time, either via the Security Helpline or through the SafeZone app."
A Newcastle University spokesperson said: "We have a number of groups which bring together the city's universities, the Students' Unions, Northumbria Police, Newcastle City Council and local councillors to support the students and provide an opportunity for anyone to raise concerns during these difficult times. If any students have additional concerns, we would encourage them to get in touch with us at [email protected]."
A spokesperson for Newcastle City Council said: "We closely monitor the work of our SIA licensed patrols as they politely engage, educate, encourage and, when appropriate, enforce Covid regulations as part of Operation Oak.
"We aim to maintain the highest standards when interacting with the public and all of the security staff carry identification, are equipped with body worn cameras, and have vehicles that are tracked, so that should anyone contact us with any concerns we can immediately investigate.
"We know that some students would prefer our patrols not to be there but the fact they have responded to over 800 incidents so far, including medical emergencies, assisting people who are heavily intoxicated, as well as dealing with Covid breaches and inconsiderate behaviour shows that they are very much needed.
"Thankfully, overall, the work of the police and our teams have been well received with positive feedback that they have helped calm community tensions in Jesmond, given reassurance to residents, and even helped to prevent burglaries.
"Where allegations have been made and passed onto us by the universities, investigations have found that the evidence does not corroborate the claims being made, but that does not mean we are complacent and will look into any issues highlighted to us.
"We appreciate this continues to be an unusual time for everyone, but our staff are in place to help keep people safe and reduce transmission of the virus.
"We must ask all residents, including students, to continue to comply with regulations, including the requirement not to mix households, and to be considerate to others."
Anyone with concerns or complaints about the patrols should email [email protected], providing as much detail as possible, so it can be investigated thoroughly.
Similar stories recommended by this writer:
• Northumbria University staff vote overwhelmingly in favour of a strike
• Police patrol student areas in Newcastle until Christmas to enforce Covid rules
• Newcastle is officially in Tier 3: Here's how this affects students