Seven solo ways to stay sane during lockdown 2.0
Alone time doesn't always have to be lonely
So kids, we're 20 days in with eight days to go. This is your personal reminder that you're doing well! Second lockdown in many ways has been harder than the first. Spring and summer months leant themselves to sitting in the sun and keeping fit, whereas the colder, shorter winter days are somewhat harder to tackle.
It may feel like uni is getting on top of you and there isn't much to look forward to, but don't despair. Below are some ideas of ways to relax, keep it chill, and generally stay sane – all on your own.
Write a list
I find that writing lists brings a sort of clarity that is so rare but so easy to accomplish. A personal favourite during lockdown 1.0 was writing down everything positive or productive that I'd achieved that day. These ranged from submitting big uni assignments or cooking a three course meal, to congratulating myself for getting out of bed before midday, or eating a nice breakfast. All made me feel equally as accomplished. Ideas for other types of lists include: Things you're looking forward to, tomorrow's to-do list, or even your 10 favourite things about this week.
FaceTime your friends
Call your buddies! The more time you spend alone, the easier it is to spend more time alone. Breaking the cycle before it begins by keeping in touch with your people can help with this. If you're not up to a FaceTime, maybe consider a simple 'how are you' to your nearest and dearest once in a while. This has the potential to benefit them as much as you – being checked up on during isolation might be one of the most meaningful sentiments of 2020.
Start a film marathon
Harry Potter, Lord of the Rings, Pirates of the Caribbean – the possibilities are endless. If your housemates are up for it then great, but a solo film marathon is a nice way to have somewhere to be every night, even if it's just your bedroom. Besides being entertaining, finishing a film marathon brings a sense of achievement. So get in your comfies and have a browse on Netflix.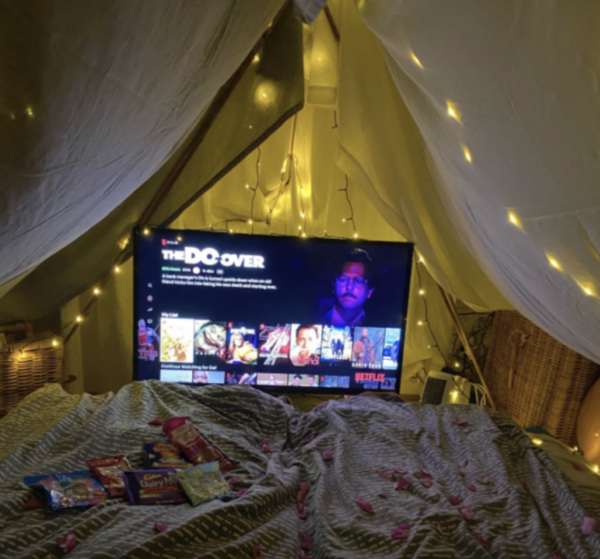 Get your body moving
Yes, the most standard suggestion of them all, but also the most effective! If fitness is something that motivates you, attempt to slot a few workouts into your weekly routine. It can make you feel so much more productive, even if you just squeeze in a 10 minute ab workout or a short walk as a break from uni work. Any amount of physical activity I find has an enormous effect on my mental wellbeing. On the flipside, if fitness isn't something that motivates you, that's equally as okay. If you're struggling for fitness inspo, have a look at some Instagram fitness pages and follow their workouts, no planning required. Search #liveworkout or #athomeworkout if you're looking to find a workout to try.
Spa evening
A spa getaway in pre-rona times, was the epitome of 'chilled out sexy vibes'. Whilst they're sure to make a return, for the moment all we have is the homemade version. And conveniently, it's something that's very easy to pull off at home. Grab your comfiest dressing gown, fluffiest socks, and get to work! A good place to start is a homemade face mask and a DIY hair mask. Pair these with some cucumber slices for the eyelids (no judgement if they end up in your mouth) and a vibey playlist, et voila! If you're feeling extra zen, try out a dry brush, or a foot bath. Say it with me: TREAT YOURSELF!
Bake something
Baking is a super simple but therapeutic way to get your creative juices flowing. It can easily be managed on a student budget (thanks Aldi), and if your recipe goes wrong, then at least you've got some cake batter to eat! Baking is also thought to be effective in improving mental health, with it previously being linked to increased mindfulness, self -empowerment and sensory pleasure. So, a good do all round. See below: the worst banana bread ever made.
Do absolutely nothing
Obviously it would be great if we all had the motivation to spend every minute of every day doing something productive, but we just don't. And that's okay. Finding fun things to do it all well and good, unless you don't want to do them – in which case, listen to your subconscious when it tells you to just chill out. There is so much pressure as a student to get heaps done, so you don't need the added pressure of self-inflicted expectations. Let yourself do nothing sometimes.
I'll draw upon a mega cringe but somewhat relevant quote when I say 'this too shall pass', because it really will. With the vaccine on the horizon there's renewed hope for the good times to return, but in the meantime, try and fill your time with different, fun, or relaxing activities. At the same time, remember that this time doesn't need to be the most productive of your life, so don't feel guilty for doing some things for no other reason than because you want to. If you're in need of little extra help, have a look at this recipe for wellness in isolation. You've got this.
Want to write stories like this? Join the team, no experience required. DM us via @TheTabNewcastle on Instagram or The Tab Newcastle on Facebook.
Related stories recommended by this writer:
• The top ten gifts to buy any future Jesmond girl this Christmas
• How to recreate every iconic Newcastle night out in your student house
• We planned a week's worth of lockdown activities for you and your housemates