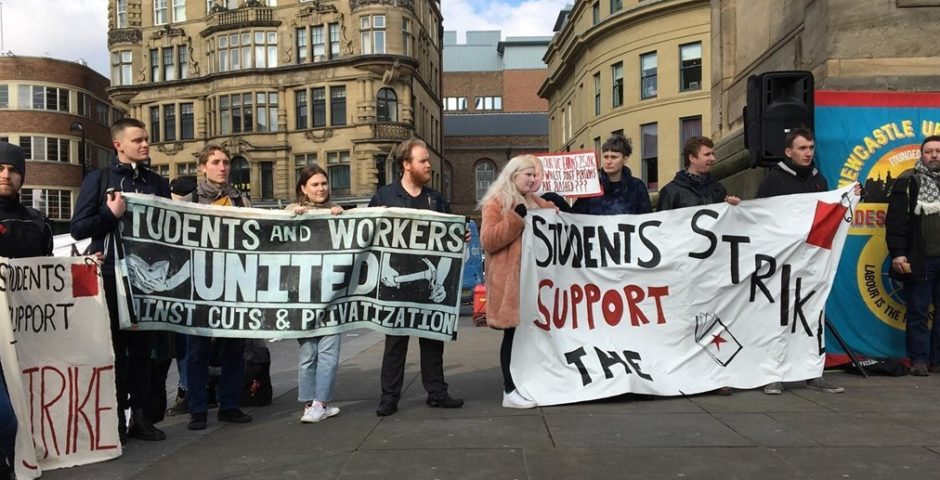 Newcastle Uni Geography students are donating strike compensation to food banks
Students found the offered refund 'insufficient' and 'insulting'
Newcastle University's Geography students have set up a drive to donate the "insufficient" £100 they received as a refund for lost teaching to local food banks in the Newcastle area.
Students were concerned that the money was "just not enough" to make up for the students affected by this year's two waves of strike action, believing the offer to be insulting to students and lecturers alike.
Consequently, in an act of solidarity with their lecturers, Geography students Jack Pearce and Tim Riches have set up a fundraiser for students to donate their refund payments to the Newcastle West End Foodbank.
Throughout this academic year, lecturers at Newcastle were striking over working conditions and pay and, as a result, these striking lecturers were unable to provide teaching at the time. Combined with the COVID-19 outbreak, this resulted in many students' final day of face-to-face teaching taking place on 25th February.
As per the University's policy, the staff involved in industrial action received no pay.  On 20th May, the University board informed students of how they were going to use the withheld money, saying:
"It is normal practice for any organisation to withhold pay from colleagues who take strike action. The University is committed to the principle that 100% of this money will be used to support the student experience and initiatives that directly benefit students.
"Two-thirds of the strike funding will be used to support student hardship, wellbeing and other projects that will benefit all our students."
With regard to the remaining third, they stated their choice to:
"Provide a cash payment of between £100 and £200 to final year students who had numerous modules (more than three) affected by the industrial action."
This payment was seen as insulting to both the students and the lecturers. The students, who had paid the University for a full year's education, were being given a small refund from the wages of the striking lecturers, not from the University which they had paid to educate them and whose working conditions had led to the industrial action.
In an email sent to Newcastle University Vice-Chancellor Chris Day, 46 Geography students voiced their concerns about not being refunded sufficiently for the disruption they had received. The email stated:
"We are paying £402 per week of university, therefore the £100 in compensation we are being offered only amounts to just over a day of teaching. When our weekly fees are spread over the six weeks of strikes, this equates to £2412 (in lost funds).
"Both waves of strikes impacted our dissertations, with the second wave of strikes impacting this profoundly. This strike occurred in the four weeks leading up to our hand-in, which meant we were unable to meet (or in some cases contact at all) our dissertation mentors for help."
At the time of writing, Newcastle University has not responded to the students' email.
This is not the first time that the graduating class of 2020 has been affected by strikes. In their first year they lost 20 days of teaching due to industrial action, for which they received no compensation. Given that it is not the students' paid tuition fees which are being refunded, students believe the refund to be "actively taking deserved money away from students who have suffered."
Lecturers have subsequently expressed their support for the donations, calling them "a wonderful show of solidarity".
You can donate to the food bank campaign here.
Know something? Send tips to [email protected]
Want to break stories like this? Join the team, no experience required. DM us via @TheTabNewcastle on Instagram or The Tab Newcastle on Facebook.
Related stories recommended by this writer:
• Final year Newcastle students offered up to £200 compensation for the strikes
• A petition for compensation for the strikes has reached over 1500 signatures
• 'Want our money back': We asked Newcastle students for their opinions about the upcoming strikes