NUSU Elections 2019: A line up of the candidates running for Activities Officer
We spoke to the candidates
It's that time of the year again! We spoke to the students in the running for the role of the new NUSU Activities Officer, got the key points from their manifestos and summarised it all neatly for you here. Have a browse!
Alistair Geear
Studies: Economics
Key points from Alistair's manifesto:
– An efficient online sign up method at Freshers Fair.
-Better committee guidance.
– Offer welfare training to all committee members, with an option for first aid training.
-Introduce a "Society Hub" for committees to discuss common topics (e.g. ball venues), ask for advice and list communal items that can be shared in the storage room.
-Create a public calendar where events across the SU can be listed, including volunteering opportunities and Give it A Go, allowing students to more easily see what's going on around campus and help reduce clashes between societies.
Alistair says:
"There are so many opportunities for students at Newcastle, and so much potential to go further. Let's see societies flourish, vote Ali for Activities!"
Campaign video:
Read Alistair's full manifesto here and check out his Facebook page here.
Eleanor Killner
Studies: History
Key points from Eleanor's manifesto:
-Create an online network to make collaboration between societies easier.
-Create unique opportunities for students to get to know each other in mixed environments.
-Increase student participation in societies such as Go Volunteer, which work with over 150 charities.
-Create networking opportunities for members of societies and the outside world.
-Encouraging smaller or newer societies to increase in membership and put on more socials.
Eleanor says:
"Thank you for all the support so far! Check out my profile and video, there's even a cute dog involved…!"
Campaign video:
Read Eleanor's full manifesto here and check out her Facebook page here.
Haaris Qureshi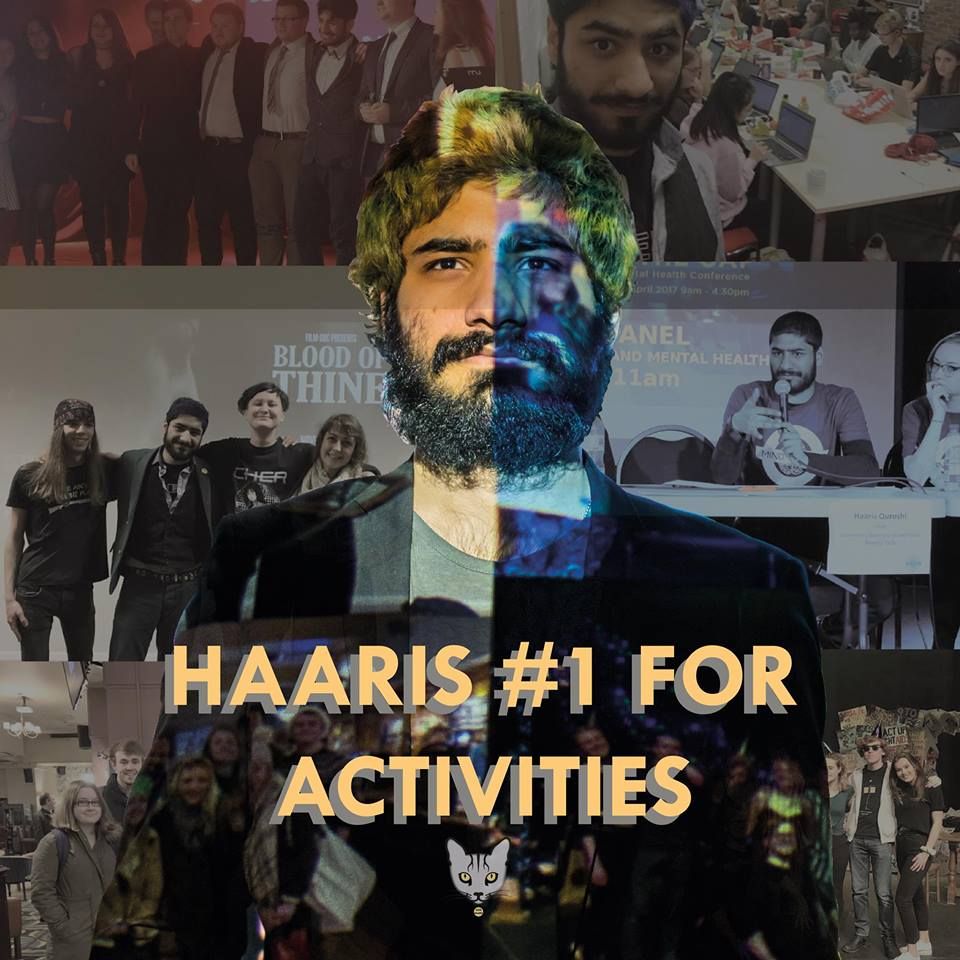 Studies: Computer Science (MComp)
Key points from Haaris's manifesto:
-Petition university departments to support and engage student activities by negotiating access to equipment and facilities.
-Support smaller or new societies and give them more guidance and support, giving them a stronger chance to flourish.
-Encourage collaboration between societies which have similar interests, member bases and aims.
​-Build on the previous work to improve room booking and storage spaces.
-Be more present for societies and make sure committees feel able to approach me and communicate any queries and issues they're facing.
Haaris says:
"At the end of the day, manifestos only mean so much. If my role as a PTO this year has been any indication at all, when I got this role, from the new perspective from being in meetings and receiving emails, I was able to see which issues facing disabled students were the things I needed to focus on, rather than what I wrote in my manifesto. Similarly, we've all written manifestos from our limited society experience- none of us standing here have seen all the background work the Activities Officer does throughout the day. I might not be able to fix every issue I encounter, but I have the best chance to, because I know what's been done before and what the NUSU infrastructure is.
I might not be able to fix every issue I encounter, but I have the best chance to, because I know what's been done before and what the NUSU infrastructure is."
Campaign video:
Read Haaris's full manifesto here and check out his Facebook page here.
Jordan Carroll
Studies: Linguistics
Key points from Jordan's manifesto:
-Give one free societal membership to anyone who takes part in Freshers Crew.
-Introduce a Buzzfeed-style quiz to match students up with societies and include the option to match students with three other students to attend the society with.
-Monthly optional mixers for committees of societies to help share ideas, arrange joint socials and help small societies get off the ground.
-Asking the university to act as a middle man and help societies get sponsorships.
-Advocate for a week off between the end of January exams and the start of semester 2, so students who participate in RAG can take part without it affecting their studies and other students can have a rest.
Jordan says:
"Societies helped shape not only my uni experience, but me as a person; I want to help ensure that everyone can have the same experiences with them. Moreover, while they are doing so much good, with me as Activities Officer we can do so much more! I'll help ensure you get back what you put in, I'll help you find your people and I'll help you make Newcastle your home."
Campaign video:
Read Jordan's full manifesto here and check out his Facebook page here.
Meg Keates
Studies: Archaeology and Ancient History
Key points from Meg's manifesto:
-Include sector-specific workshops and compartmentalise the ncl+ award so its comprehensive to employers and therefore more valuable to you.
-Improve society and club training and include mid-year check-ups focusing on event management, organisation, communication and welfare.
-Build stronger connections with local and national organisations and put more emphasis on volunteering as a way to build your prospects, fill your time and help good causes.
-Provide further help to societies with an "external charity" attachment and ensure that fundraising is returned for future events, making balancing the books easier.
-Improve Refreshers Fair by advancing an opt-out system for half price memberships at the start of semester 2, organising a separate "Get Into Sport" week and help develop inter-mural sports.
Meg says:
"Newcastle is one of the best places in the UK to be as a student, we know this. If I'm your next Activities Officer I want to make more of it.
With me, you can know you'll have a passionate, experienced and competent Activities Officer, with do-able policies for the whole year. If you want a cheap and cheerful SU where's there is something for everyone, Vote MEG KEATES as your #1 for ACTIVITIES OFFICER this week!"
Check out Meg's Facebook page here.
You have until Friday to cast your vote!