An important, honest and much needed A-Z guide to being a student in Newcastle
You've gotta love the sesh
Whether you're a Fresher just beginning the love affair, or a second/third year coming back to fall even harder for our uni, here is an A-Z guide to being a student in Newcastle – also known as the best uni in existence (not that I'm biased).
A is for… Angel of the North
There's nothing like driving back up to uni on the A1 and seeing the beautiful site that is the Angel of the North. Honey I'm homeeeee!
B is for… Beach
Whether it's the one Saturday you actually venture out with your housemates, or a trip with your parents and doggo when they come to visit, you have to take a trip to Tynemouth. It would be rude not to walk around, freezing, eating overpriced fish and chips at least once.
C is for… Castle Leazes
Known for the party lifestyle, you don't fit into these halls if you can actually say no to a night out. And even if you don't live in Leazes, you're not a true Fresher until you've been to pres here!
D is for… Digi Mondays
You spend the first semester of First Year buzzing for Mondays at Digi. And then never go again. I swear people only go to take the infamous photo on the second floor. If you know, you know.
E is for… Eat 4 Less
Halfway down Northumberland Street, you can get a baguette and a drink for £1.40. The only place to waste your student loan and break up a long three-hour day at uni.
F is for… Flares
The trousers or the club? Your answer says a lot about you!
G is for… Geordie Shore
No matter how hard you try to resist…. You'll still fan girl a little bit when you see Scotty T bouncing around Collingwood Street or Marty in Tup Tup.
H is for… Hangovers
You spend the day lying in bed, feeling guilty about spending too much money last night, only to make yourself feel better by spending more money on a takeaway. It makes perfect sense.
I is for… Incredibly windy.
The amount of times you'll nearly be swept away walking through the tunnel on the way to the Robbo is too many to count.
J is for… Jesmond
The place to be in second year, Jesmond. It's beautiful, all your friends are there, and it's really really expensive. But, would you dare live in Sandyford?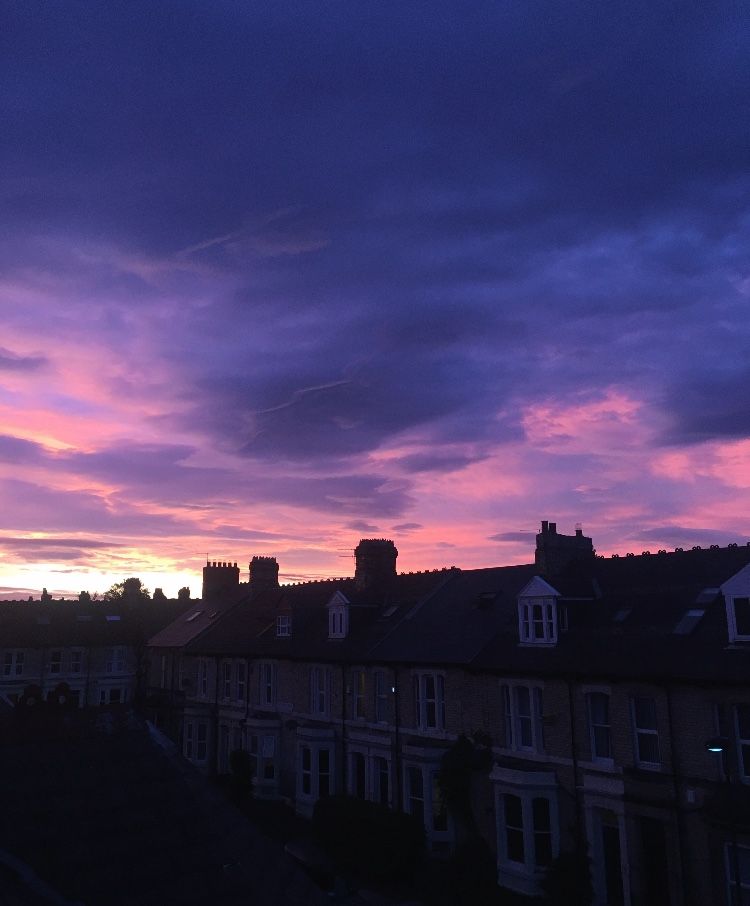 K is for… Katsu Curry at Shijjo
It's definitely cheaper and supposedly better than Wagamama's. Located next to Haymarket, it's the only thing worth waiting in the (constantly massive) queue for.
L is for… 'Lets just go to Soho'
Someone in your house deffo says this at least once a week. This free club in Newcastle never fails. After all, no one has ever had a bad night boogying in Floho.
M is for… Munchies
Nothing like cheesy chips and gravy for the journey home after the spontaneous trip to Soho.
N is for… NUSSC
The biggest sports society at Newcastle, everyone knows someone who is a member of the ski society and never shuts up about how great the ski trip was. Whether you're an expert or can't even stand up on the slopes, it's an opportunity to get drunk for a week with your friends, old and new. Sounds good to me!
O… Osborne Road
£2 doubles in Blanc and the red button in Spy Bar. Tuesdays can't be spent anywhere else with drink deals that good!
P is for… Poly vs Posh
The rivalry between Newcastle and Northumbria students is almost as big as the difference between their grades. Only joking, we can be friends (occasionally).
Q is for… Quayside
No better place to clear your head (or get rid of your hangover). The river, the Tyne Bridge and even The Baltic for those of you feeling extra cultured. Or a great Spoons for those of you who just want a bev.
R is for… (The) Robbo
It's sad but true that you end up spending more time than you'd like to in the lib. The ladies in the café become your BFF'S when you're buying four coffees a day off them, and you find yourself getting protective over your favourite spot, on the second floor, near the window.
S is for… Swingers
Sweatshirts, headbands and lots of rahs. You spend your whole night freezing in the smoking area, but it's worth it to see everyone you've ever met in the Toon in one place. There's nowhere else to be seen on a Thursday night.
T is for… Trebssssss
Two trebs and a jager bomb, anyone?
U is for… (Newcastle) United
You'll understand when you're pushing past the black and white stripes in town on a Saturday afternoon during football season. You spend half your time feeling slightly pressured to go to a match just to say you've been.
V is for… Verde
The poshest halls Newcastle has to offer. And the most expensive. You're basically just moving out of your family home and into a hotel tbh.
W is for… Wednesday Sports Socials
Messy drinking games, Players and then Tiger Tiger. Imagine naked rugby boys trying to pull any girl in fancy dress. Enough said.
X is for… (e)Xtra weird garms
I'm struggling now, but being a Newcastle student comes with an expectation to wear clothes that are… out there. I'm talking leopard print flares, anything bought on Depop, and groovy shirts which your Dad would definitely wear on holiday.
Y is for… (Gap) yahhhh.
This might be a bit of a cop out, but lets face it, 90% of people at Newcastle spend half their time talking about how they found themselves in Thailand and lived out of a rucksack for six months. I couldn't not fit it in somewhere.
Z is for… Za Za Bazaar.
The buffet in the Gate that everyone seems to talk about, but no one ever seems to go to.