The five types of people you find on Castle Leazes Ticket Exchange
'Hahahah pls help, I'm such a mess lol legend'
With over 20,000 members, posting on Leazes Ticket Exchange could either be the making or breaking of you. But amongst all those legit posts, there's the same five people who post nearly EVERY. SINGLE. DAY. But what category do they fall into?
The 'I went out last night, got really drunk and want everyone to know about it'
Offering a reward of £10,000000 if someone finds their keys, phone, I.D. and Canada Goose, these people want everyone to know what an absolute legend they are.
They post on Ticket Exchange basically every day and they've normally been to Soho and MSA the night before and have had an absolute 'shocker'. If they don't get their stuff back ASAP, how else are they meant to lose it again and remind everyone what a liability they are? Pretty sure 99 per cent of these people lose their stuff on purpose.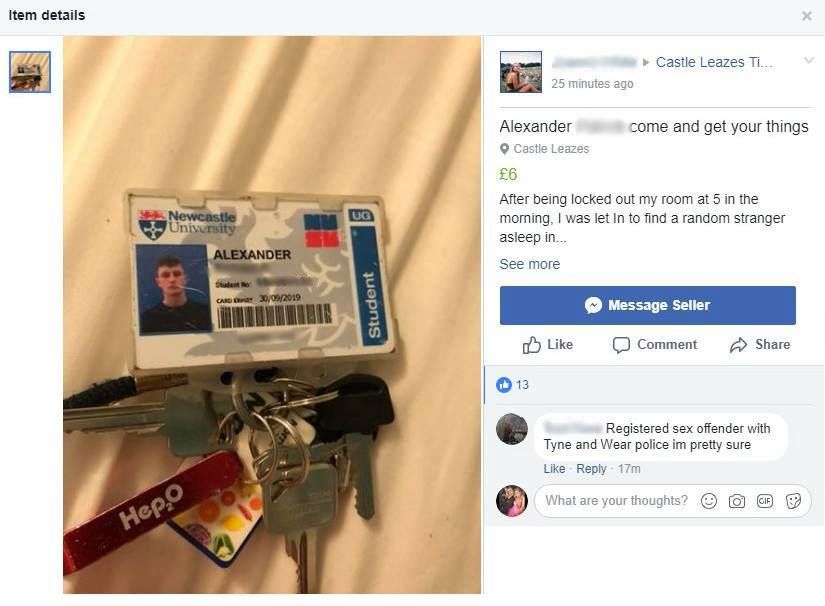 The 'Found your stuff in WHQ, here's a gross picture of me posing with your I.D.'
Unluckily for you, this person found your I.D. and wants to give it back. But you can't just turn up at their house and pick it up…they couldn't just post a photo of it with a simple caption, because that would risk only getting three likes.
Instead, you have to live with the fact that everyone in Newcastle knows that they've firmly clenched your I.D. between two their sweaty bum cheeks to take the photo…230 likes was worth it though. Also, why do you even need to post a picture of their student card?? You have their name and picture, just message them on Facebook like a normal person and stop wasting our time.
The 'Has anyone got 2 My Nu Leng tickets please, desperate x'
Oh, do you go out? You HAVE to buy these tickets, because you've already spent £30 on Depop on your outfit and messaged your dealer, and you don't want all that to go to waste!! You shout about how much you love drum and bass but everyone knows you just go for the Instagram (you actually have front row tickets to Ed Sheeran next week). Do everyone a favour, just be more organised when the tickets are released in future.
The 'I'm a club promoter and there is absolutely no escape'
You thought the days of getting leaflets posted under your door in halls were behind you and you've made sure you deleted them on Facebook. But lo and behold, there they are, popping up on Ticket Exchange. They're trying to wear you down, and eventually you will end up buying a ticket to Swingers on Valentine's Day. After all, 'Last year was wild, and this year is going to be EVEN BETTER!!!!!!'
The 'Has anyone got this random item that I desperately need NOW'
Do these actually ever work? Have they ever posted 'Need a large amount of fans for tomorrow, let me know' and actually got them? These people want everyone to know how totally random they are, and also want to make you curious. What do they need 15 fans for? What sort of house party are they having? The more random, the more likes you get…that's the most important part of uni though, right?
Photo credit: Aaron Shaquille Carlton (Swingers)