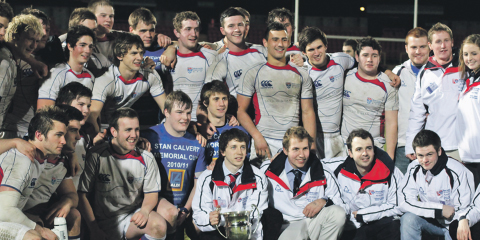 NURFC suspension lifted after seven days
Most of you disagreed with the Union's suspension
The Students' Union has lifted a suspension placed on the Rugby Union Club seven days after it was placed on the club.
The suspension was lifted on Monday 6th February, a day after results from a Tab poll suggested that students were not happy with the action taken. Over 800 people voted in a poll which resulted in 68% of you saying you didn't agree with the Union's decision to suspend the club.
The Rugby Union Club, which was founded in 1880, now has a brand new honorary Club Captain, honorary Secretary, honorary Treasurer, two Social Secretaries as well as a new positioned Welfare Officer. It's thought the Welfare Officer has also drafted a new code of conduct for the club.
All previous senior committee members have been suspended from playing competitive rugby for the remainder of the season. They were also made to step down from their roles and have been restricted from being elected into any senior committee roles for the remainder of their time at university.
Newly elected NURFC President, Jack Pennell, told The Tab: "We are working positively with the Athletic Union and have done everything asked of us. We will be continuing to work closely with the AU in the future, with a sole objective to continue playing a high standard of rugby."
Decision maker and AU Officer, Sophie Matthews, told The Tab: "The rugby club have made put a lot of effort into getting the suspension lifted and have had a really positive attitude towards it. They've already made some good changes within the club and I'm positive that we're moving in the right direction together and they'll continue to progress as a club with the AU."
The club will remain on a probation period for 12 months after the suspension has been lifted.