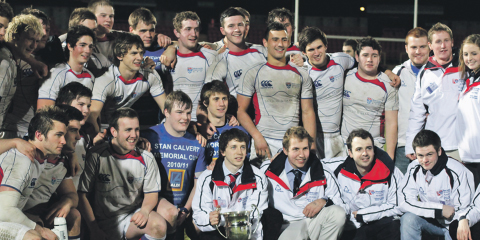 Newcastle University Rugby Union Club 'indefinitely suspended'
It was following a 'social event' in November
The Newcastle University Athletics Union has suspended the university rugby club, following a 'social event' that took place on 2nd November last year.
According to an email sent by the Union to all members of the club, the suspension covers all four teams, is 'indefinite', and will only be lifted when 'certain measures have been put in place'.
It also bans all current senior committee members from playing competitive rugby for the remainder of this season and gives them an order to step down from their roles with immediate effect.
The email failed to mention the details of the social event.
A Newcastle University spokesperson told The Tab: "Following a police report into an incident on November 2, the University disciplined members of the rugby club for antisocial behaviour at a club organised event. This included imposing a number of fines.  The Students' Union has subsequently taken follow up action against the club, of which we are fully supportive.
"Newcastle University has an outstanding reputation for rugby in the higher education sector and we are all working hard to support the club in implementing the action points that have been placed upon them so the suspension from club activities and competitive games can be lifted as soon as possible.
"A new committee that is committed to changing the culture of the club is due to be appointed this evening, a code of conduct has been drawn up and an induction and training programme put in place for new committee members and players."
The rugby team does have a right to appeal, but it is unknown as to whether this is a route that they want to take.
Athletics Union Officer, Sophie Matthews, told The Tab: "I can confirm that the Rugby Club have been suspended by the AU Executive Committee and the current senior committee members and social secs removed, following an investigation into antisocial behaviour. We will be working with the Rugby Club to have a new committee in place as soon as possible to ensure that a number of follow up measure take place which are aimed at changing the clubs culture and promoting inclusiveness."
Ex-committee members of NURFC were contacted by The Tab, but did not comment.
Last updated: 3rd February 2017, 17:30