Social Media Snippets: Halloween
Second insight into the cyber world of Newcastle
halloween
social media
When we are younger, we think of Halloween as dressing up as a witch, or a scary monster. You go along your little street carrying your little bag to collect goodies from your neighbour's.
Your parents dress you in your fully covered fancy dress costume nicely and off you go. You come home eat your little baby weight in chocolate and go to bed. Content with your nights earnings…
These earning are a little different come university life… The sluttier the outfit the better, it seems the more trebles you consume they affect you twice as much.
Newcastle is notorious enough in both senses of attire and alcohol consumption 2+2=wreckless behaviour. Let's have a cheeky gander what has been going on this week. Who has the Scariest, Funniest, Little Effort and the sluttiest – watch out boys we're looking at you too.
But before I indulge on showing you these wonderful gems I have found… a little something that has popped up on my news feed a few weeks ago, which I would like to share with you all.
If you're going to cheat on your girlfriend don't do it on pull cam.
Cute. But I think she found out anyway….
On to the photo competition on the social media span…
This under worst effort… 15 likes average to good like count; not entirely sure why this managed to get so many hits… The girl's not even dressed up either. Shameless likers…

This is by far the funniest. Credit to Mark (Electric) Agnew for finding this outfit. I am sure you were having a fartastic night at Legends on Halloween.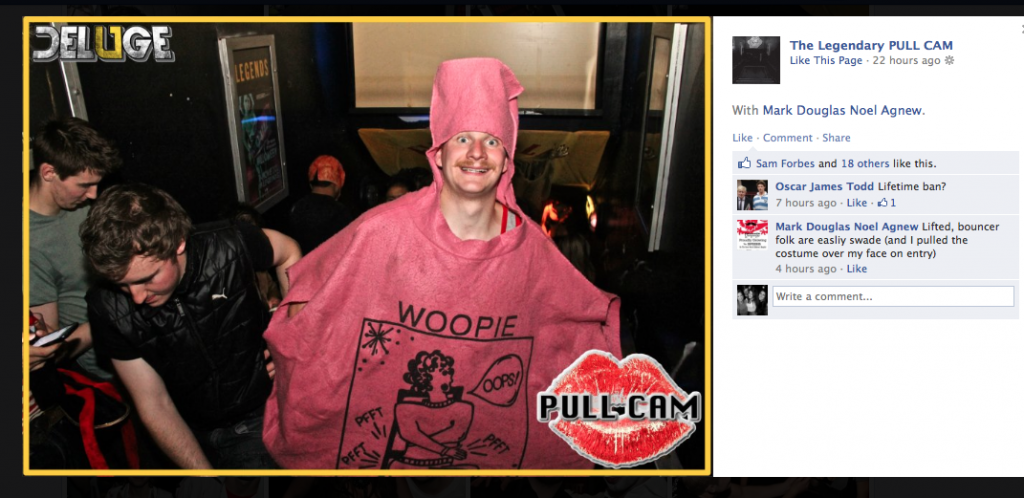 This for me was the scariest… The mask generation has taken a step up in the market from the plastic masks to something replicating Saw IV's make up artist's wardrobe. You can thank The Tab for this find.
This chick had her bootay out in another of Waikiki's photos. I hate to say it but this one grabs the prize for sluttiest Halloween outfit.
Not quite sure what is going on with her left hand but as long as she's having a good time, let not us judge.
It is Halloween after all – anything goes.
Only one tweet this week with any substance – Keep them coming. Only we're allowed to tediously go on about hangovers so change it up!
Until next week. More tweets please.