Am I Actually Growing Up?
Today I was forced to evaluate my life when I realised I was defrosting a bottle of frozen milk in the shower as if this was quite ordinary and logical.
Milkgate had come about due to my habit of buying milk when it's reduced and freezing it as needed. Sadly, I'm not very good at remembering to take it out to defrost and this does not mix well with my tea addiction.
I had always imagined that by the time I reached 21 I would be grown up and mature and have a real job that didn't involve call centres. In actuality I only realised what I wanted to be when I grew up last year and still wear an 'essay hat' (complete with feather) which makes me feel smarter when writing Uni stuff.
I used to think that people were being presumptuous when they talked about 'student culture' and 'student life' but actually going to university has taught me that it does lead to a very different outlook and way of living.
In most ways I'm not a typical student – I don't drink much, rarely go out, actually do my reading, write my essays in good time and don't even receive a student loan – but where it counts I'm definitely not a 'grown up'.
A survey of my kitchen cupboards would reveal shot glasses (actually used as egg cups), loads of empty jam jars (better than Tupperware… well, cheaper), plastic plates, bowls and alien cutlery.
The childish and the adult sit side-by-side. My gravy boat by my pirate cutlery set,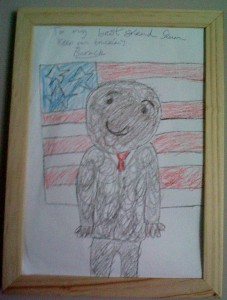 Christmas penguin plates still in use from last year, the crayon portrait of Barack Obama on the wall, the mittens in my work blazer. Occasionally, I find myself wondering if I could really consider myself mentally above the age of 12, let alone 21.
So, how's your life going? Are you anywhere near where you wanted to be? Do your cupboards look like a 6 year old furnished? Tell me I'm not alone…