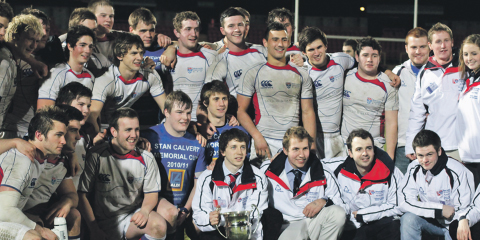 Rivals Dealt Washout Blow
Royals and TN Premier North A League fixture postponed due to waterlogged surface
newcastle
northumbria
rugby
The eagerly anticipated clash between Northumbria and Newcastle was called off on Wednesday after heavy flooding to Heaton sports ground.
In retrospect the rain may have been a godsend to Northumbria and there could have been a few players praying for rain late into Tuesday evening as recent matches between the two sides suggest Northumbria have had a torrid spell against a better equipped and clinical Newcastle side.
This sporting event means a lot more to players and spectators than any other; it's an opportunity to put one over on their fierce rivals.
It originally derives from the opening of Northumbria University in 1992, with many Newcastle students feeling they are far superior to their younger, less established city counterpart.
The matches between these two titans have always been an exhilarating prospect with a showcase of elite talent on display but the postponement of this fixture will certainly add further fuel to an ever raging fire.
The city of Newcastle is renowned for its sporting passion and the Tyne and Wear rivalry is mimicked by the universities' sporting fixtures.
The game at Heaton would have represented a teaser and a significant indicator of the strength of the two universities and also the possible destination of the coveted Stan Calvert Cup which will be competed for in March of next year.
Recently Newcastle have dominated the battle between the pair and achieved the remarkable feat in 2011 of beating Northumbria three times in the space of year when two wins in the league sandwiched their 24-13 Stan Calvert success.
However a glimmer of hope for Northumbria presents itself in the form of the last meeting between the sides and the Poly will be looking to emulate their 10-3 victory on Newcastle turf during last year's Stan Calvert competition.
Simon Culley, Head of Rugby Union at Northumbria University, has a reputation that precedes him and while his side haven't quite yet conquered the duel with their redbrick rivals they did actually finish one place above their counterparts last season in fifth.
Hopefully, with Culley's managerial expertise and an accomplished pre-season they can improve on that performance this time around.
Other fixtures that fell victim to the weather included Men's football fixtures between Northumbria 2nds and University of Hull 2nds  and Northumbria 3rds against Northumbria 4ths which were both meant to be played at Bullockstead playing fields.