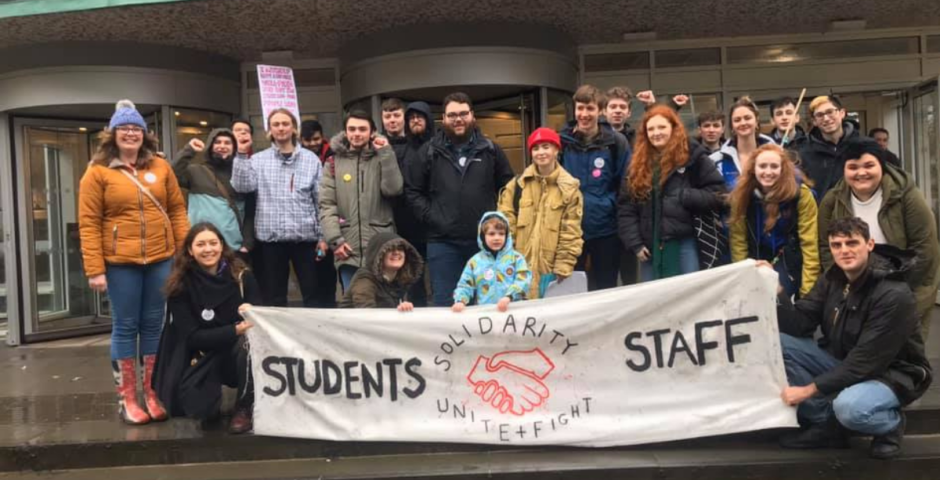 Strikes at Manchester Unis announced for December
Strikes are happening at 58 unis across the country
| UPDATED
Staff in the UCU union at the University of Manchester and Manchester Metropolitan Unviersity recently voted to take strike action over pay and working conditions.
Now the UCU has announced those strikes will be taking place from the 1st to the 3rd of December.
The strikes at Manchester unis will be part of strikes at 58 unis across the country.
The ballots over pay and working conditions passed with 74 per cent support at UoM and with 79 per cent support at MMU.
The Manchester Tab recently reported that 89 per cent of students blame uni management not staff for the strikes. On top of this 95 per cent said they felt the uni had handled the situation regarding pay and working conditions "badly".
A spokesperson for UoM told The Manchester Tab: "On Tuesday (16 November), we received confirmation from UCU that they will be taking industrial action from Wednesday, 1 December 2021.
"This will take the form of strike action on 1, 2 and 3 December 2021 and action short of a strike continuously from the 1 December ending no later than 3 May 2022. We recognise the right of colleagues to take this action, but are extremely concerned about the impact on our whole community, particularly on our students who have suffered so much over the past 20 months.
"The industrial action at our University is in respect of pay and employment conditions, where the vote just exceeded the legal threshold for action (50.4%). In total 728 staff voted in favour of such action. We have over 12,000 staff across the University.
"We absolutely understand how important pay and employment conditions, and indeed pensions, are to colleagues and we take these views and concerns very seriously.
"However, inevitably any kind of industrial action causes serious disruption for our community, and particularly our students, exacerbated this year following such an extended period of pandemic upheaval.
"We will very shortly provide more detailed guidance to staff, line managers and students to help navigate and mitigate against any disruption.
"In particular, we'd like to reassure our students that we will do everything we can to minimise any impact on their teaching, learning and wider experience and will of course keep colleagues fully informed of any developments."
A spokesman for Manchester Metropolitan University said: "We are disappointed by the UCU's decision to ask its members to strike for three days in December. After a successful start to the academic year back on campus, our aim now is to minimise any disruption to students' teaching and learning and to reassure them that any strike action will have no impact to their academic outcomes.
 "This dispute is about pay, casualisation, workloads and equality. While the majority of our 2,200 academic staff are not UCU members, we have been working for some time to address the concerns the UCU has raised nationally. We continue to have constructive discussions with both the UCU and our wider academic staff about our proposals to focus workloads on teaching and research and our ongoing project to bring associate lecturers onto more secure employment contracts."
Related stories recommended by this writer:
• 89 per cent of students blame 'uni management' not 'staff' for upcoming strikes
• Staff explain why you should support the planned strikes
• Don't blame your lecturers for striking. Blame uni management for giving them no choice