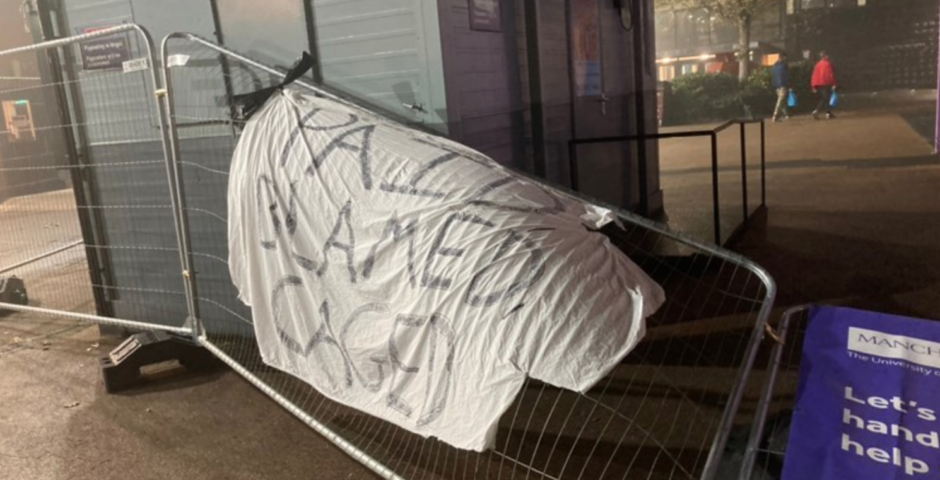 Manchester Uni spent £11,000 on the fences around Fallowfield halls
Protesting students tore them down last night
The University of Manchester has confirmed they spent £11,000 on the fences put up around Fallowfield halls yesterday.
Yesterday afternoon, the university erected fences around first year accommodation as "new security measures" for the national lockdown, without informing students.
This led to student protests, which went ahead despite the university saying the fencing would be removed today. Last night hundreds of students gathered in protest and tore them down.
The university confirmed to the BBC it had spent £11,000 to install, inspect and remove the fencing, which "had been hired for four weeks in response to security concerns about non-residents accessing the Owens Park site".
This morning, the university's Vice Chancellor Nancy Rothwell said she does not know who "sanctioned" the fencing being put up, and said an immediate inquiry has been launched into the fencing. The results of this will be published "within two weeks".
After the fencing was torn down last night, Nancy Rothwell said: "I sincerely apologise for the concern and distress caused by the erecting of a fence around our Fallowfield Halls of Residence today. This was not our intention – in fact quite the reverse.
"The fencing was intended as a response to a number of concerns received over recent weeks from staff and students on this site about safety and security; particularly about access by people who are not residents. There was never any intent to prevent students from entering or exiting the site.
"The fences are being taken down from Friday morning and students are being contacted immediately. Alternative security measures, including additional security patrols are being put in place.
"I apologise once again for the issues caused by this incident."
Feature image via Felix Kwok, @felixcycat
Related stories recommended by this writer:
• Protesting Manchester students tear down the fences put up around halls
•University of Manchester has launched an "immediate inquiry" into the fences
•Inside The Manchester Uni protest: Everything that happened last night