Breaking News
Breaking News
Breaking News
Breaking News
Breaking News
Breaking News
Breaking News
Breaking News
Breaking News
Breaking News
Breaking News
Breaking News
Huge crowd of protestors gather outside Uni place on first day of strikes
'We're here to help students, help lecturers, and help our futures'
Dozens of protestors have gathered outside Uni place at the University of Manchester on the first day of the UCU strikes.
The crowd is made up of lecturers and students alike. Students Martha and Harry, told The Manchester Tab they were there to "show solidarity" with striking lecturers.
"We're finding it difficult, but we're fuelled by optimism," they told The Manchester Tab.
This is the third round of strikes to hit universities across the UK, following similar protests in March 2018 and November last year.
"I only found out about the strikes when my course convenor emailed me about it," protesting student Orlando told The Manchester Tab. "Students might not even be aware of the strikes so we're here to raise awareness."
Another siad: "We're here to help students, help lecturers, and help our futures."
Carrying red flags and braving the heavy rain, the group marched from Uni place to the SU.
Pictures show the group carrying banners reading: "Students in solidarity with staff" and "Postgrads and GTAs want bursaries and decent pay."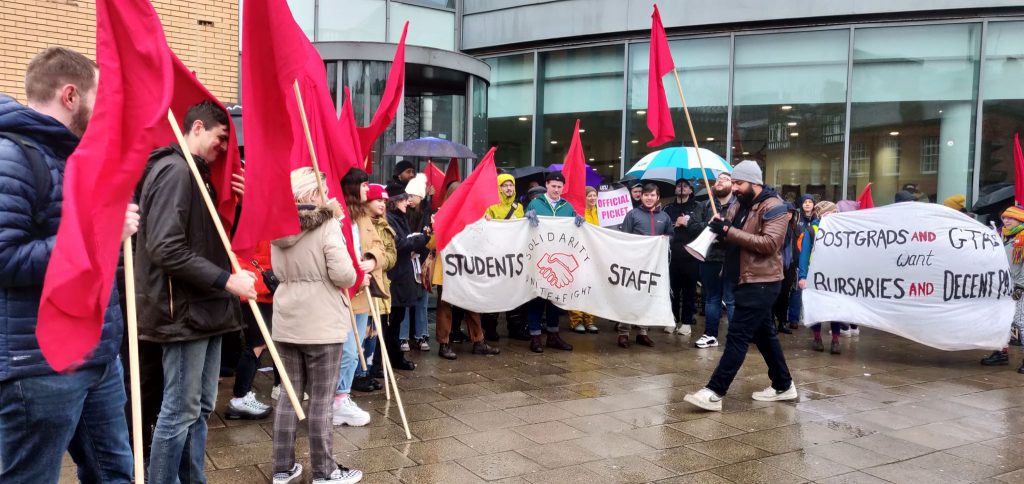 The protest is set to continue throughout the day. Strikes this week are scheduled for today and tomorrow, and over the next four weeks.
This is a breaking story, we will update with information as we learn more.
Related stories recommended by this writer:
• The leader of the UCU answers students' questions about this month's strikes
• Lecturers could strike over summer exams if demands aren't met, UCU warns
• Exclusive: Strikes will stop some students graduating, leaked email reveals