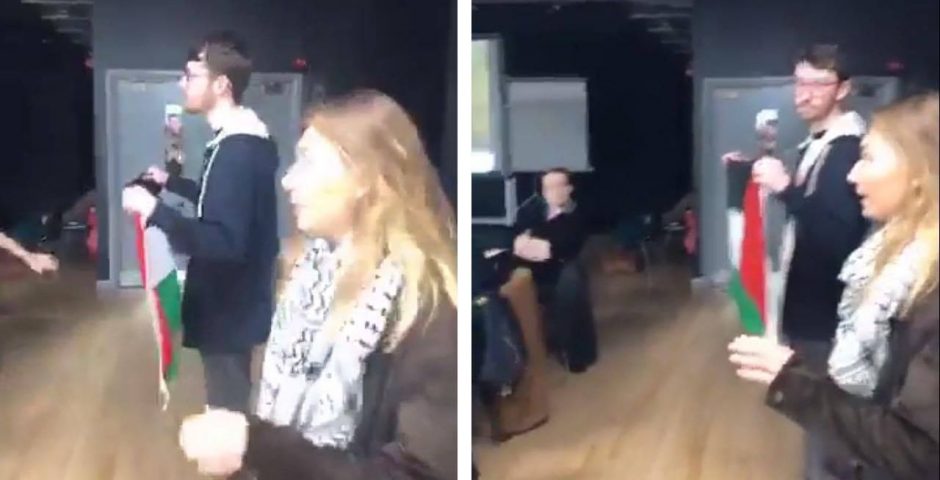 Two groups of student protestors stormed a Board of Governors meeting today
UoM Fossil Free Campaign and BDS stormed a meeting
Four students from UoM Fossil Free Campaign and BDS, stormed a Board of Governors of The University of Manchester meeting in The Whitworth today.
The BDS (Boycott, Divestment, Sanctions) protest was led by chair of the group Emilia Mićunovic – they demanded the University divest from investments in companies that arm Israel. The Fossil Free campaign read out a letter calling out the University for continuing to invest in fossil fuels.
A video of the BDS protest was live streamed on Facebook – you can see the footage on The Manchester Tab Instagram story.
In the video Emilia says: "For three years we have demanded that you divest from American companies that are complicit in Israel's human rights violations against the Palestinian people in historic Palestine.
"They are responsible for the demolition of Palestinian homes, schools, olive groves, you name it, and have been condemned by various human rights organisations across the world, including Amnesty International, the International Red Cross, the Human Rights Watch, and is on the UN draft of blacklisted countries operating in Palestinian territory and breaking international law.
"You're socially responsible investment policy clearly states that you do not and will not invest in companies which, I quote, are complicit in human rights violations and arming missiles to military regimes.
"You say you are socially responsible and you are lying. How can you justify this?"
BDS activists "invade" University of Manchester board of governers demanding they divest from Caterpillar. Promise to return every year until they end their complicity with Israeli ethnic cleansing.

Amazing and inspiring activism! https://t.co/x7eI2mEUTK

— Asa Winstanley (@AsaWinstanley) February 20, 2019
Currently, The University of Manchester is estimated to hold £2,114,435.97 worth of shares in Caterpillar, an American company that supplies the Israeli army with weaponry.
BDS also estimate that The University of Manchester hold £2,853,242.44 worth of shares in drones supplier Allianz and £2,303,020.48 worth of shares in baggage-scanner vehicles supplier General Motors.
Speaking to The Manchester Tab, Emilia said: "The university invests almost £500,000 from its own students' tuition fees (without their consent) in this company, which is sued and condemned by international human rights organisations such as Amnesty International, the Red Cross, Human Rights Watch, and is on the draft of the UN blacklist of companies operating in the Occupied Palestinian Territories breaking international law.
"This is against the university's own Socially Responsible Investment Policy, which clearly states that it does not invest in companies complicit in "1) human rights violations and 2) armament sales to military regimes".
BDS seeks destructive rather than constructive solutions, and the proposed boycott against a song contest which strives to bring different people together to celebrate diversity, is demonstrative of that fact." END

— Ben (@_BenFreeman) February 11, 2019
"I would like to add that not only is this a direct action to fight for the basic human rights of Palestinians, but a question of democracy for universities. The collaboration we held with People and Planet- University of Manchester (who also demand divestment from fossil fuels) raises the issue of students having a say in what kind of university they want to have in this country: universities that firstly adhere to their own investment policies, but also about what these institutions invest their own students' diabolical £9000 tuition fees in."
The actions of BDS on campus have also been met with opposition from students on the other end of the political spectrum, however. Ben Freeman, President of Manchester Jewish Society said: "The actions of the BDS movement today are demonstrative of their disregard for healthy and productive dialogue.
"At the same time that the BDS movement stormed a meeting, interrupting the democratic procedures of our university, the University of Manchester Jewish society spent time in the Students' Union, engaging in discussion on a whole host of topics surrounding Israel, with students from all sorts of backgrounds.
"The Jewish Society knows that positive change can only occur – and will only occur – when people are willing to try and understand one another's perspective. No matter what methods the BDS movement may try to utilise in order to implement its hateful ideology, the Jewish Society will not be led astray from its commitment to opening the doors to dialogue and understanding."
Students from UoM Fossil Free campaign entered the meeting at 3pm and presented the Board of Governors with a petition demanding that the university divest from investments in the fossil fuel industry.
The petition, which was signed by over 600 staff members, students, and alumni, states: "You currently have over £10 million invested in the fossil fuel industry including Shell, BP and Exxon Mobil.
"This has increased from your official figure of £7,694,138.
"These companies have been responsible for massive ecological crises, human rights violations around the globe, not to mention their role in oncoming climate breakdown."
A spokesperson for The University of Manchester said: "The Board of Governors meeting was briefly interrupted by a small group of students protesting the University's current Socially Responsible Investment (SRI) policy. Those present at the meeting actively engaged with the students and listened to their concerns.
"Our Board Finance Committee, which determines our investment policy, will continue its considerations of ethical investments. As a university, we work closely with our investment managers to ensure our portfolio complies with our published SRI policy and considers Environmental, Social and Governance (ESG) issues as well as financial factors.
"The SRI policy we have developed allows the University, as a charity, to pursue an ethical investment approach, whilst minimising any potential negative impact on its investment returns.
"In relation to the protest itself, as usual, the University recognises students' right to protest peacefully, providing that this does not unduly disrupt the conduct of the University's normal business."