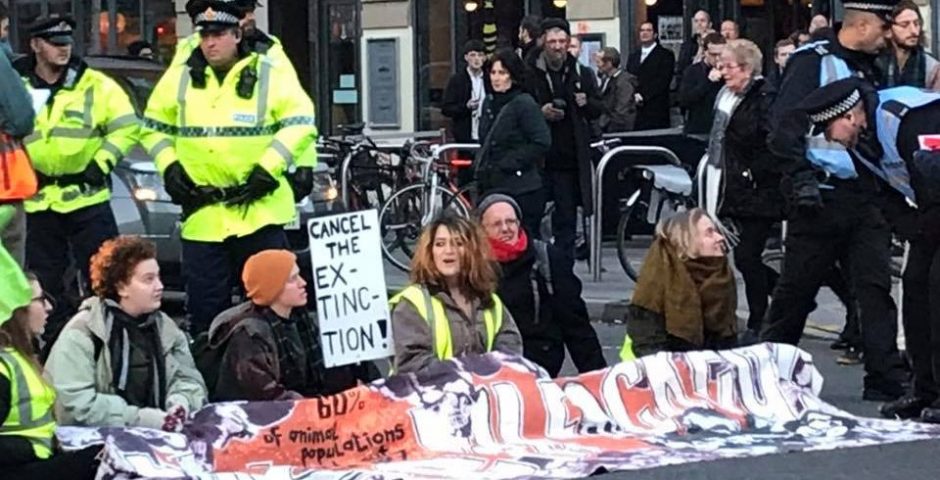 Students' Union executive officer arrested in Extinction Rebellion roadblock
Protesters blocked traffic near Wetherspoons on Oxford Street
A University of Manchester Students' Union Executive Officer was arrested over the weekend and is awaiting trial for her part in an Extinction Rebellion protest.
Climate change protesters blocked traffic on Oxford Street for nearly forty minutes on Saturday evening, leading to Activities & Development Officer Lizzy Haughton and seven other activists being arrested.
The group have been charged with obstructing the highway and are awaiting trial in January.
Extinction Rebellion staged a similar protest outside the University of Manchester earlier this month, when traffic was blocked for fifteen minutes.
At the time, Extinction Rebellion campaigner Jenny Gibson said they were "willing to get arrested to raise awareness if that's what it takes."
Speaking exclusively to The Manchester Tab, Lizzy Haughton said around four hundred people attended sit-ins in the Deansgate area on Saturday afternoon, before moving to a 'die-in' protest outside the Manchester City Library in St Peter's Square.
Up to 40 protesters then attended a roadblock at the junction of Oxford Street and Portland Street. 10 protesters sat down within the pedestrian crossing outside The Paramount Wetherspoons displaying a banner which read: "We're all fucked".
Protesters held placards with slogans including "cancel the extinction", "time is running out", and "decarbonise now!"
They refused to move when asked by police, who made the first arrest after around half-an-hour. The remaining activists were then arrested one-by-one.
A video posted to Facebook shows the arrests taking place. Lizzy added that all the arrests were peaceful, with each protester standing up and co-operating with police once arrested.
A policy that proposes that the Students' Union officially endorses the Extinction Rebellion campaign was due to be voted on earlier this month, but the vote was one of several postponed until December after a Senate meeting ran late.
The pressure group has blocked traffic across London in co-ordinated protests throughout the last week, alongside other action across the country including Bristol and York.
Lizzy acknowledged that some people will be angry at protesters blocking road, but says that this anger is misdirected. She added "there is a really solid group that has formed in Manchester now, and we've already done lots of other forms of activism, not just blocking roads."
Further protests across Manchester are in the works, which include disrupting certain unspecified businesses.
Greater Manchester Police told The Manchester Tab: "Shortly after 3pm on Saturday 24 November 2018, police responded after a number of people were reported to be wilfully obstructing the highway on Oxford Street, Manchester.
"Eight people have been charged following a climate change protest in Manchester City Centre on Saturday 24 November.
"All eight have been bailed to appear at Manchester Magistrates Court on January 3 2019 at 9.30am. "
The University of Manchester Students' Union have been approached for comment.