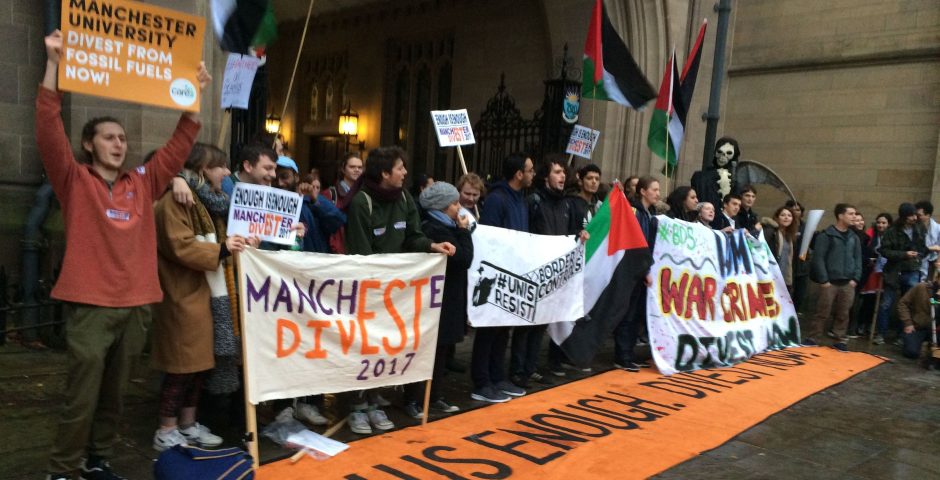 Don't use my tuition fees to fund the fossil fuel industry
I just want to get my degree without supporting the destruction of the planet, is that too much to ask?
Unsurprisingly the £9,000 a year tuition fees are unpopular with much of the national student body, but it gains an extra sting that the fortune the university sits on is paying for shares in environmentally destructive institutions.
Whether you chose Manchester for its prestigious academic record, or the legendary nightlife and music scene, it's easy to see how much love this place accrues from its student population. The actual university however, lacks the uniquely beguiling feel of this city. Despite frequently presenting itself as separate from an archaic culture of higher education that rules other Russel Group unis, it is no different in its disregard for the views and passions of its students.
Action by a number of societies calling for a more ethical investment portfolio, including a recent protest by the People and Planet Society and the Boycott, Divestment and Sanctions Society, has been resisted by the University who have made no commitment to withdraw assets from anything; from gas and oil companies to the arms trade. It might be a sweeping generalisation to assume the whole of Fallowfield is against these industries, but it's probably safe to assume the majority of people aren't big fans of climate change or war, and would be unhappy to learn the debt payments they will be making for a large proportion of their working lives will be going toward funding them.
A recent league table ranking universities by their environmental record placed Manchester at a rather pathetic 71st position, and the very nearby MMU in the top spot. It's quite hard to stomach for those who (secretly) harbour any sense of competition between the two to see UoM losing a battle based purely on our ability to put recycling in the right bins and not fling money at fossil fuels.
Continued investment in renewable energy sources is a perilous negligence that verges on the ridiculous. If the University of Manchester is going to continue to present itself as a forward thinking institution with any semblance of consciousness of about its revolutionary past, then it needs to continue to act with the principled democracy it theoretically extols.