Halloween's best and worst dressed
You guys had some real shockers
Where were all the make-up gurus hiding?  Sadly, creative Halloween costumes were non existent this year on the locks. But, we do have a interesting few.
Whilst a lot of you were getting drunk, having fun and dancing the night away on Halloween night, I was wandering around, looking for the most creative Halloween costumes. After walking up and down Deansgate locks, loitering the smoking area with my camera and spending a large part of my night resided in the girls bathroom, I tried my hardest to find some creative costumes.
Every year we come across the typical zombie, ranging from zombie-bride, to zombie-cheerleader. The blood, the mis-matched contacts, the red lipstick, and the torn clothes, are all go-to features which are quick, easy and simple for a Halloween costume.
These simple yet cliché costumes were used by many throughout the night however these two girls really did go all out and commit. The slit throat, an effect created by latex and blood, was done rather well, along with their use of make-up to create a scary and creepy effect. Let's not forget to mention the purchasing of costumes just to destroy, ruin and throw away within one day of buying it. That itself is a commitment I myself didn't carry out as my outfit was a pathetic excuse of an 'army girl', as seen below.
Let's not forget the sexy outfits of the night. Those girls who require minimal effort to pull off a sexy cat girl outfit, whilst my uncreative self barely manages to draw army mud lines on myself without it looking like fat cat whiskers.
An all black outfit can never go wrong, making these costume simple yet rather apt for the dark festivity of Halloween night.
The femininely feline leopard print can never go wrong, making it another great go-to outfit for the purr-fect night.
The stereotypical costumes often associated with Halloween, the Devil and skeletons, also made their appearance.
The half-faced skeleton and the full-faced skeletons were ample among the crowd of people. This look requires minimal effort as good old face paint can turn you from living to dead, making it a perfect last minute fix-up. Although, I do prefer the half faced ones as it is surprisingly hard to recognise someone when they're face consists of  just two black circles and teeth.
An interesting one is this mime costume. It was the only one I saw on the night, and was pulled of quite well. Although this costume is quite simple, it can only be pulled off correctly if the whole outfit matches, and that it did. However, unlike the previous costumes, the clothing for this outfit can actually be used after Halloween, making it a well worth spending on the outfit. You rock that stripy top all throughout the year!
But, I wanted something original. Something unique. Something different.
This Ariel/mermaid outfit was among some of the different ones of the night.  Her shell bralet would have left her freezing her shells off all night yet despite this, she still rocked this outfit. Her glittery skirt worked rather well as a mermaid's tail, the sparkly sequins no doubt made her look dazzling throughout the night. Her blue, scale-effect make really did compliment the whole look. Although not quite in theme with the horror of Halloween night, it was creative and different.
Considering the recent Suicide Squad film, I was expecting a crowd full of Harley Quins, yet surprisingly there were none, which is why this Jester made it onto here. She was the only jester of the night, taking centre stage with her  full piece suit, make-up, and head piece. Her decision to wear a full piece suit in a club, with the heat of hundreds of people causing her to sweat just as much as every sweaty person around her is commendable in itself.  Her make-up, although simple, matched her outfit completely.
Sadly, the boys this year didn't bring much to the table. The typical V for Vendetta, Halloween, and Hockey masks were worn by most guys, making these two stand out.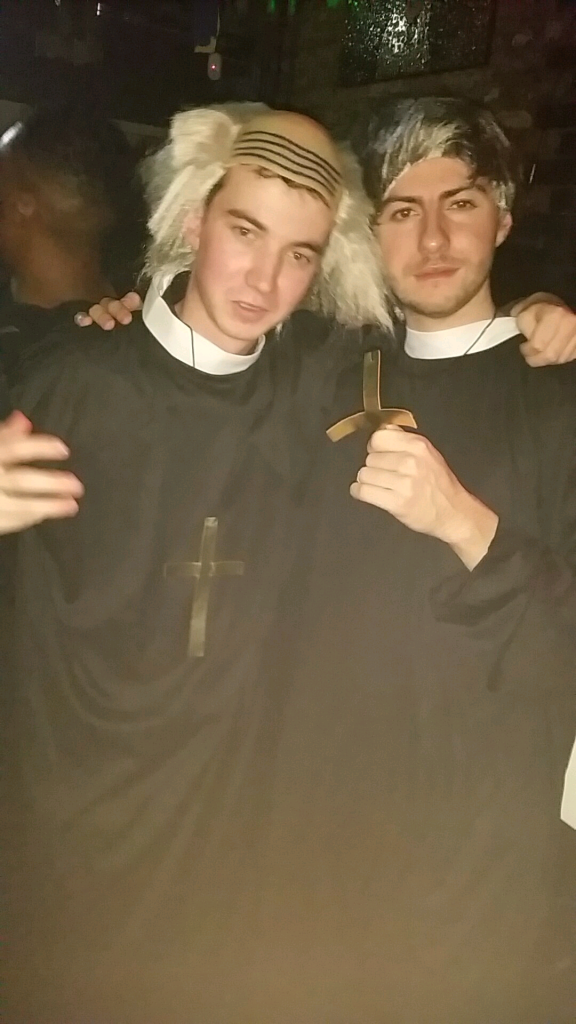 Once again, that black robe must have left them feeling like a sauna under there. The use of wigs was confusing as they both had hair, however I assume they were going for an older look which they pulled off greatly. Their commitment to their role as middle-aged priests was the most interesting aspect of this costume as when asking if I could take a picture, one of them replied "Bless you child. You may kiss my cross". Despite this costume not having any horror element to it, it stood out among the crowd of masks,making it hard not to take a picture.
Now, moving onto my two favourite costumes of the night.
To all the politics students out there, this girls got you with her Death Coming for Capitalism costume.
Sadly, her Grim Reaper sickle didn't quite make it into the shot, but this outfit is undoubtedly unique and creative. Although it lacks the cliché blood, gore and horror of Halloween, it is scary in a political sense. The 'Last day of Sale' banner was representative of Capitalism, with her outfit as the Grim Reaper, indicating the death of Capitalism. Although it took quite a bit of explaining, it was definitely one of the most unique costumes of the night.
And now, onto my second, and last, favourite costume. As an avid fan of Mortal Komabt, this costume was quite cool. The ninja/Mortal Kombat costume really did make her stand out, possessing a sexy yet fierce aspect to it. Her mask, neck tie, thigh strings, and leather boots all put this outfit together, making it really stand out.  Once again, the lack of use which she will get out of any of these clothing items is a display of her dedication to this costume. Her adaption of an all time, epic fighting game which I'm sure we all share a love for makes this outfit one of my favourites of the night.
There we have it! The most creative outfits of 2016 on the locks.