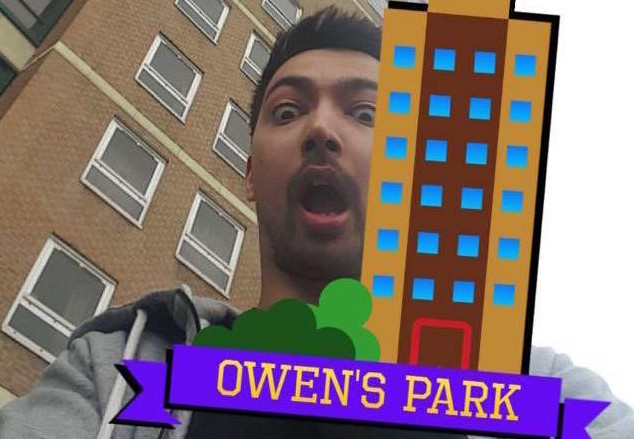 Every reason not to knock down Owens Park
Paint it, clean it, but please don't knock it down
For all the fresh-faced Fallowfield freshers, time here at Owens Park is sadly drawing to an end, with the threat of second year housing and actual work looming. But we're not the only ones saying goodbye to our beloved OP.
Alas, we've had some great times here. Memories to cherish and certainly not pass on to our parents. Sadly there won't be many more freshers who are able to share the same unforgettable experience as us, as Manchester University bosses have recently unveiled a £200 million budget scheme to completely demolish Owens Park.
It's been dubbed "tired", "outdated", and apparently "does not meet the expectations of students, or indeed their parents".  But we don't quite agree with that, so here's eight reasons why they shouldn't knock down Owens Park:
It may as well have its own version of Hollywood's Hall of Fame
You're all probably aware that comedian Jack Whitehall lived in Tower, but did you know Radiohead's guitarist Ed O'Brien lived here too? Not only that, but the Chemical Brothers played their first gig at Owens Park's weekly event 'Big Old Party' held in the tower ballroom (yah, it even had a ballroom). Other residents included Peter Hammill and Chris Judge Smith.
The campus bar is the number one night out
The infamous Squirrels is a pretty big deal in Owens Park. If you don't like its unsightly decor, sticky floor and the pungent smell of stale beer and urine then you're not doing it right. This is where all the great nights begin (and end) and it's the ideal hunting ground for new comrades. The staff are always friendly and at £1.90 a pint you literally can't afford not to.
It's catered!
No need to worry yourself about cooking up a whole meal or spending yet more money on eating out after a long, hard and stressful day at uni.
The lovely ladies in the dining halls do all the work for you! No complaints here (a smile wouldn't hurt though, guys)! Where else could you find a plate stacked high with pasta, chips, mozzarella sticks, naan bread and boiled vegetables? Not to mention the fry up every morning (get there fast before all the hash browns go).
The computer cluster is a life saver
What are we going to do when we can't just go to the cluster to finish our essay that's due in two hours? No one can be arsed to go to the library, and NZ wines is always on hand for all night revision snacks. RIP OP cluster, we will miss you.
It's a mess, but it's home
You're living with 30 other dirty first-time-away-from-home students, of course it's going to get messy sometimes. And although the cleaners try their best at cleaning up afterwards, it's sometimes just too much to ask.
The bathrooms are shared and puked in daily, the "study room" is only used for pres and the kitchens are tiny, but that all just adds to the charm of the place. At least we don't feel guilty when we fuck the place up on a regular basis.
It's a living catwalk
We're young, we're vibrant and we wanna show off all our latest buys from the charity shops. You won't have to go further than the OP courtyard to see it all; we've got rich kids pretending they're poor, steaming punks, crusty hippies, Supreme lovers, Adidas addicts, double French plaits, triple French plaits and so many hipsters that we're drowning in them. At least we think we're cool.
We've got the sweetest social life, hands down
Take no notice of what all the other universities say, Bristol, Leeds and Newcastle have nothing on us. The common room parties are hard to beat; there is a guaranteed amateur DJ forever willing to try his hand at the decks for free, and if you're lucky you might keep the music going past 12.
When the sun makes an appearance (at least twice a year) you may as well be sitting in the middle of the field of Avalon in Glastonbury Festival; whip out the Kopperberg and grab your tinnies people! There's plenty of green space around OP that allows us to bask in the rare moments of sunshine. We're Manchester, we know how to party.
It has its own snapchat filter
City campus definitely doesn't have one.
Can they really not think of anything better to spend the money on?!
How about getting more than ONE copy of each required textbook in the library? Rather than having to fight twenty to one over a battered copy of 'Quantitative Methods for Business and Management'. Why not just fill the library with books people will actually read? Or how about not having to pay for printing on campus? May I remind you we are paying £9K a YEAR, surely it's the least they could do?
If it ain't broke, don't fix it
We certainly don't see anything wrong with our beloved Owens Park, so why would they want to destroy it?
I hereby offer my advice, supported by the residents of OP, to the University and Manchester City Council: don't take Owens Park away from us, don't strip it of its charm and its odd beauty, don't replace it with lifeless, shiny high-risers with no character – we won't like it, and we won't like you.