Piccadilly Gardens bus stop closed for four weeks
Roadworks on Portland Street will mean an extra walk into town
Piccadilly Gardens bus stop has closed and will affect over 50 services, including the beloved Magic Bus.
The purpose of the closure is to allow resurfacing work on Portland Street, and the creation of a bus, taxi and cycle only section of the road.
Drivers will take an alternative routes via Minshull Street and Aytoun Street to get into town.
The roadworks are being done to decrease traffic and make the journey faster after the reopening.
Portland Street will be closed for a further five weeks even after the initially work has been completed.
The Metrolink  will run as normal and there will be staff available to provide information regarding the changes in bus routes.
The various Magic Buses will be leaving from stops on Portland Street and Sackville Street.
A TfGM spokesperson told the MEN: "We encouraged people to plan ahead by alerting them before Christmas to what was happening through posters, leaflets, social media and our website, stories in the press and on radio, installing advance mobile electronic signage on the major feeder roads and diversion signs and warnings nearby.
We have extra staff on hand in Piccadilly Gardens to help bus passengers and our control room has been monitoring traffic in the area and adjusting signal timings where necessary to ensure flows around the city are managed as efficiently as possible while drivers get used to their new routing through the centre."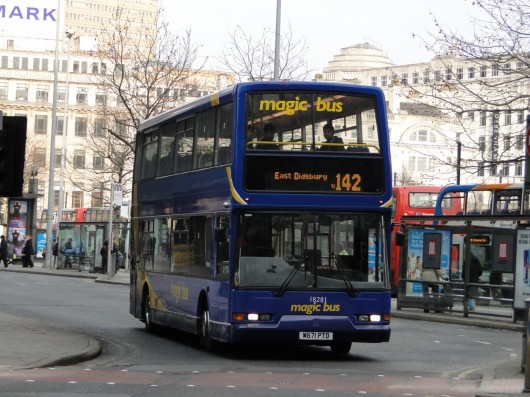 Commuters are unhappy about the lack of warning prior to the closures and have vented on social media against TfGM. Lisa Marie O'Shea said: "They could have warned us beforehand. That's really going to help people's commute after Christmas.
"I didn't see any posters anywhere at my usual bus stop would have been helpful."
Tony Neill said: "The traffic around the city is chaotic. On a bus that passed Piccadilly station twice as the driver didn't know which way to go. When the drivers don't know where to go, you know you're in trouble."
Additional information regarding bus routes affected can be found on the TfGM website.