We spoke to the students protesting against closures at Primrose Hill
Basically, we would like our emotional support hill back. Please?
If you're a London uni student who hasn't heard about the temporary fences at Primrose Hill, then where have you been? Zone Five?
Since late May, temporary fences have been set up to close Primrose Hill after 10.00pm. That's right, no more gazing at the bright lights of London and pondering what you're doing with your life with your mates and a pack of beer for company.
On Sunday 30th May, Chloe Richardson, a second year UCL Student, organised a small protest against these closures and the recent discussions to make them permanent. Primrose Hill is the only park in Central London which is open 24/7, so this ruling is big news.
The gates were removed as a result of resident action 50 years ago, as locals wanted all Londoners to be able to enjoy the park at any time. We sat down with Chloe and Amanda, another second year UCL student, to talk about their reasons behind protesting:
Why are you protesting?
Chloe: I've organized this protest to oppose the decision to put up fences at Primrose Hill – I saw a lot of anger about it initially, but not much action against it. I know there are some very effective local groups currently focused on the issue, but I wanted to do something visible so that local authorities know that there are people who strongly oppose the fences and the park closures.
It's a hyper-local issue, but I feel like there are a lot of other issues at play, including social gaps between wealthier residents of the Primrose Hill area who don't like the disruption of groups meeting to socialise and between other Londoners who might not live in the area but like to come and enjoy the Hill at night.
I'm not holding this protest because I'm mad that the authorities are shutting down late-night raves. I understand people's frustrations about noise and reckless behaviours- but those aren't problems unique to Primrose Hill, and there are better ways to deal with them than to close the park to everyone.
I organized this protest so that my voice and the voices of others who oppose the fencing of the park can be heard. I think everyone in the city should be able to access green space at any time of the day or evening. Spending time outdoors is vital to people's mental and physical health, and there shouldn't be time-based restrictions to using the outdoors.
Amanda: When I first heard that they were planning on closing Primrose Hill, one of the few parks left in London which are open 24/7, I was devastated. As a university student during the pandemic, my options to meet and socialise with other students in a COVID-safe way have already been very limited.
Open green spaces like Primrose Hill have thus been incredibly important to me and my friends, who have often found ourselves sitting and chatting on our picnic blanket in the park until after 10.00pm.
To me, it feels incredibly unfair that this opportunity should be taken away from me, my friends, and so many others. By organising this protest, I hope we can spread more awareness about the matter to the community, so that more people will support our cause to take down the fences.
What impact do you hope this will have? 
Chloe: I would hope that a protest will show local authorities that there are people who don't want the fence. Right now the strongest voices are residents calling for fencing, so it's important that the voices of people who oppose the decision are heard.
I hope the protest will encourage local authorities, police, and others to think of alternative decisions to dealing with public safety issues in the park instead of closing it. I hope, at least, that this protest will bring attention to the decision to put up fences and show that there are locals who oppose it.
Amanda: I truly hope that we can spread more awareness and knowledge about the matter, as I have unfortunately met many locals who had no idea about the fences and the reason they were installed. Hopefully more people will sign our petition to take the fences down, or voice their anger to the council.
What is your opinion on the decision to put fences up? 
Chloe: Well, I'm obviously opposed to it- but I think there's a lot to talk about with the decision. I agree that during a pandemic, large social gatherings can be a safety hazard, but I don't think the way to deal with them happening on the Hill is to entirely close the area.
I also think there's a sense of entitlement on behalf of some Primrose Hill residents – of course they shouldn't be disturbed, but anyone moving into the Primrose Hill area knows that the Hill is a public park and that it's open late.
There's a lot of noise in a city like London, whether you live near busy roads or in crowded flats, and while most Londoners can't silence roads or their neighbours, the people living near Primrose Hill – who are wealthier, on average, than most other London residents – can.
Similarly, London has always had an issue with crime; I don't think it's unique to Primrose Hill, and it's an issue that won't be solved by closing the Hill. Solutions like litter patrols and more effective community policing can solve problems of pollution and large gatherings by focusing on people who are actually breaking laws instead of just closing Primrose Hill to anyone who would want to use it.
Primrose Hill isn't currently suffering from extreme violence. It's not an unsafe place to be, day or night. I live a ten-minute walk away and have been there plenty of times, but if you listen to some residents you'd think it was a lawless wasteland.
I think some people in the area have a warped perception of how things should be – obviously excessive noise and rule-breaking aren't acceptable, but the presence of people being outside is just part of living in the city during the spring and summer.
Closing Primrose Hill doesn't just stop bad behaviour, it just moves the issue away from Primrose Hill. This both leaves the issue unresolved and prevents people who just want to relax in a public park during the evenings and nights from accessing it.
Amanda: Personally, I think it is an unfair and unsustainable solution to a problem that could be solved in many other, better, ways. One of the concerns raised by the people in favour of the fences is the antisocial behaviour that sometimes occurs in the park at night.
In my opinion, these isolated occurrences could be better solved by, for example, introducing more police presence there at night, whilst the litter issue could be easily solved by installing more bins around the park. These are just some of the many ideas that could potentially help solve the park's night issues, that would still allow it to remain open.
There have been a lot of claims that closures at Primrose Hill are part of a divisive agenda, particularly regarding class, what is your view on this?
Chloe: The closure of Primrose Hill demonstrates a wide gap in the minds of a lot of people – most people like going outside in the evenings in the summer, and many people like to wake up early to watch the sunset. Not everyone is fortunate enough to have nice yards where they can watch the sunrise and sunset, or open spaces where they can safely see family and friends during the pandemic.
In fact, recent lockdowns have demonstrated the importance of open space like Primrose Hill. As restrictions lessen and it becomes safer to see bigger groups of people, having outdoor space like Primrose Hill is incredibly important as it's safer to meet in a group in outdoor spaces than it is in indoor ones.
I think the decision to close Primrose Hill In the evenings evenings was one made with the people who live near the Hill in mind but does not consider the opinions of the many people in London who don't live in places with lots of green space and come to Primrose Hill because it's large and it's accessible at all times of the day.
There aren't many parks in London that are open late, and the closure of Primrose Hill means that there's less space for people who don't have their own yards to be outdoors. It's a good thing to go outside and get fresh air. It's necessary for people's mental health, and in the pandemic it's safer than being inside.
Amanda: Although it can at first sight seem like a simple local issue, where the people who use the park at night want to be able to continue to do so, and some neighbours are annoyed with the noise coming from the park, I believe it is indeed much more than that.
The majority of Londoners live in flats in multi storey buildings, and do not own private garden spaces. Like me, the only green space they have access to is the public parks, which is why we tend to gather there, both day and night.
However, the area surrounding Primrose Hill is known for being relatively wealthy, and many people living there do in fact have their own gardens. Putting fences around Primrose Hill is in that sense an issue regarding class, as once again, the richer classes are restricting the opportunities of those less well-off.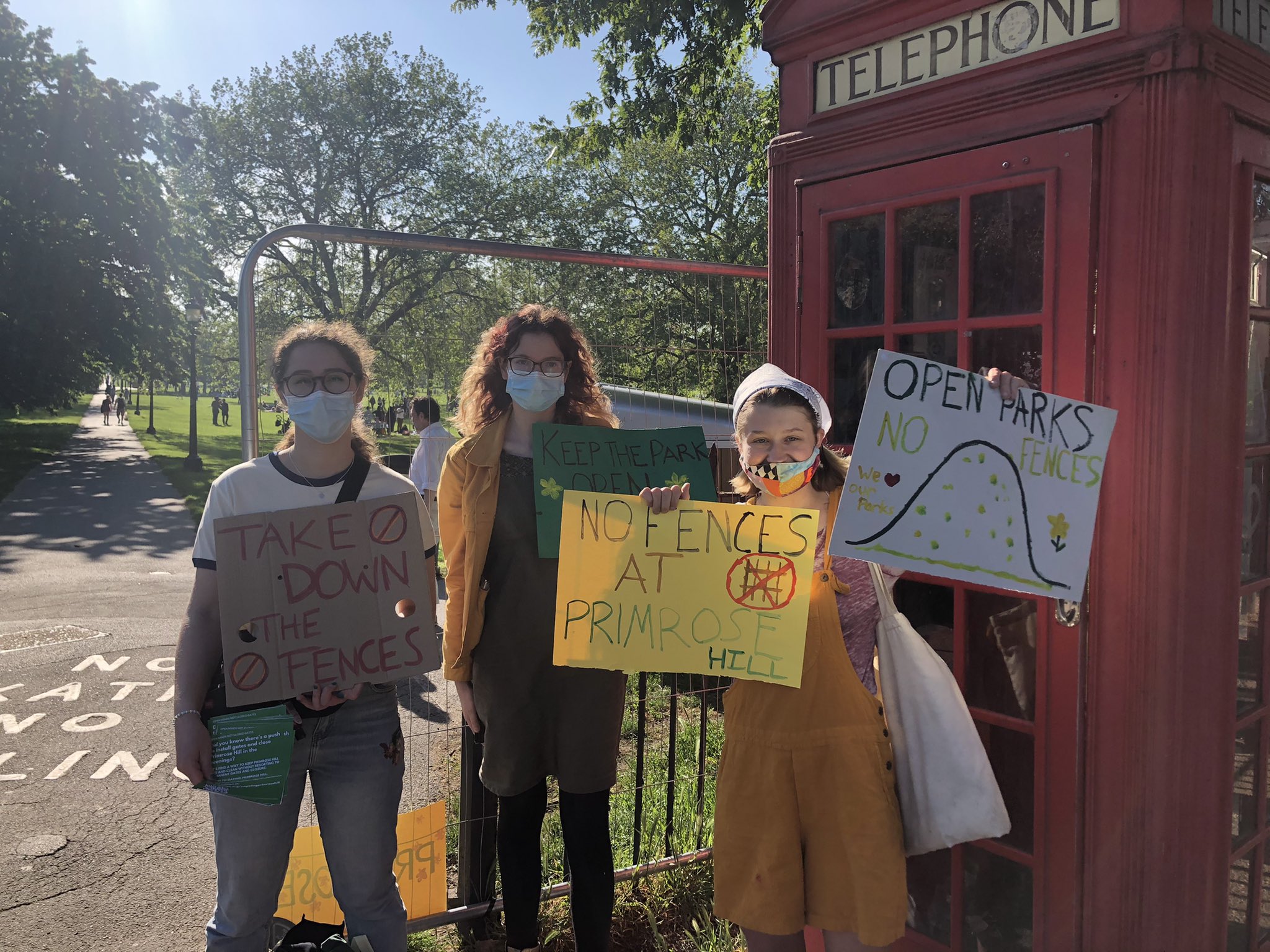 If you couldn't make it to Sunday's protest, you can sign this petition to oppose gates & evening closures at Primrose Hill.
Related stories recommended by this writer:
• Keir Starmer backs temporary late night gate closures at Primrose Hill
• What the Twickenham Stadium walk-in vaccination event was really like, from people who went