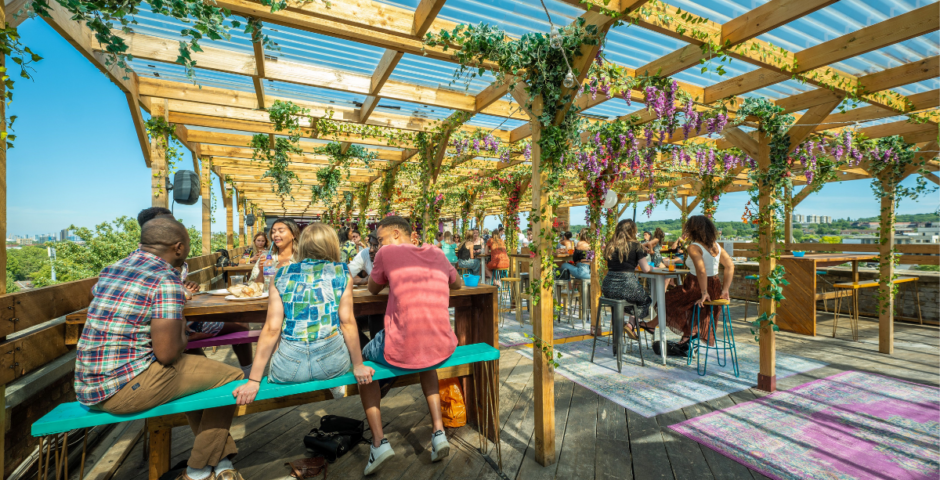 Prepare for the 12th April with this guide to the most aesthetic outdoor bars in London
Views, vibes and wine, nothing less my friends
With the end of lockdown in sight, the race is on to bolt to the nearest beer garden on the 12th of April and drink our worries away before the next person can steal our table.
Booking tables to avoid such stresses can be a pain, especially with the flaky mates that we definitely all suffer with, but it is completely necessary to guarantee fun this summer. And if you're already being prepared enough to book, why not go for the best?
We all have to get creative this month with our drinking destinations, but luckily for you, we've collated a list of some of the most banging outdoor areas in London to go when lockdown ends, which won't only promise some very good times but are also incredibly insta-worthy:
Cargo
Yep, Cargo as in the Shoreditch club. Don't get ahead of yourself because it's not a club yet though – while they're promising an "end of lockdown" party on the 21st June, they'll be opening their outdoor space for bookings during April.
Cargo's outdoor bar has a very hippie vibe while still being a crazily busy club in usual times, with sofas, wall art and hanging lanterns providing the very best settings for a guilty-pleasure photoshoot on a night out. They've also provided a lot of spaced out picnic tables to book out, meaning that you can enjoy the "classy bar" experience with sit-down drink service but also relax in the chilled summery beer garden.
There'll be pretty high demand for this place though, meaning that booking is almost necessary to guarantee a night out here. Cargo is the perfect place to relish the quiet vibe and cool decor rather than the packed club it will return to.
Bar Elba
Who's a slut for a rooftop view? I definitely am, and if you're with me then you *have* to check out Bar Elba in Waterloo.
With a stripped-back wood look and fairy lights that set the scene for a romantic London skyline view, this place screams "fancy rooftop cocktails" without fully breaking the bank or having a stuck-up posh vibe. Normally they host a winter ice rink but recently have even been able to provide Covid fun with their self-contained igloos and upcoming outdoor cinema nights.
Rooftop Pornstar Martini pics at sunset are pretty basic, and you simply cannot deny that fact, but who cares when you've been locked away for months and just want a night to feel boujee and romanticise your beautiful city? Bar Elba is 100 per cent the place to be for all of the above, but booking is again very necessary.
Strongroom
With a calmer vibe than Cargo but still benefitting from Shoreditch's young lease of life, Strongroom is the cooler sibling of the traditional English beer garden that you definitely need to take advantage of this month.
The best thing about this place is that their food also bangs, so you can have good beer, good food and a warm, covered space in the garden all together – did someone say British summer coming early? It seats 150 people so will also be pretty bustling even with the social distancing rules in place, meaning that you can quite literally manifest the summer vibes.
Bunting, fairy lights, green walls and bright pops of colour everywhere make this place so classically Shoreditch, but it's also a super wholesome place to enjoy a drink surrounded with down-to-earth people.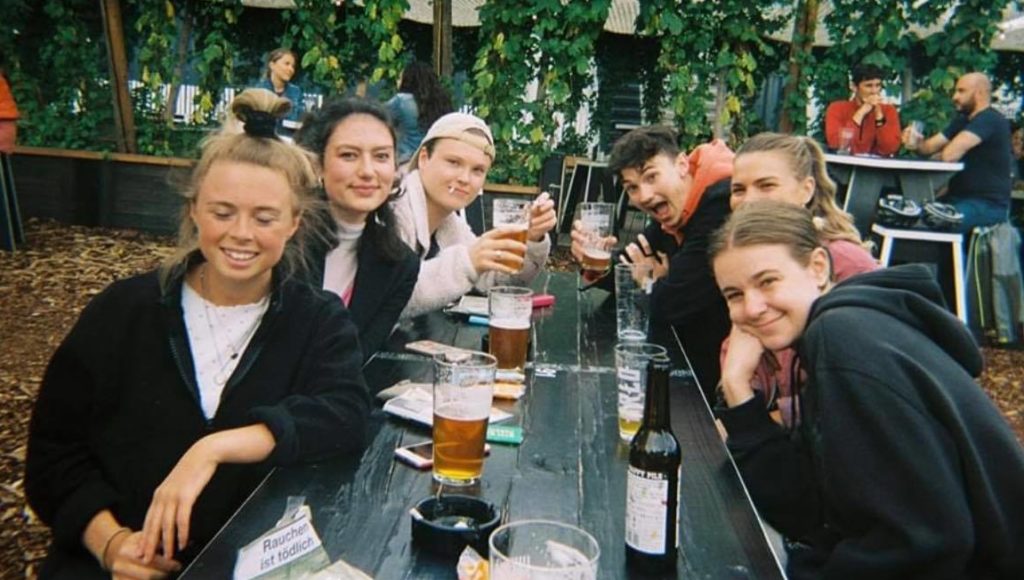 Bussey Rooftop Bar
The jewel of Peckham, Bussey Rooftop Bar is a big trek from Central London but is definitely worth going to at least once. The London skyline in the distance is majestic, to say the least, and because it is so far away from the cramped spaces of the city it can boast a vast open space with nothing in the way.
The Bussey Building was formerly a warehouse and factory ready for destruction, but was then converted into the CLF Art Cafe and spread over the multiple floors with the rooftop bar and Rye Wax, a basement record store and night cafe. It is now a hotspot for nightlife in Peckham, usually hosting club nights and various events.
For now, though, you can enjoy a lively night on the rooftop surrounded by scary but cool art students who are way too alternative for Central. Manifest your indie London life in the best South London spot to be right now.
Coal Drops Yard
The beauty of Coal Drops Yard in Kings Cross is that it consists of a large outdoor space with a bunch of restaurants, bars and shops everywhere, meaning that the main bulk of its social appeal comes from the outside areas anyway.
As well as being able to grab takeaway food from street food restaurants and cafes, there are quite a few restaurant-bars that seat people outdoors and often in the main areas of Coal Drops Yard, adding to that bustling vibe. People who have visited before know the joys of sitting on its benches on a sunny day and lapping it all up, making it the perfect place to visit this month.
It's in a pretty studenty area and definitely doesn't have to be expensive at all, so is great for a relaxed day out with some mates by the canal. The scenery is gorgeous too for added insta points.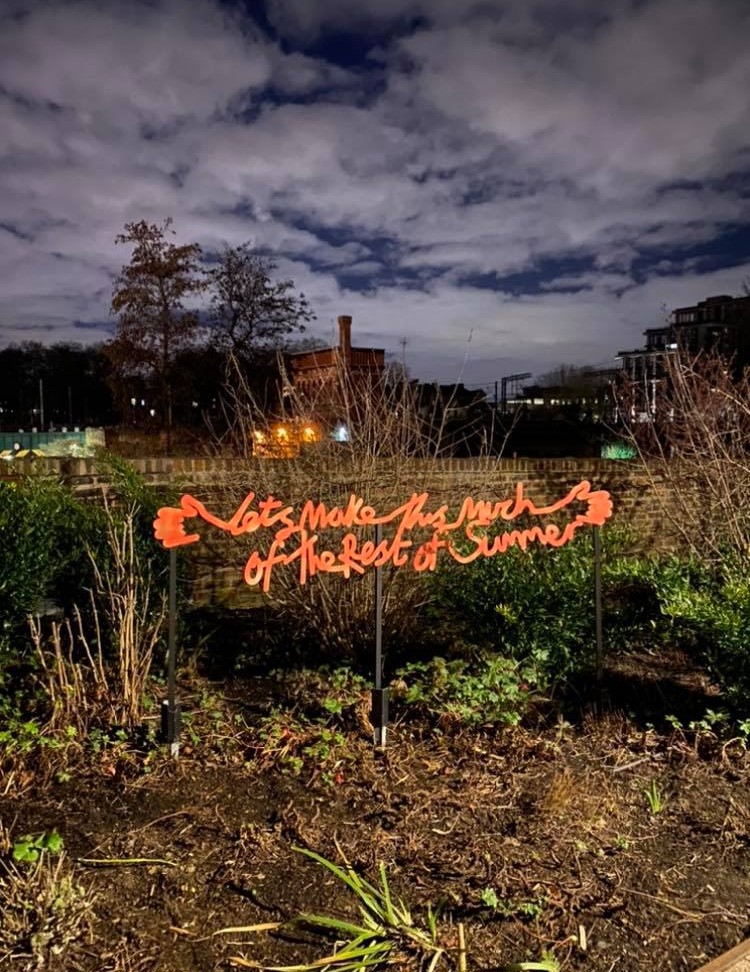 Pergola Paddington
Similar to Coal Drops Yard, Pergola Paddington is an outdoor space to socialise, however, it has more of a communal feel, with restaurants and bars surrounding the massive seating area designed to cater for light-hearted social gatherings in the sun.
You can book covered or uncovered spaces, and either way will definitely be able to experience the street-food-turned-beer-garden vibe. This place just radiates it, with bright pastel colours and a whole lot of foliage completing the look to make you feel like you're on holiday somewhere exotic, while still being able to feel the classic British pub energy.
Even though they have a lot of space it is still good to book a table at Pergola, just to ensure that you can be part of the party. There's nothing else to say except to come here for straight happy vibes in the centre of Paddington.
Vinegar Yard
Don't want to trek to Peckham or just about had enough of the cool-turned-commercial vibes of other bar hotspots like Camden and Shoreditch? Try Vinegar Yard in London Bridge, which is a large outdoor space with street food, flea market stalls and a hell of a lot of good drinks.
Summer is truly the prime time of this place, with the weekend flea market and art displays making its social outdoor space unique to others. Their new "Rum Shacks" also bring a slightly Caribbean vibe to the mix and are bookable for the 12th, so get to it if you want to feel like exclusive VIP guests on a beach island – who doesn't?
Being near the City also has major benefits too, with a view of the Shard and its neighbouring skyscrapers providing a banging backdrop to this eclectic mash-up of cultures, foods and drinks. In essence, if you want to give off "successful London businesswoman who loves to travel and is actually a party animal on the side" vibes, come here.
Lost in Brixton
Another classic rooftop spot on top of Brixton Market, Lost in Brixton is run by the same company as Pergola Paddington, so you can expect the same top notch vibes (if not better, being in the youthful indie setting of Brixton.)
The wall art, colour palette and ivy-lined wooden beams literally transport you to Latin South America just by looking around, not to mention the cocktails, food and DJ music. Street food from the Brixton Village market is available to order and literally arrives at your table for you, and the hidden rooftop setting makes it super homely and snug.
If you've really had enough of being stuck in England and just want to disappear off to an exotic foreign land, close your eyes in this place and you're already there.
Edinboro Castle
I am soooo biased here as a proud staff member at this pub, but nonetheless, I can confidently say it is The Best in Camden. The Edinboro Castle boasts a beer garden, outdoor bar and BBQ that could intimidate even the sexiest of Wetherspoons, with local Camden Hells beer and Aperol Spritz completing the British Summer vibe.
You can book out a booth for six people or just turn up to hang out on the bench tables in the sun, and being a beautiful old building slanting into the train line next to it, you literally couldn't get more of an authentic Camden vibe.
If you're thinking of a pretty and classy London drinking destination without all of the uptight ponce-ness of the more swanky bars, please come here. They host rugby games on the big screens, do the most banging Pimms on tap and have the nicest team members in the world. Again, not being biased or anything.
Tamesis Dock
This barge-turned-bar on the Thames has the coolest setting for your drinks night, with views of the London Eye and Houses of Parliament in between Vauxhall and Lambeth bridges. Tamesis Dock may be smaller than the others, but if you can grab a table on this boat you're in for a very cool night.
With incredible drink and food menus, live music and the bonus of literally being a floating pub, this place will give you the feeling of being on a classy boat party down the river without the chaos and heat of a lot of London's beer gardens.
If you want to visit a bit of a secret gem that doesn't get hyped up to the point of being ruined, this old traditional Dutch barge has a quiet vibe for you and your mates to really just enjoy good G&Ts, good pizza and a beautiful view.
As the countdown comes to a close, please use this information to guarantee some banger nights out and make your other mates (if you happen to have more than six) jealous of the sexy London spots in which you dabble in a drink or two. We all deserve an incredible summer after this shit-show of a year, so as the weather gets warmer and the alcoholism starts creeping in, go forth and drink at the best outdoor bars in the city.
Featured image via Bussey Rooftop Bar.
Related stories recommended by this writer:
• Missing the pub? Here's our roadmap back to social drinking
• Which big London park has the best vibes? We rated them all on the stuff that really matters
• We turned Boris Johnson's press conferences into a drinking game