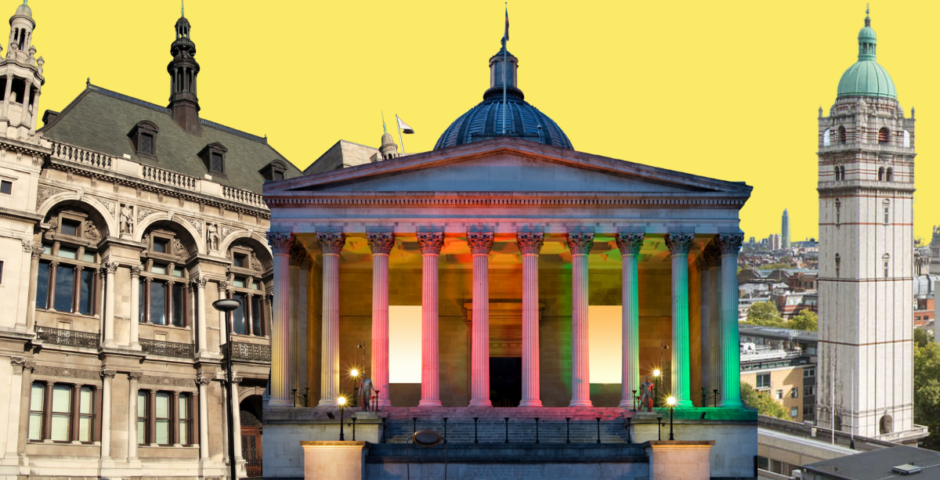 What's changed at your London uni since the government's roadmap announcement?
Stay tuned for live updates
As you've likely heard, on Monday the government announced its plan for the phased exit of lockdown in England.  We asked the London universities how the roadmap will affect their plans for students in terms of in-person teaching, rent reductions and graduation ceremonies. The general consensus is that rent reductions will continue for students in halls for the length of lockdown, face-to-face teaching is the goal for 2021-2, and that each university will individually release a statement with more information in the coming days. This page will be kept updated with each university's announcement as they are issued.
UCL has already explained how the government plan will influence their teaching with a phased return to face to face teaching for students on creative and practical courses.
Imperial:
Imperial has announced, that from the 8th March they will be recommencing on-campus teaching for students on practical courses. However, they have clarified that "students will only be asked to return if their course cannot reasonably be continued online". It seems then that only those who "need access to specialist equipment or facilities…which cannot be operated remotely" will be reinvited to campus this academic year. They have told students to expect further departmentally specific updates later this week.
So far, Imperial has not issued a statement on whether the government roadmap will affect how they handle rent schemes or graduation.
LSE:
LSE has told The Tab how the government roadmap will not affect the way teaching is conducted for the rest of the 2020/21 academic year since the university does not run 'practical or creative' courses. A university spokesperson has said that LSE "will continue to welcome students on campus who have unsuitable working conditions at home or wellbeing concerns/personal circumstances that mean they need to return."
They also explained their plan to extend rent reductions to support students for the length of lockdown. Telling us that "students who are not returning to LSE-managed halls until a later than scheduled date, due to government restrictions or travel difficulties, will have their accommodation fees waived until the date they return. Students who do not wish to return to LSE-managed halls this year, and have vacated their accommodation, can have their contract ended and fees halted. Otherwise, our halls remain open and continue to support those who have decided to remain in university accommodation."
Sadly, LSE have told The Tab that the government roadmap has not affected their decision to cancel graduation early. Saying: "due to ongoing restrictions causing uncertainty around large events and international travel, we will be celebrating graduation virtually this summer to ensure it is inclusive for all students, regardless of where they are in the world. We fully understand the significance of marking this important milestone to students and are actively exploring ways to celebrate graduation in-person at some point in the future. We will provide more updates on this to students as we understand what may be possible as vaccination programmes are rolled out and travel restrictions hopefully ease around the globe."
In light of the government roadmap the university has also expressed their commitment to delivering face to face teaching in 2021/2, they told The Tab that they "are monitoring closely government guidance on the easing of lockdown, travel arrangements and the UK vaccination programme to help inform our planning" and "whilst the evolving situation means it is not currently possible to say how LSE's undergraduate and taught graduate programmes will run in the new academic session, we're preparing to welcome students to campus for in-person teaching, offering a flexible model of both in-person on-campus and online teaching and learning." Their spokesperson concluded that LSE will be giving more details on their plans to students later this week.
UAL:
UAL has told The Tab that they can't yet say exactly how the roadmap will affect their students since "the government guidance on what a return to campus looks like is very complex and we are currently considering what this means in practice for UAL. In the meantime, all teaching will remain online for the rest of this term".
Regarding the economic impact of the pandemic on students, a UAL spokesperson told The Tab that the university would be offering reduced rent prices for those unable to return to uni accommodation:
"Accommodation charges at the 12 UAL-managed halls of residence will be reduced for the spring term, as long as students are not occupying their room. This is to reflect government restrictions on student movement. We have agreed to waive 7 weeks accommodation fees for any student with a current tenancy agreement until at least 26 June 2021 who does not use their room during the period of national lockdown in England. This waiver covers student accommodation contracts at UAL halls of residence and will be applied at the third instalment to accounts which are up-to-date and not in arrears. We will keep this situation under review in the light of further UK government announcements." 
LSBU:
LSBU has told The Tab that following the government roadmap LSBU will continue to only allow "teaching for the most essential courses to take place on campus" but that they "are waiting for further guidance from the government" on this. LSBU has additionally expressed that come September 2021, they "would love to be able to welcome all [their] students back to campus, provided it is safe to do so and government guidelines allow it". 
Regarding rent status for the rest of the year, LSBU has stated that "for the period of 8th March to 16th April, accommodation fees will be waived for students who are not in residence at LSBU Halls. This arrangement covers student accommodation agreements at LSBU halls of residence and any waiver will be applied at the third (or final) instalment to accounts which are up-to-date and not in arrears." They have also explained that this position "will be reviewed at the end of the Easter Holidays, in line with Government and LSBU plans". 
SOAS:
SOAS has explained to The Tab that they are still considering how Monday's announcement will affect their policies for the year. Stating:
"We are looking into the details of the announcement made on Monday by the Government and at any updated guidance which is expected to be issued for universities. We will want to assess carefully what this means for any in-person activities at SOAS and potential timescales.
We will issue our own update announcement on information relating to the latest Government guidance once all these areas have been considered in full. Whatever arrangements are put in place, we can reaffirm that students will be able to complete their studies and assessments remotely in this academic year."
As soon as  QMUL Greenwich, Birkbeck, Goldsmiths and City issue The Tab will update you here.