The UCLWRFC squad set to smash Strand Poly
This year's UCLWRFC Comms Officer Evie Smith introduced us to the feisty forwards and ballsy backs set to batter KCL yet again in the Women's Rugby Varsity fixture. If we were King's, we'd be worried…
The Forwards
Eli, Prop
Year 3, Arts and Sciences, 5'4, Treasurer
Likes: yummy food, reading cheesy romance novels, Star Wars, Marvel, sending reminders in the group chat
Dislikes: waking up early, dumb people, waiting
Eli's pitch domination is a far cry from her past life of servitude in a nunnery. She protects the club dollar as our thrifty treasurer, although we're a little surprised she hasn't hijacked the fund in pursuit of all things Star Wars. She has power and dedication that is second to none, and you could hear her bellowing 'jooog it in' from across the Thames. On the rare occasions that she isn't annihilating everyone in her path, Eli enjoys intense bonding experiences on ski slopes and in *cough* Zara changing rooms.
Milly, Hooker
Year 3, Classics, 5'5
Likes: listening to music (not Cadyn's), reminding people she's from Wigan, avoiding Loop at all costs
Dislikes: LOOP, Shenley changing room toilets (shout out to men's footie…), shit refs
Despite being all loved up these days (how sweet), Milly remains an absolute warrior on the pitch. Loud, charismatic and dedicated, she captained the team to inevitable varsity victory last year. For the few Poly players that haven't yet been on the receiving end of a 'Milly tackle', they're in for a treat. While she likes to think she's all serious and ragey, really Milly enjoys puking on the pitch and crashing in her garden after one too many just as much as the next person.
Lizzie, Prop
PhD, Child Health, 5'6
Likes: quick ball, tiny wingers to run at, karaoke
Dislikes: sambuca
Lizzie is a beast, and whoever stole her bike better be sleeping with one eye open (cheers for leaving a wheel though, very thoughtful of you). Lizzie's as decorated (check out her gorgeous Wasps stash) as the yummy wedding cakes she bakes. When she's not busy battering the opposition, she can always be relied on for a cute match cuddle or two. Lizzie also delivers Attenborough level commentary when close to a camera, something for the Poly to bear in mind in case of another cock up with the commentator. You guys had one job.
Izzy, Lock
Year 2, Law, 5'5
Likes: Yorkshire puddings, non-polluted air, Yorkshire tap water, fuzzy pink socks
Dislikes: the south, annoying refs, people who say dinner instead of tea
From the darkness of the north emerges this feisty goddess with the dreamiest locks rugby has ever seen. Izzy's wholesome af and has driven a shit ton of miles with her dad and his lush satsumas (big love) to bolster our defences. She may seem like a sweetheart, but Izzy's aggression and motivation knows no limits, and you'll catch her driving fear into the heart of every Poly scrum. Despite being a fellow lawyer, Izzy knows how to let loose, and particularly enjoys a body shot or two. Sorry to be the bearer of bad news to the besotted young lads out there, but Izzy's eyes are firmly set on JFK.
Neila, Lock
Year 4, ESPS, 5'8, Volunteering Officer
Likes: PINTS, dancing (prancing) about, trying to pretend she isn't French, a sing song
Dislikes: forgetting to wash her kit (delightful as always), her sugar addiction, my 'complicated' comms surveys (… the cheek), breaking her nose
Neila and her poor nose, what else can be said? It's a proud feat if this gal can emerge from a game in one piece. She may move around the pitch with the poise of a prima ballerina, but make no mistake, she enjoys the crunch far too much. Neila's a little batshit (deciding to run a half-marathon and that), but we love her and her charitable nature. She can also shove 16 marshmallows in her mouth and crack open a melon in one hand, which is mesmerising enough in itself.
Kaitlin, Flanker
Year 2, Security and Crime Science, 5'2, Events Secretary
Likes: rush hour on the tube, salt and vinegar pringles, laughing at her own jokes
Dislikes: getting punched in the titty, the patriarchy, the driving examiner who failed her three times
Kaitlin is the epitome of cool and flexes her modern vibe aboard her basket granny bike. She was responsible for organising the absolute chaos that was tour (cheers for the toilet water), and enjoys the odd piss in a sink every now and then. Kaitlin batters like a machine, but her pint-downing attempts are even more pathetic than her family mistaking her blue smarties for something… harder. Kaitlin's style is as glorious as her jumping, and she likes to jackal apparently (yeah I had to Google it). If she's not too plastered, Kaitlin's a bit of a hit with the lads, and she does enjoy a good, hard ruck.
Elise, Flanker
Year 3, Psychology with Education, 5'3, President
Likes: dogs, sleeping, stealing rugby balls
Dislikes: staying up late, tomatoes, the cold
Ahh our delightful pres, and also one for showing the odd exchange student a good time… You'll be sure to recognise her from all the hot promo that's been circled over the years. Elise is all love and sweetness off the pitch, but her strength, aggression and speed make us truly fearful for the Poly's welfare. Elise can break phones as much as bones, and she can take on anything but the drink (she had a particularly exciting time on tour…). Elise is the beating heart of the squad, and it's sure to be a win with her by our side.
Cadyn, Number 8
Year 2, Security and Crime Science, 5'8, Social Secretary
Likes: fireball, Finch Asozial, scrums, her dog (absolute angel)
Dislikes: bad-mouthed opposition, English beer pong, inside voices, coding
For any exchange students out there, count on this girl to show you a good time (oi oi). Sadly, this gal's only topic of conversation relates to her American/Kiwi heritage (snooze). Cadyn's down with the times and spends her days shamelessly bragging about her connections at the highest levels of the Loop establishment. Cadyn has a tendency to become completely unhinged on coaches, and the only time she won't be busy deafening the entire squad with her agonising taste in 'fresh' music will be when she's kicked off for flashing, spitting, puking (or all of the above)… She's a sportsnight queen filled to the brim with shit themes, and when not completely inebriated she steals the show with her mesmerizing carries.
Melissa, Prop
Master's, Pharmacy, 5'2
Likes: Welsh rugby team, Welsh national anthem, Wyn Jones
Dislikes: England rugby team (get out), playing 7s (can relate), the fact she's not a back
Wouldn't want to completely rip into the Poly, but Melissa is solid proof that they can't even keep hold of their own players. Fresh with inside knowledge of all their tragic runs, this sneaky gal can't wait to plough through the KCL snakes she once called mates. Since Melissa went rogue, it really is no surprise King's began to stack up on the Varsity defeats. Her lovable warmth, crunching tackles and powerful lifts make putting up with her ugly King's stash just about worth it.
Evie, Hooker (career sorted)
Year 4, Law, 5'1, Communications Officer
Likes: rolling up late and missing the warm-up, scoring wanker pints, cauliflower ears (yep they're cute), carrots and hummus
Dislikes: uncontested scrums, flimsy sports bras that break mid-tackle, caffeine deprivation, bruises
Yours truly, what can I say other than despite not knowing where the try line is after three seasons, I am absolutely fantastic.
Beatrice, Lock
Year 2, ESPS, 5'5
Likes: Roxy (tragic), karaoke, gossiping, putting condoms on her head
Dislikes: catching the ball, snakebite, Loop
Bea's greatest achievement in life is catching the ball, and the Poly better be fearful of this new-found talent. As you can see, Bea spends her free time dressing up as a priest and preying on unsuspecting choir boys. An absolute animal on a night out, you would think starting to sesh at 14 would make her think twice before leaping off boats and attempting to pull in her sultry PJs. KCL better be prepared for this wild child, her scrummaging is as hard as her pint-downing skills.
Delilah, Lock
Year 1, Anthropology, 5'4
Likes: watching Wales play rugby, reading, playing board games, cool rugby scarves
Dislikes: Wales losing in the rugby, running, annoying bruises
Delilah brings some chill amongst the rage that is our forward pack. Despite destroying the opposition with her rucking and lifting technique, her calmness is truly something of a mystery. Delilah gets through funky hair colours almost as fast as she gets through tackles, and her gorgeous (currently) green locks make her an absolute must in any team piccy.
The Backs
Julia, Scrum-half
Year 3, Dual Degree with Sciences Po, 4'11, Vice-captain
Likes: music, beer, team spirit
Dislikes: jogging, deadlines, post-game muscle pain
Julia is an absolute boss who sports the hottest scrum caps on the circuit (sponsors don't be shy). Speedy and vicious, she's a pocket rocket with a vocal box loud enough to rival any pro. Julia never shies away from a good on-pitch scrape – one wrong call from the ref and they'll be chased from the stadium. Julia enjoys some cheeky down time, and if you're lucky you might catch a secret Latin dance move or two at the post-match sesh. Always literally on the ball, she's the essential glue keeping all our big hitters in check.
'Hella Hot' Helena, Fly-half
ESPS, Year 2, 5'3, Captain
Likes: rugby lads (someone's got to), getting dirty, leopard print, turtleneck base layers (meow)
Dislikes: losing, bad refs, 'moist' (…?)
Roxy is, frankly, only bearable because of this wild gal. Her iconic dance moves must be seen to be believed. For all the lovers out there, find a way to Helena's heart and you'll discover the true extent of her worryingly close attachment to her socks. Helena was born to kick balls at the opposition, and any Poly gal should feel immense privilege to be winded by her talent. Helena's our Cap, and she'll be leading the squad to victory this year with her creative and sneaky stunts. If we're lucky she'll go a bit whack and get another precious fringe cut in for the game.
Naomi, Winger
Year 4, Anthropology, 5'5
Likes: dogs, chocolate, watching LFC win the Premier League
Dislikes: tackling, being tackled, her dissertation
Naomi is an angel. An absolute speed machine; she whips out stunning tries when not busy breaking her ankle at training… She's one of the jokers choosing to run a half-marathon in a few weeks, so be sure to show her some support! Naomi's too old and important to come to Sports Night these days, but she'll bond with you over a bucket collection or two. She brings heart to every game and we adore her, who knows how she's had the patience to deal with our hot heads for three years.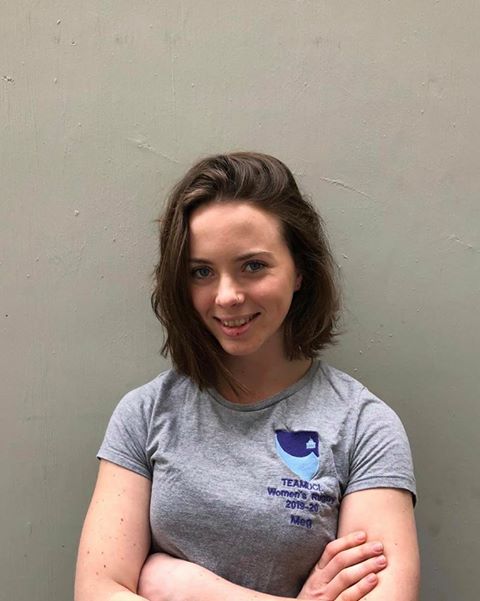 Megan, Centre
Year 2, Linguistics, 5'4, Vice-president
Likes: pubs, dogs, early nights
Dislikes: tequila, Owen Farrell, football
Megan's a stand-out player in our arsenal, and Jersey (and their cows aww) suffered true heartbreak when they lost her. Loud, proud and busy bossing everyone around, she'll be sure to bring absolute terror to the Poly's trembling back line. Don't be alarmed if you recognise her, she's trendy af and has even been mistaken for Billy Eilish on the tube. Megan also takes the creds for designing our gorgeous new kit (don't mention the stash delay though, you'll get yourself a shiner).
Anabel, Centre
Master's, Global Migration, 5'4
Likes: James Blunt (…?), spicy nugs from maccies, chick flicks
Dislikes: kick chase, feet, people chewing loudly, English weather
Anabel is sheer radiance. Her smashing tackles are perfectly complimented by her beaming smile, much to the opposition's confusion! Once she's pacing towards the try line, there's no stopping this speed-machine. That said, Anabel's night out antics leave much to be desired… she gets tipsy off five sips of cider (call her a lightweight and you'll get battered) and flakes on Loop each and every week (no judgement there). Anabel's in her true happy place when chomping through a twenty-pack of nugs.
Amelia, Winger
Year 2, Biomedical Science, 5'3, Welfare Officer
Likes: plants, ice cream, cheering
Dislikes: cooking, open water, ladybirds
Amelia is a bundle of energy, positivity and joy. An absolute warrior, her flying tackles are the stuff of legend. She's quite a cutie pie really – she wears fairy wings around the house. When not dragging people on her long routes home, she spends her time playing bangers on the harp. Quite the catch, you can occasionally find Amelia harassing the Loop photographer with outrageous poses.
Hannah, Full-back
Year 4, Geography, 5'5
Likes: playing Stormzy and Hardy Caprio in the changing rooms, half-time percy pigs, jagerbombs, wearing sweatpants, flexing in the Student Centre in her active wear
Dislikes: Having to yell at Will for stealing her Canterbury stash, rogue behaviour on the Shenley Spotify queue
Hannah is an absolute legend and whips out fiery tries in every game. The true tragedy here is that this gal spends her days blowing up the media feed with unnecessary images of her 'idol' Snoop. Hannah's a big and important player now, did you know? Full appreciation for the stacks of lonely boys who slide into her DMs after every Sports Night, she keeps us all very entertained. Hannah thinks she's hard getting plastered off one beer in her crop tops, it's adorable. With a playlist crap enough to rival Cadyn's, we're not sure why we're so salty that we have to share her with fifty other clubs (joke we need you and your points xo).
Rachael 'The Babe', Centre
Year 2, Chemistry with Management, 5'4
Likes: completing tackles, eating chocolate, binging Netflix shows
Dislikes: 9ams, writing lab reports, running out of chocolate
Rachael's speedy, stealthy and sneaky (plus she can scoff a pack of choccy digestives in under a minute). Getting into the heart of the action never affects this poser's luscious hair and beaming smile. Despite studying chemistry, Rachael possesses a personality, and a cheeky one at that. Any UC lads hoping to win Rachael's heart are in for a disappointment, she prefers to dabble in the divorcee circles.
Clara, Winger
Master's, International Law LLM, 5'6
Likes: German beer, rainbow laces, sleeping
Dislikes: gumshields, the smell of Kennington tube station, rush hour
Clara's recently achieved her lifelong ambition of touching the ball, and now she's happily showing off with some speedy runs and cheeky kicks. Clara's 26 years young, but despite her eye-watering age and bottomless wisdom, Clara cannot count. A bit of a mystery, rumour has it she's pledged her allegiance to the French mafia.
Ffion, Winger
Year 3, Medicine, 5'4
Likes: Wales, snacks, playing netball, being confused with Naomi, Eddie Jones' chat
Dislikes: dodgy ref decisions, forgetting her snacks
Be wary of Ffion, she's got a shady netball past. Ffion's RUMS network is extensive, and she's not shy about it. It may be stingy, but in Ffion we get free medical advice with a serving of speedy rugby play on the side. A self-declared doctor since her very first lecture, Ffion's our team mum and she'll be pacing the side-lines ready to deal with the fallout from the Poly's shoddy tackles.
Chris, Lock & Number 8
Coach, 6'4
Likes: sleep, snacks, tea, dogs, all things pink, pricey photoshop packages, funky socks
Dislikes: not being the longest-standing member in the club (sorry), slow walkers, team selection, emails
Chris' "Welsh rugby blood" has carried him through 28 solid years of crunching. His favourite memories with the club include our 2018 promotion, 2019 Varsity victory (did we mention that already?) and watching the sport help players realise their capabilities (aww). Naturally our successes brought the Poly to new lows in their pathetic attempts to recruit him (dream on with your crappy play). We're salty we have to share him with Wimbledon and Barnes, but we'll settle with being his faves. Chris is partial to some sweet words of support from time to time, today we have "play hard for each other and give it everything, and no matter the result, you will be winners."
Will, Half-back
Assistant Coach, 5'11
Likes: Ricard, Le Crunch, Greg Alldritt, winding Hannah up, the artistry that is Berlington Bertie, oval heads
Dislikes: coriander, referees, angry flankers, beer being poured on his designer gear
Will likes to think he's kept busy keeping the back line out of trouble, but he's just as messy as the rest of us. Rocking up to fancy events in his turkey hat and bragging about rugby "being the school of life" back home in France, we guess we love him. He was asked to pen a cute quote and this is all he could come up with: ''with a varsity win on the Thursday and a French Grand Slam on the Saturday, Christmas could come early this year… come on UC." Despite being a "brute" of a player (apparently), Will is a tragic lightweight with a soft spot for stray cats.
When & Where
When: Thursday 12th March
Where: Richmond FC
KO: 5pm
Tickets: http://studentsunionucl.org/whats-on/sport/varsity-2020-rugby