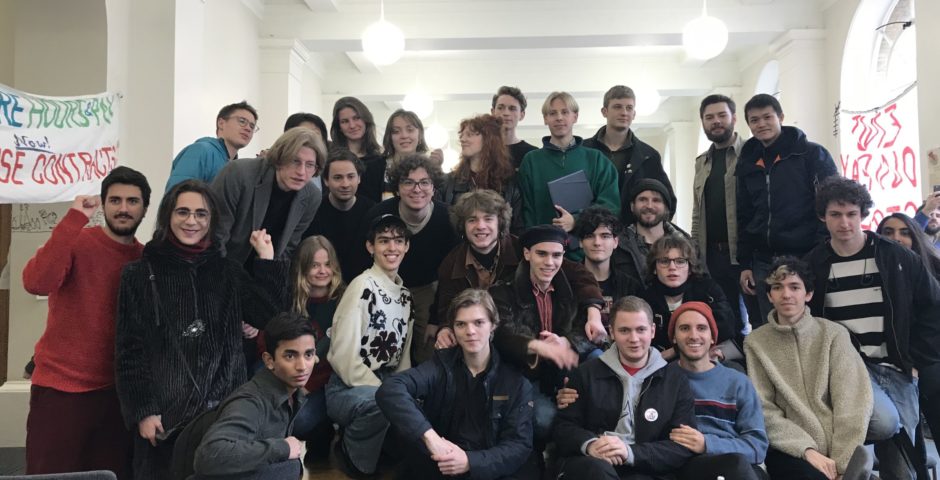 'This makes a huge impact': We spoke to Owen Jones and the students occupying UCL
Monday marked the first day of a week long, 24 hour occupation of UCL
This Monday a group of University of London students occupied UCL's main building, readied with tents and supplies, for a week long sit-in to support striking lecturers.
There were over 50 students involved in the ongoing 24 hour occupation of the building. Students pitched tents in front of the Provost's office and warned they do not plan to leave the space for at least a week in a show of support for UCL's striking workforce.
We spoke to Isaac, who was identified as a head organiser of the strike. He told The London Tab "it shows students to care. It's easy to feel like students are apathetic to the situation but it certainly isn't the case here."
He went on to say: "The Provost hasn't responded to our occupation, but frankly it's time he listens to his workers. This is the second round of prolonged industrial action in a year, and things can't carry on like this. Clearly the university just isn't working, something needs to change." 
The Tab also spoke to Leo, a KCL student in occupation. He told us that they plan to "use this place as a central hub for an intercollegiate support for the strike, and we're hoping a Birkbeck contingent joins soon. It's out of order that we even have to do this – the University should support its staff and meet basic UCU demands, instead of treating its staff like they're nothing."
When asked why he would not simply set up a similar occupation at King's, he said he "doesn't think King's would have the same support for action like this. "
The Tab spoke to Owen Jones, journalist and UCL alumnus, who came to UCL to show his support for the occupation. He told us that as a PhD student at UCL, he had occupied the Jeremy Bentham Room when tuition fees had been increased, and if he was still a student he had "no doubt that he would be occupying the space now."
"There is a proud tradition of UCL students standing up against injustice and workers in struggle", he said. 
We asked Owen about what he thought it would take for the universities to change and meet the demands of staff and students. He said: "If you do fight you might lose, if you don't fight you'll definitely lose. This is the only possible chance of winning. It feeds into broader stuff – it helps in terms of public opinion. When we get an election, Labour need to stand by their commitment to help the striking staff. If people don't protest like this, they'll say theres no demand for it so nothing would happen.
"It might be a long haul, it might be a short haul. If there isn't strikes, if there isn't an occupation then you will lose. Just a 100 per cent chance of that. I know it's hard and difficult, but when you look through history, the history of all struggles isn't people protesting then the government goes OK, yeah fine. There are often setbacks and defeats, and sometimes takes weeks, months or even years. A lot of progress takes decades. It's about having that understanding of history that it is a struggle, not a walk over, and this does make a huge impact. 
"It encourages other people to do something similar, and spreads like wildfire. If people write about it and post about it on social media, more students create a movement which adds more pressure. It's your generation who are going to change the world."