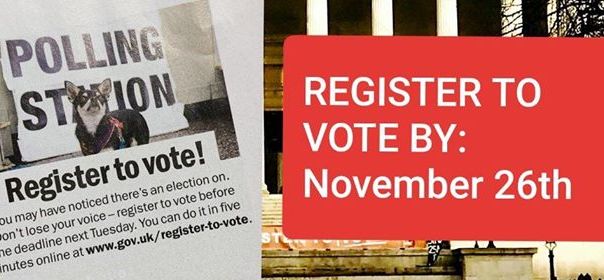 Your vote matters. Now say it louder for the people in the back
Here's how to decide whether to vote at home or at Uni
Yep, there's another general election on the 12th December.
Despite Boris Johnson saying he would rather "die in a ditch" than not leave the EU on October 31st, here we are, nearing the end of November. The Brexit referendum feels like a bad dream these days, and the third general election in five years is just around the corner.
The questions and options seem never-ending. Boris, Corbyn or Swinson? Liberal Democrats, Labour or Conservatives? Remain or leave? And one question which seems to come up even more than the others: "Does my vote even matter?"
As a student, you can choose whether to vote in your home constituency, or in your uni constituency. This allows you to cast your ballot where you believe it will have it's greatest impact.
Your vote could literally swing the election.
According to a VICE analysis of polling data, Tory marginal seats with large university populations in London alone include:
1) University of London (Nutford House and Lillian Penson Hall): Cities of London and Westminster
2) Imperial College London (Beit Hall, Eastside, Southside and Wilson House): Cities of London and Westminster
3) London School of Economics (LSE) (Grosvenor House and Northumberland House): Cities of London and Westminster
4) Kings College London (KCL) (Tower Bridge): Cities of London and Westminster
5) Brunel Unversity: Uxbridge and South Ruislip
6) Middlesex University: Hendon
7) University of Roehampton (Bede House, Elm Grove Hall, Lee House, Newman House and Shaw House): Putney
Vice listed a total of twenty universities nationwide in swing seat constituencies, including: University of Essex, UWE Bristol, University of Exeter and Loughborough University.
Even if your University doesn't feature on this list, your vote still matters. If you're struggling to decide whether to vote at home or at uni, The Guardian has created a tool which helps students decide where to vote by highlighting the constituency that had the smallest vote difference in 2017.
Given that the election falls on December 12th, the day before UCL and many other universities break up, the best way to cast your ballot in your home constituency (if you chose to do so) is by postal vote. The deadline to register to vote by post is 5.00pm, November 26th.
If you haven't registered to vote yet, what are you doing? Do you like having civil liberties? The link to register to vote is right here. Click it. Literally stop reading this article and register to vote now.
In 2017 there was a 64% turnout of registered voters aged 18-24, this was the highest youth turnout in 25 years, and yet it was still around 10 percentage points lower than the turnout of voters aged 45 and over. Young people historically have accounted for a mere fraction of the overall voter turnout, and we have the opportunity to change that.
This election is considered to be one of the most unpredictable in recent history. New salient issues such as Brexit and climate change have altered the political landscape for voters and politicians. Additionally, of course, traditional issues such as the welfare state and taxation remain just as relevant and influential in our everyday lives.
So, whether you're Labour, T-Tor-Tory, Liberal Democrat or a supporter of another party, go out and vote on December 12th.