Meet the netball team about to win Varsity for the third year running
Who run the world? Netball girls
In case you were disappointed by the defeat of the ice hockey team, here is another chance to support UCL in Varsity this year before the much-anticipated rugby match.
The UCL netball team has triumphed at Varsity the last two years, although it is always by a very small margin. In 2017 UCL defeated KCL 33-31 and last year the final score was 44-42.
This year the match will take place on Tuesday 12th March at 8:30pm. Get your tickets HERE!
The UCL Tab decided to pay a visit to the court and talk to the girls who will keep the tension high this year.
C/WA: Chief Stow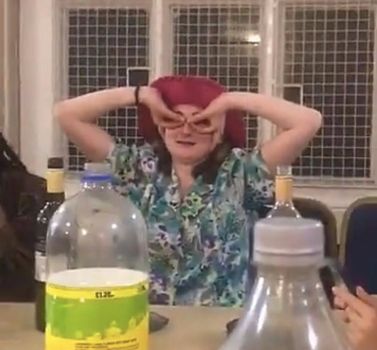 She's described as a "liability when drunk" and when she's not found at the security room at Holborn station she plays C/WA for the team. You can probably guess why she's been named "most likely to get arrested for public indecency."
GS/GA: Liv Jani
Liv has been described to The UCL Tab no less enthusiastically than: 'OHHH PRESIDENT JANI', although that may be attributed to her fashion style. Liv is a Third Year Human Science student. with a habit of forgetting her dress and shorts for training.
The netball team seems full of unseen talents, as Liv is able to "do an expressive dance solo at any opportunity given – the more cameras the better…"
WD/C: Lottie Phillips
Lottie is one of the youngest members of the team, but she has caused an impression. Her description in three words was "F*****g cocky fresher." She's a first year studying Neuroscience so has probably been to more lectures than most second years.
She told the UCL Tab that her worst habit on the court is "finding the floor more often than the ball."
GS/GA: Uwati
The netball team is also filled with knowledge, and Uwati can prove this, being a Masters student. Her course is an MSc in Global Governance and Ethics. However, she knows how to have fun even as a postgrad and is said to be the most likely to "turn up fashionably late for Loop in an outfit she spent £60 on."
GK/GD: Noni
If her picture does not say enough, Noni is described to The UCL Tab as "Vogue at uni." She's on her fourth year of an undergrad in European Social and Political Studies (ESPS).
Joining the artistic talent of the team, Noni's worst habit in court is "breaking into song whenever anyone gets an interception."
C/WA/WD: Meg McKee
Meg really enjoys uni life, as she is described as a "walking UCL Netball Club advertisement." She is on her second year of a BSc and has a habit of 'footworking when standing still' in court.
GK/WD: Maya Kellie-Smith
Maybe it's studying two languages (French and Portuguese) or maybe it's her amazing personality, but Maya is full of stories. Her most famous words are the beginning of every great gossip: "so last night…" Maybe this is why she was named the most likely to "break her nose in Loop."
Maya's worst netball habit is "starting a mid game rant about the umpires."
GK: Holly Hatfield
Holly is on her Third Year of "not Architecture" and to describe herself in three: "lives in kit." Holly has a habit of "being glued to the floor" during matches.
WA/C: Briggs
Briggs is a second year studying Applied Medical Science and is described as "the last woman standing." Keep an eye on her during the match and you may catch her "twerking each time we score'."
GA: Niamh
As a good Architecture student, Niamh will sketch even on the court. She divides her time between the Bartlett, Netball, and the London University Sports Leage (LUSL) or what she describes as "work, netty, work." However, Niamh can also be wild and is said to be most likely to "burn a hole in the dresses."
GD/WD: Immy Stringer
Immy is a first year Medic, and maybe as preparation for her career likes to ask questions 24/7. Immy has also a tendency of 'getting hit by balls in the face' during netball matches.
GA: Kat Arthur
Kat is studying an MA in Human Rights and she is said to be currently 'bleeding purple'. She has also mastered her 'resting netball bitch face' so look out for that in the match.
WA: Sophie Dooley
Sophie is studying Natural Sciences and describes herself as a 'third year fresher'. She describes her worst habit on the netball court as 'climbing mountains' and seems to be able to manage study and sports, as she is described by the team as 'the most likely to graduate'.