This rundown of the most hygienic places to eat around UCL will leave you shook
Apparently the Ramsay canteen is cleaner than Dillons
After recent revelations that the much-loved Waterstones Dillons Cafe has a shockingly low "0 – urgent improvement necessary" score from food hygiene standards, we decided it was time to investigate where the best place to eat around campus is. Or at least, where the Food Standards Agency deems best…
Phineas: rated 4 (good)
Despite the fact that its UCL's most frequented student bar, it appears that behind the scenes Phineas is relatively hygienic – who'd have thought? You can sleep sound at night knowing that your exceptionally cheap double rum and coke has been prepped with the utmost care.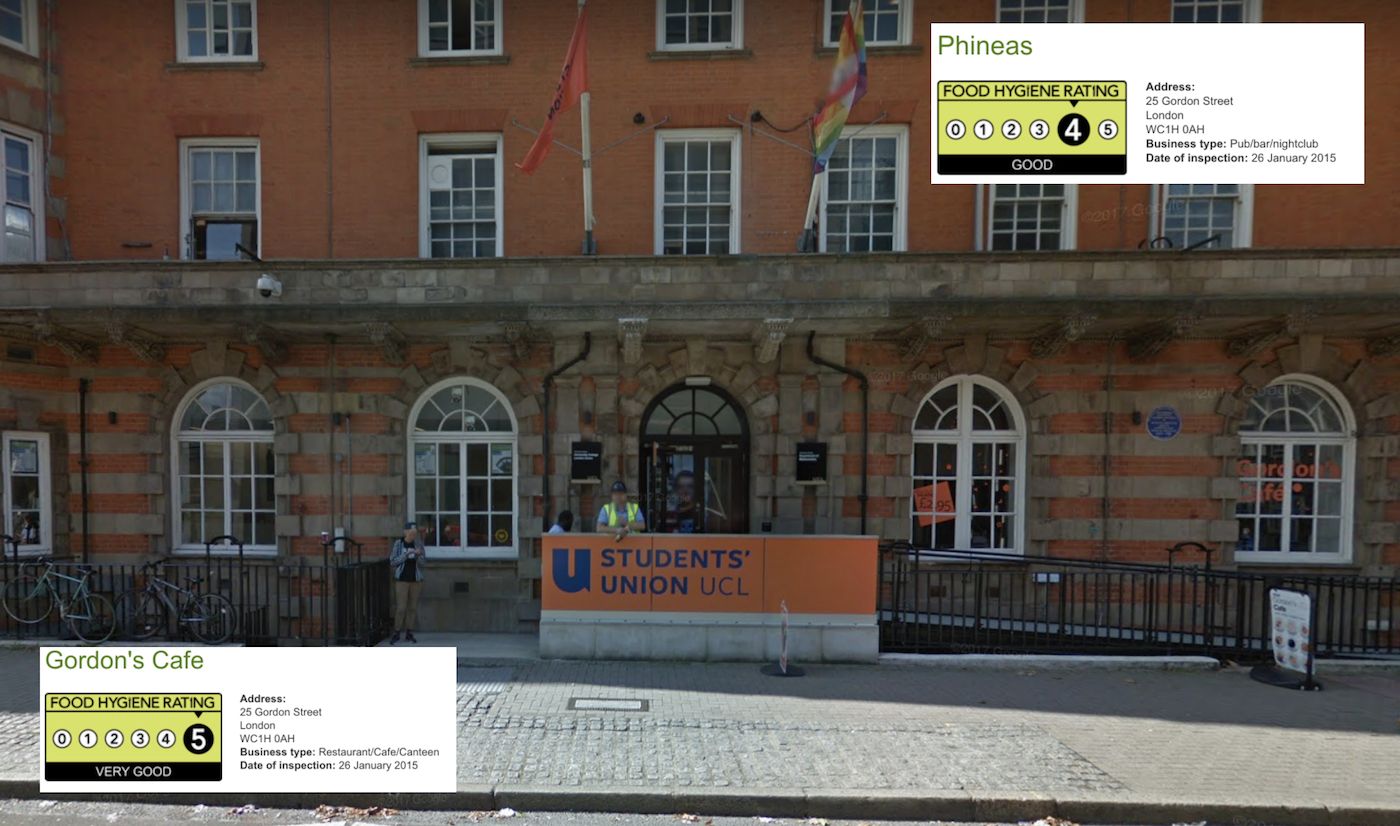 Gordon's Cafe: rated 5 (very good)
Located in the same building as Phineas, this student union-run cafe is performing well in food hygiene and that is all that matters. I suppose when all you really sell is coffee, boxed sandwiches and the occasional muffin, there's not all that much to be hygienic about.
Icco Pizza: No rating
A favourite of many UCL students, the ridiculously cheap pizza shop actually has no hygiene rating. The Food Standards Agency lists Icco as "awaiting inspection" – so keep yours eyes peeled and hope for the best.
Print Room Cafe: rated 3 (generally satisfactory)
Hardly shocking – the Print Room is the definition of average when it comes to the food, decor and music, so why not the hygiene standards as well?
Japanese Canteen: rated 4 (good)
Losing points only to cleanliness of the building, the Japanese Canteen rates highly on food hygiene. Keep enjoying your katsu curry, with the reassuring knowledge that you're highly unlikely to die from eating one.
Ramsay Hall Canteen: rated 5 (very good)
For anyone who has ever stepped into Ramsay Hall – or for that matter, even heard of it – you will know that it has a notorious party reputation. So it might come as a shock to know that when Ramsay's canteen was inspected in September 2017, they scored highly on everything from food handling to 'cleanliness and condition of facilities and building'. Quite the pleasant surprise, considering the state the freshers who descend upon its common spaces each night leave them in.
The Refectory: rated 4 (good)
This is perhaps a ranking not to be taken at face value, since the last inspection was undertaken in 2012 before the Refectory's reopening and it's basically a different place now – but we have nothing better to go on. That is, until the next inspection…
Loop: rated 5 (very good)
It seems that the only reason to vomit after a Sports Night well-spent is overindulging, because Loop has a sparkling hygiene record. The venue was last inspected in 2015 on a Wednesday which explains the great hygiene ranking – experiencing the aftermath of Sports Night might have led inspectors to a completely different conclusion.