The pro-Palestinian activists and Friends of Palestine have since defended their actions
Friends of Israel and UJS have condemned their actions
UCLU Friends of Israel Society and the pro-Palestinian activist group behind the protest have both released statements this afternoon following last night's confrontation.
A talk by Hen Mazzig, an Israeli state official and former lieutenant in the Israeli Defence Force was disrupted by pro-Palestinian activists, leading to the venue being changed three times in the course of the evening.
UCLU Friends of Israel society (FoI), who hosted last night's talk have since condemned last night's demonstration, claiming that the right to free speech was "seriously compromised". They also expressed "disappointment" that the activists chose to use "intimidation" leaving many of the attendees "shaken".
The Union of Jewish Students (UJS) has released a statement in support of FoI calling on UCL and UCLU to respond to the actions o
In the statement that was released this morning, UJS claim "there can be no excuses for the events that took place last night" for what they cite as "a wall of intolerance and intimidation aimed at shutting down free speech".
UJS has also called for further actions, in the statement they claim it is "imperative that UCL and UCLU take action following last night's event".
Since then, the pro-Palestinian activists have denied the protest was a threat to students' right to free speech but were in fact a peaceful exercising of their views.
In a statement released on Facebook, the group claim that it was a non-violent protest of activists "exercising their freedom of expression" and that "attendees were free to leave at any time".
UCLU Friends of Palestine Society have also released a statement in support of last night's protest, claiming that students had the right to protest considering the "grave violations of international law" that the state of Israel has committed in the Palestinian territory.
Statements from all four groups concerned as well as UCL, have been printed below:
[UCL Friends of Israel Society]
"On Thursday night, the right to freedom of speech by UCL Friends of Israel's was alarmingly, seriously compromised. Student protestors did their utmost to ensure that Hen Mazzig, a well known prominent Israeli peace activist, was not given a safe platform from which to share his experience as an intermediary between Palestinians and Israelis.

"We are extremely disappointed that instead of an evening of constructive dialogue with a man, deeply sympathetic to the Palestinian cause, The Palestinian Society chose to use intimidation against those wishing to attend – students both Jewish and not who support Israel's right to exist and wished to learn more were left shaken.
"Police were forced to escort attendees out of the building for their safety, amongst other ongoing proactive security measures. It goes without saying that moving forward a concerted effort is required to safeguard students' freedom of self-expression and freedom of speech in an environment where debate and dialogue should ensue without threat or fear.

"We are grateful for all the support received from Israel's supporters across the globe who understand that the only way forward is to create secure platforms where dialogue can take place that facilitate towards creating mutual trust and peace for both the Palestinian and Israeli people."
[UJS]
"There can be no excuses for the events that took place at UCL last night. The fact that such violence and hostility took place only 9 months after the incident at KCL, with police having to once again be called, is an absolute disgrace. UCL Friends of Israel were simply trying to engage students in discussion on Israel, but instead were met with a wall of intolerance and intimidation aimed at shutting down free speech. 

"It is reassuring however that, despite the acts of the protestors, the event went ahead as planned with around 50 engaging in peaceful and positive discussion on Israel and Palestine. We are also glad to say that all students at the event were reported safe. 

"We would like to commend the organisers of last night's event for their commitment in ensuring the event went ahead as planned. Despite the hostility, Jewish and non-Jewish students alike, across the country, will never stop engaging in constructive debate around Israel/Palestine. 

"It is imperative that UCL and UCLU take action following last night's events and we will be working with UCL Friends of Israel to ensure just that. Whatever your position on the Israeli-Palestinian conflict, there is no place for intolerance and intimidation like was seen last night at UCL on university campuses."
[Activist group]
"Hen Mazzig was an officer in the Israeli military, serving for five years as part of the Coordinator of Governmental Activities in the Territory unit. The protest yesterday was organised by students in response to the UCL decision to host Mazzig despite rejecting the invitation approval form due to a breach of procedure. "We'll have dialogue with students, but don't ask us to debate officials." a student commented. "Half of the people there were middle-aged. This is our campus. They do not represent the student body."

"Around 6:30, students wearing kuffiyehs stood in front of the doors to the lecture theater in which the event was scheduled to take place, efficiently blocking entrance to the room. Eventually, protesters and attendees entered and rushed to the stage, holding Palestinian or Israeli flags while chanting at each other. Police showed up but did not find grounds to intervene. When attendees of the event went to another building with Mazzig, students showed up and protested outside the room. Police presence was heavy at the doors, and attendees were free to leave at any point.

"Two students entered through the window and lay themselves down peacefully and silently in protest on the floor while facing the outrage of the attendees. When Mazzig and the attendees left the room after more than one-and-ahalf hour, students locked arms and chanted "shame" as they left. A student participating in the protest stated: "This was a nonviolent protest. We were exercising our freedom of expression, a basic right that is being denied to Palestinians living under occupation. No one questions the ones who showed up with Israeli flags to shout at us and insult us. And they are not students." Another student commented: 'Everything was documented'."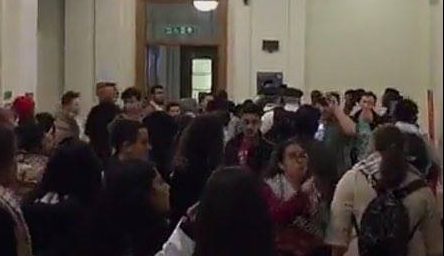 [UCLU Friends of Palestine Society]
"Last night, a large and diverse group of students staged a protest against Hen Mazzig, a former lieutenant in the Israeli army. UCLU Friends of Palestine would like to make clear that the protest was not organised on behalf of the society, or affiliated to the society in any way.

"Hen Mazzig was a 'humanitarian affairs' officer in CoGAT, Coordinator of Government Affairs in the Territory, the Israeli state body responsible for the day to day management of the military occupation, including demolition of Palestinian homes, forced displacement, restrictions of movement, and is headquartered in illegal settlements. These are grave violations of international law, and it is reasonable for students to protest an event at which these crimes are whitewashed and defended.

"We support the protest which took place for these reasons. We also believe that all groups reserve the right to free expression as long as they abide by the UCL code of practice on freedom of speech and remain within the law. This allowed the event as well as the protest to take place.."
UCL have also released a statement:
"UCL and UCLU do not condone acts of intimidation or violence under any circumstances and, as a university with a longstanding radical history, we fiercely support the right to exercise free speech within the law.

"The freedom to debate and challenge views is fundamental to the nature of a university. We also acknowledge the right to peaceful protest and we put the safety of our staff and student community at the heart of everything we do.

"On 27 October, we did all we could to ensure that the UCLU Friends of Israel Society event could go ahead at UCL, working with our Security team and the Metropolitan police.

"It was widely advertised and open to the public, and as a result a small but noisy group of protesters attended and occupied the rooms where the event was originally meant to take place. UCL Security found an alternative location and ensured the event went ahead safely. We regret protesters took measures to try to prevent the event from happening but stress that the protest was non-violent.

"We are aware that the Metropolitan police attended following accusations of assault and support them fully in their investigations. As this was a public event, it is unclear how many UCL students were present but we are instigating an enquiry and we will take appropriate disciplinary action where there is clear evidence that students may have breached our disciplinary regulations.

"Both UCL and UCLU have a code of practice governing the participation of external speakers at events held at UCL. It is clearly stated in UCL's code of practice that the premises will not be denied to any individual on any ground connected with their beliefs. The code also requires speakers to behave lawfully and avoid any action or language which is offensive, provocative or a clear incitement to violence."