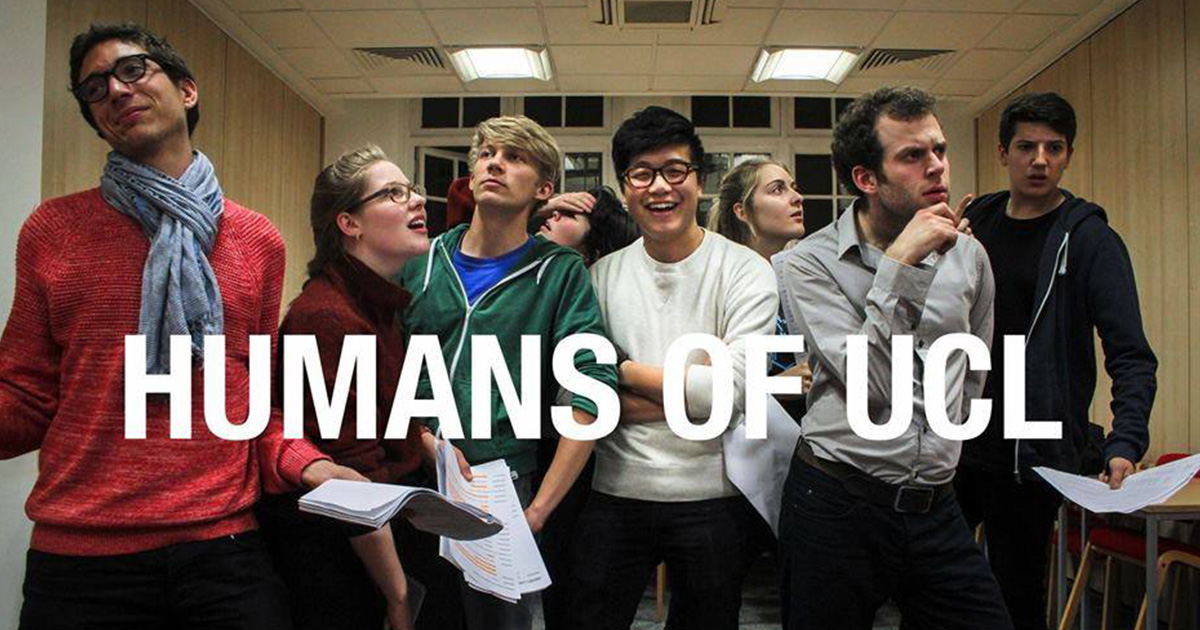 Who is behind Humans of UCL? We spoke to them
They're not just walking cameras
UCL brings together over 30,500 students from across the globe. Dashing between lectures we bundle past one another, brushing shoulders with people from all walks of life.
The hysteria means it's easy to be absorbed by the buzz of life in the capital, but have you ever stopped to think about the fascinating stories that lie behind those we never afford more than a passing glance? We spoke to the team behind UCL's Humans of, led by driving force Jose Hong, about their experiences meeting some of our most remarkable individuals.
When (and why) was the Facebook page started?
"The page was started in the 2012/2013 academic year to record the stories of all who were in UCL."
What inspired you to set it up and carry it on?
"I joined the team in the 2013/2014 academic year and drove a revamp of the page to be in its current form. I come from Singapore, and as an international student at London's global university, this page was my way of truly immersing myself in the spirit behind that name, finding out the stories of all who congregate here in this insanely multinational place."
Who runs it? Tell us a little about the team behind it.
"There are now five of us in the main team. We're all undergraduates and come from a wide range of academic and cultural backgrounds, which helps so much with the diversity of the page."
What are the challenges you've faced running the Facebook page?
"Definitely coming up with a proper working schedule. It's hard because we don't have regular meetings like a typical society, yet we need to collectively show something every single day – though things are now a tad messy while we're getting a new team for the new year."
How do you find the interesting people you feature?
"Most of the time you just walk up to a complete stranger. It's our firm policy absolutely everyone has an interesting story, and it's up to us to bring that out. You sometimes interview people you know, and sometimes you message society and events leaders, or are messaged by them, but we predominantly speak to as many strangers as possible. Most like our project enough to want to be on it thankfully."
What do you look for in an interesting story?
"Something that makes you want to smile, pause to think, or just read it over and over again. It's hard to be specific really, because we're going for the human angle, and the range of what we as people experience is so broad."
Any disappointments?
"Nobody has been a disappointment or was uninteresting. If their story didn't attract much notice that's only because we didn't tell it well enough."
Any plans for the future of the page?
"A few of us are in our final year, so we're getting a new team together. We're also going to create some structures and processes to allow this page to exist even after its members graduate. As we aim for quality rather than quantity, and as it's easier to manage a small team, we're not really aiming for expansion."
Share with us some of the most interesting people you have come across.
"This guy shows us there is hope if you think what you're doing now will determine your life."
He said: "Instead of going to grad school I went and drove off every state in the US except for Hawaii. I lived in a car with a hippie, we slept in the trunk together and we frequently slept in cornfields with our sleeping bags and we were regularly waking up to the police pounding on our door. We did that for almost two years and then I realised I needed to go back to school, except I couldn't go to grad school because I didn't have the grades. I then decided to be creative and write a science fiction story as my admission essay and I sent them around and nobody accepted me except for one school that apparently thought it was okay to submit a science fiction story for a cognitive neuroscience program… And now I'm teaching here."
Are there any other stories which stick out?
"If you want to be inspired by the love of family, this story is right up there."
She said: "I'm a transgender woman, and the most difficult period of my life was my childhood and early teens. I grew up in Italy and went to a Catholic school, and because I didn't conform to a male stereotypical appearance, leaving the door of my house would immediately equal discrimination in all kinds of ways like being laughed at, pointed at, and sometimes beaten, so it was horrible. Even adults and teachers, those who were supposed to be in charge of my education, relationships and socialisations, were not very supportive and understanding.
"But the love I received from my family was what saved me. My father was thoroughly supportive throughout my life and all the stages. He always said: 'I don't think I have the intellectual instruments to understand why you are like this and why you need to do this. But if this makes you happy, and if you feel that you need to do this, then you'll have my unconditional support because I'm your father, you're my child and I want you to be happy. So whatever makes you happy, I will try to do it for you and to be there for you.'
"My family's support and love made me understand that I was not wrong. It gave me the strength to go on and state my own identity instead of running for cover and internalising it and hating myself. I could be loved and accepted for who I was although I was different from the other children, and I was as deserving of love and affection as everybody else. That intimate message stayed with me although the external world tried to make me feel like I was an abomination."
This guy is my recent favourite:
"I like speed. I like to run. A lot. I run for three hours at a time, and then do two 100-metre sprints afterwards. I can run 100 metres in 11 seconds on a good day. I really enjoy the thrill of it. It's a lot different to sitting behind this desk like I've done for seven years. And it's a lot better than getting fines for overspeeding when I drive. "
You can like Humans of UCL on Facebook, here.