'Kill all white men' Bahar Mustafa has resigned in a row over bullying
She's finally quit, can we stop droning on about it now?
Controversial Bahar Mustafa, the Goldmith's Diversity and Welfare Officer who tweeted #KillAllWhiteMen earlier this year, has resigned from her position claiming it's for "preservation of my mental and physical health."
You'll no doubt remember in April when Bahar set up an anti-racism event which said "if you are white, please don't come", which preceeded an investigation and the SU officer being charged with sending malicious communications after complaints she'd used the hashtag #killallwhitemen.
The case was dropped two weeks ago because of lack of evidence.
Bahar went on the defensive, describing the media storm as a "witch hunt" and claiming, "I, an ethnic minority woman, cannot be racist or sexist towards white men, because racism and sexism describe structures of privilege based on race and gender."
Despite fears she may lose her job, Bahar went back to work and the dust seemed to settle, nobody cared anymore and things went back to normal.
However, earlier this week, rumours started to circulate that the SU president, Adrihani Rashid, had resigned from her £22,000 per year role after being bullied and harassed by fellow sabbatical officers, Alex Etches and Bahar Mustafa.
Sources claimed Bahar and Etches created a "hostile" work environment and undermined Rashid, "badmouthing" her to otther students.
Once again, Bahar was on the pages of the national press who were desperate to quench their readers need for controversy: what would've been a complete non-story otherwise was made in to a frenzy yet again because of Bahar's dubious history.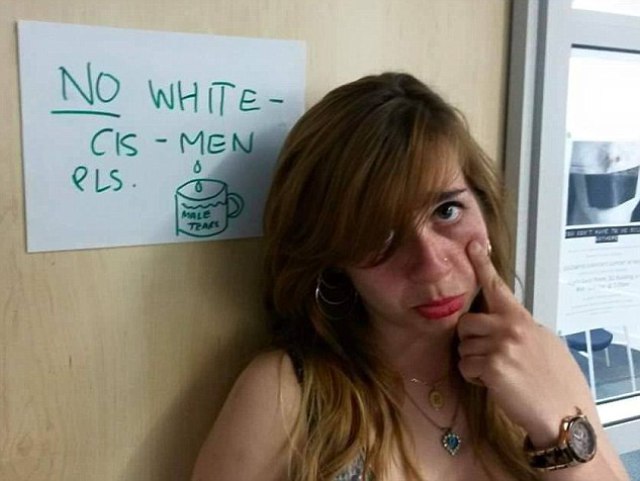 Well now, it seems, she's hit breaking point. After officially resigning on Friday, she told The Standard: "I am resigning for the preservation of my mental and physical health.
"I am still committed to the independent investigation which I am confident will shed light on the structural issues that have led to the mental and physical breakdown of all sabbatical officers."
An independent inquest has been launched in to the claims, and when that climaxes I hope we can leave the whole saga behind us. I'm bored, she's bored, you're bored.
Bahar has become a brand, and justified or not, it needs to end. She's the go to girl for anyone that hates third wave feminists, LGBT+ campaigners and Jeremy Corbyn. The jewel in the crown of the SJW haters and a buzz word for anyone complaining about sabbatical officers.
But now she's gone, so let's give the topic a break, we all need one.