How to nail your Tube journey
As freshers descend on the big city for the start of their new lives, the Tube can be a daunting concept. Even for the most hardened of Londoners the tube poses a labyrinthian obstacle, full of demoralised commuters, BO and artificial lighting.
Nevertheless, we've got some nifty tricks to give you a helping hand.
Apps
If you eagerly describe yourself as an "app guy" look no further than Citymapper. Not only does it give you the quickest routes possible, a recent update tells you which carriage to sit in for the swiftest exit. Also look at getting an iPhone 6, because Apple Pay.
Synching a Seat
At any platform – though especially the smaller, older stations – look at the yellow border paint and see if it's faded in any places. Chances are that's where the carriage door is going to be aligned. Worn down by herds of fellow travellers. Simply stand there and when the train arrives you'll be first in line for that coveted seat. Let's face it; you've probably had a longer day  than the OAP behind you.
If you're already on the Tube, keep an eye out on those who seem to be getting their bags on, zipping their coats up or putting phones in their pockets. They're most likely preparing to get off at their next station, so you know which seats are up for grabs.
If you're really desperate, your best bet is to get on at the station before a busy one. For instance if you're at the main campus, getting on the train at either Warren Street or Euston Square will greatly increase your chances than if you try at Euston or King's Cross.
If you think a few tubes may go past because it's too busy to get on, take a stop back in the opposite direction and get on at the next station coming back the same way. This will only take around five minutes and could save you loads of time, sweat and effort.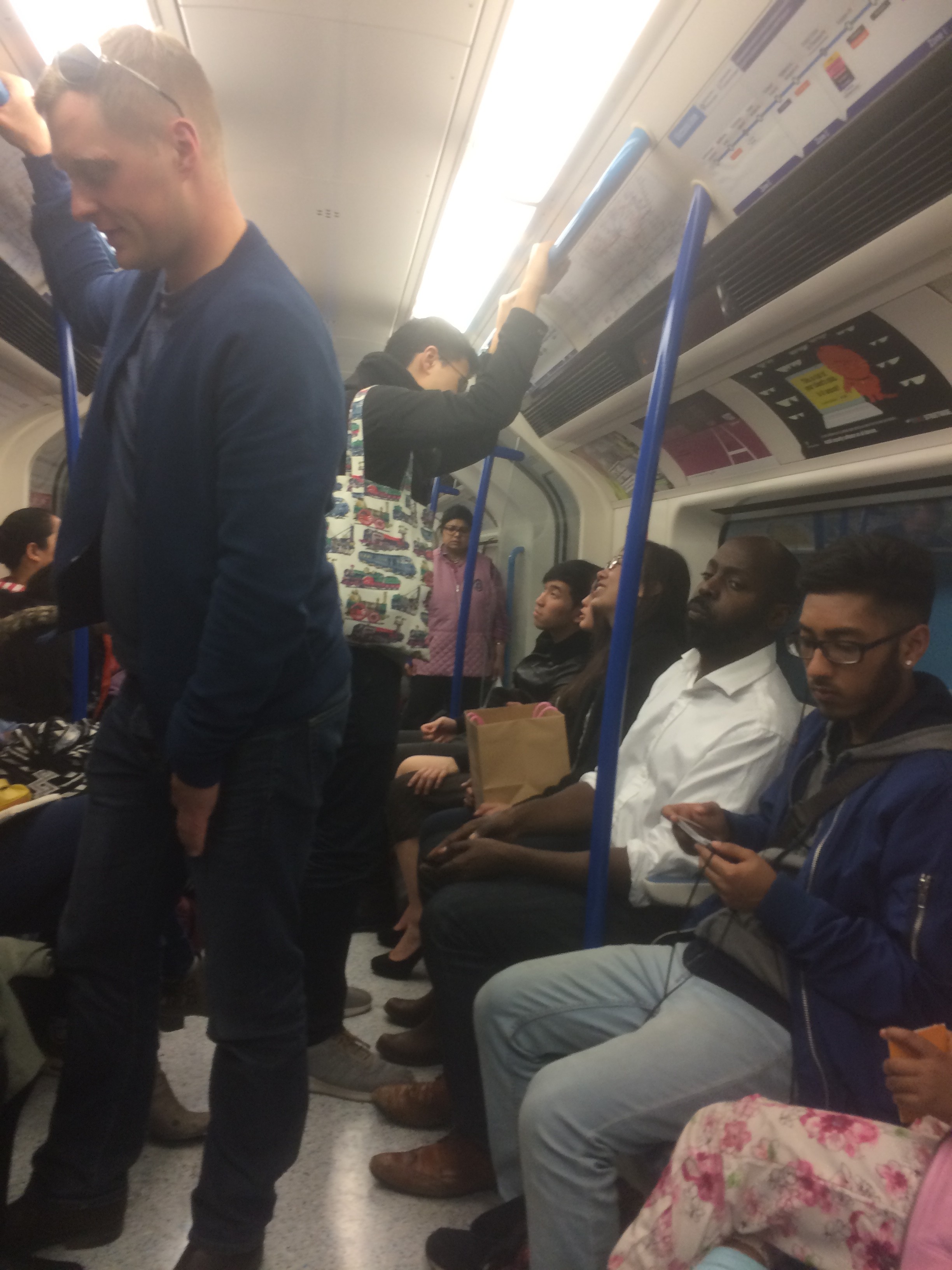 Nailing the walk of shame
If you ever find yourself without any money on you at all, you can still use the Underground. Head to the nearest ticket office and explain your situation, you'll then be given a form to fill in which basically means they'll forward the charge to your address. It's good as a one off get-out-of-jail-free card, but it is at the employee's discretion and the form takes a while to fill, so it's not ideal if you're in a rush.
Sneaky shortcuts
King's Cross St.Pancras (Northern to Piccadilly)
As you alight from the train head towards the front of the train and there's an almost deserted staircase right ahead that takes you directly to the Piccadilly line (turn left at the end of the passage) in under 30 secs. This saves following the  triangular route that takes you back up to the ticket hall before leading you back down to the Piccadilly line.
Kings Cross St. Pancras (Victoria to Train station)
A slightly counter-intuitive one, instead of following the signs for "Trains", head for "Way Out: Euston Road" which takes you up to the Burger King right opposite King's Cross. From there it's simply crossing the road and going through the main entrance. The sign-posted route is always crowded with commuters from other tube lines heading towards the same place.
Make sure you follow signs for the exit at Euston Road though, the other exits take you on the same merry route towards the train station.
Leicester Square (Piccadilly to Northern) 
At the end of the Piccadilly line (on the Southbound go left) there's a similar staircase to the one at King's Cross that leads you to the Northern platform. However this one is signposted which makes it a hell of a lot easier to find.
Oxford Circus (Victoria to Central)
Apparently the advertised route to change between these lines, takes 232 steps – someone counted. But if you're at the back of a northbound Victoria Line train, or the front of a southbound one, there is a cheeky passage that only takes 156 steps down to the Central Line platforms.
Granted, it's the tunnel that people walk up from the Central to the Victoria, but it's still quicker even when there are people coming towards you, and there's no law saying you can't do this.
Chirpse on the Tube
Just don't.