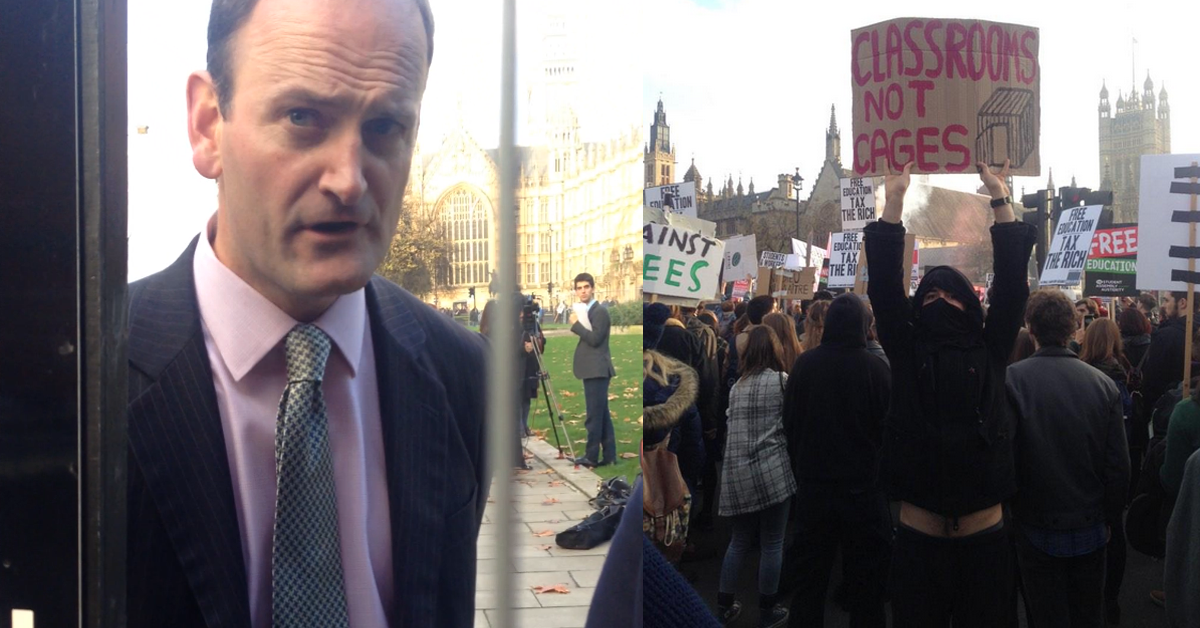 EXCLUSIVE: Renegade UKIP MP slates 'thuggery and violence' of Free Education demo
Douglas Carswell spoke yards away from protesters denouncing 'racist UKIP'
exclusive
UKIP MP Douglas Carswell today denounced the "thuggery and violence" of students who stormed Parliament Square – just moments after his party's Education spokesman publicly backed them.
Carswell said in an interview on Westminster's College Green that protesters opposing tuition fees were not advancing "democracy".
His damning assessment came moments after UKIP leader Nigel Farage announced his party's backing for the Free Education protesters.
Watch Carswell denounce the protesters here:
The MP for Clacton exclusively to the London Tab as hundreds charged Parliament Square.
Carswell said: "You're probably not helping the case by doing that.
"I think violence and thuggery don't really advance arguments in a democracy.
"You don't I'm afraid have my support for doing that."
His words came as protesters listened to a speech on the dangers of "racist UKIP" and even held burning effigies of party leader Nigel Farage.
Nigel Farage had tweeted a statement backing the demonstration from Paul Nuttall, deputy leader and UKIP's education spokesman, just half an hour earlier.
Organisers said some 10,000 students marched on Westminster for the abolition of tuition fees. Eyewitnesses say the figure was closer to 5,000.
Riot police later entered Parliament Square while demo organisers say there have been arrests outside former Tory Party HQ at Millbank.
Send in your pics and stories to [email protected]