Labour MP slams UCL over modern day 'slavery' at Qatar campus
Shadow International Development Secretary urges uni to act on forced labour and human rights abuses on Gulf campus
The Shadow Secretary for International Development has written to UCL urging the university to act over reports of forced labour and several other workers' rights abuses at its campus in Qatar.
Alison McGovern MP, who studied Philosophy at UCL, has also arranged to meet university chiefs to discuss evidence published by the International Trade Union Conference, the organisation representing workers' rights internationally (ITUC).
Its report says workers at Education City, where UCL's overseas campus is based, are subject to human trafficking and forced labour.
Workers are also paid lower than expected wages, live in cramped conditions and have had their passports withheld. The report examined cases of workers paid less than £15 per day and concluded Qatar was "a country without a conscience".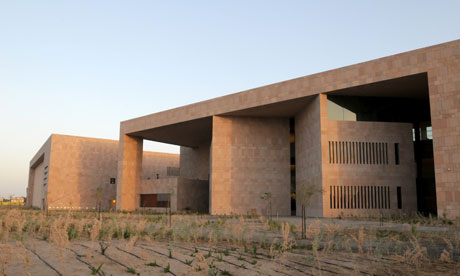 McGovern told the London Tab she was unsure if UCL knew about workers' rights abuses prior to the report, but that companies should conduct internal report to "stop slavery in (their) supply chain".
The 'kafalah' (sponsorship) system practised in Qatar binds workers to their employers and limits their mobility and labour rights. Critics denounce the system as encouraging slavery.
McGovern wrote: "UCL should be doing all it can to stamp out in any location that it is functioning, even if the individuals concerned are not direct employees of the college."
In her letter to uni chiefs, the Scouse MP also added: 'as an alumni of UCL, I have a particular personal interest in this instance'.
UCL has said it has "no direct influence" on the employment arrangements of the Qatar Foundation and that it would be "inappropriate" for the university to review the employment arrangements of other organisations.
However, Frances O'Grady, general secretary for the Trades Union Congress said: "UCL can't just wash its hands because the workers aren't directly employed by them."
The reported practises violate International Labour Organisation standards and even those published by the Qatar Foundation, who funded Education City. The education hub houses overseas campuses for other universities including Georgetown and Cornell.
Arman Nouri, a 2nd year Anthropology student and former Qatar resident, commented: "A radical re-think of the 'kafala' sponsorship system is the starting point, but greater accountability must also be introduced so that UCL cannot turn a blind eye to something they claim to have 'no direct influence' over".
Meanwhile, Jonny Richmond, a 2nd year Classics student, commented: "It makes me feel profoundly uncomfortable to be going to a university which in effect sponsors slavery".
UCL Qatar opened this September and offers illustrious courses including Librarianship, Museology and 'Disaster Preparedness in Museums'.
The university has come under fire from the LGBT community for compromising on its liberal values in Qatar.
Qatar punishes sodomy with up to 5 years in prison and retains capital punishment for apostasy.