Top Three: London's Hidden Gems
From food to film, Rachel Choy takes a look at some of London's best kept secrets
Auction house
Boris Bike
cinema
food
london
Market
1. Coronet Cinema
This historical, independent movie theatre is situated in the lively and romantic area of Notting Hill. It was originally a theatre of the arts, housing a proscenium arch stage, and auditorium boxes. However this transformation into a cinema is bound to deliver a unique experience. Better, and cheaper than attending the dull overcrowded likes of 'Vue' and 'Odeon' who've both had an effect on the downfall of independent movie theatres across the country. The Coronet was truly made legendary when one of the scenes of 'Notting Hill' was filmed there. However, the major attraction is the affordability of this cinema. The team at Coronet do a discount every Tuesday evening, where tickets only cost £3.50! 'The Grand Budapest Hotel' is premiering on the 7th of March, and what better place to watch this quirky comedy drama than this place. 
2. Beigel Bake (Brick Lane)
Brick Lane, an ideal hot-spot for locals and tourists who love their wardrobe shopping! Whilst strolling through this vibrant hub of fashion, music and art one may get a little hungry. Try dodging the P.R's who claim that they present to you "The best curry house in Britain", (that's every curry house on the strip)
Eventually you'll reach  'Beigel Bake'. What do I love most about this little bakery? Almost certainly their super-fast service and wonderful, moist salt beef bagel (£3.70) (except you have to pronounce it 'bei-gel') and also the fact that they're are open 24 hours a day to accommodate for bei-gel lovers like myself. If you have serious sweet tooth, then their New York cheesecake is ideal as a little pudding. Don't get confused by the knock off one which has a white sign right next door, and never, ever, forget to add mustardl! Enjoy. 
3. Borough Market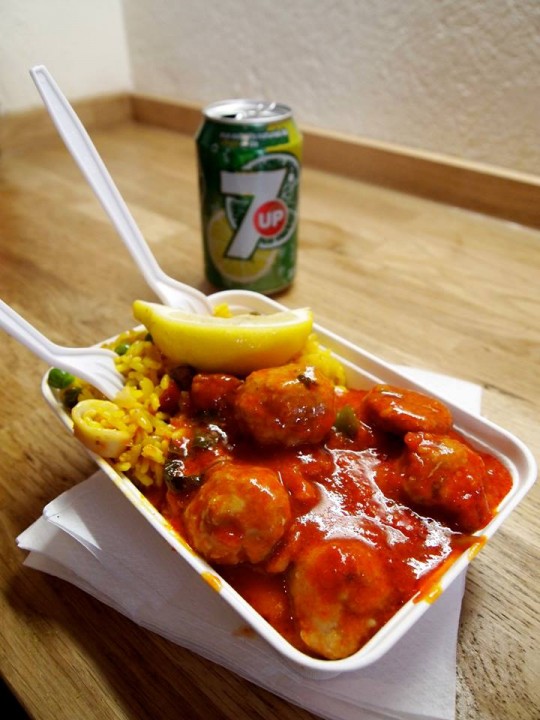 Photos taken by: Rachel Choy
Borough Market, one of the most famous food markets in London, with two huge open entrances, a number of stalls selling both cheeses and bread, and others selling Paella and Thai Pad Thai. The fresh, organic cheese and bread might be a little pricey for students but an important (slightly scabby) tip when visiting Borough market is go crazy on the samples.I might even suggest borrowing your mums Tupperware box.
There's one burger stand that sells 'Sausage on A Stick' for £1.50. Simple, cheap and tasty. Sorry about the lack of photo evidence, I got greedy and completely forgot to take photo.