Unbelievable Jeff! 3 Crazy UCL FIFA Forfeits
These days, no FIFA defeat shall be left unpunished…
fifa
fifa 14
fifa apology
fifa forfeits
gaming
ucl
The latest in everybody's favourite football-simulation series, FIFA 14, was released on 27th September 2013 – just in time to disastrously coincide with the start of your new academic year at UCL…
Here at the Tab we're nothing if not incredibly helpful, so in an effort to at least momentarily discourage you from suckling at the life-giving teat of remote-control football, we've decided to compile a few of the most horrific, humiliating and downright hilarious FIFA forfeits that students at UCL have experienced.
For those new to the dark, sadistic world of the FIFA forfeit (a.k.a. the FIFA apology), the basic premise is this: lose a FIFA match by a certain number of goals, and you're expected to recompense for your utter uselessness by posting a sincere public apology on Facebook, or maybe hand-preparing a delicious sandwich for the exalted victor.
In fact, this thing goes deep; there's literally hundreds of different rules for FIFA apologies that range from how many goals you score, to which goalkeeper you save penalties with in the match.
But here are some FIFA forfeits from UCL students that truly went above and beyond the rulebook in terms of pure humiliation and punishment.
Freddie, 2nd year
"I was playing FIFA World Cup edition 2010 at my friend's house – we had a one off match where I was the Faroe Islands (with half a star) and he was the mighty Netherlands, ranked the full five stars on FIFA 13.
I beat him 3-1, then joked he should write a letter of apology to my mum for having wasted my time. A week later, a hand written 2 page apology complete with a single flower arrived for her."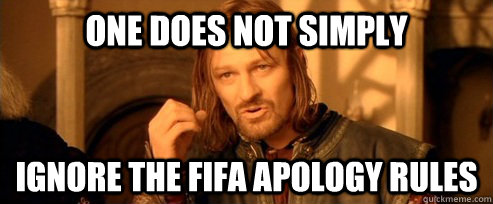 Oskar, 2nd year
"Last year my friend and I were walking through Ramsay and heard someone scream so loud, it scared the shit out of us. We put our heads round a door that was open to see what was going on and saw a guy we normally sat with at dinner with blood pouring out of his ear.
Turned out he'd lost 10-1 to someone on FIFA and had to let the other guys pierce his cartilage (top part of his ear) with a piercing gun as his forfeit. It hurt to look at it."
And finally, check out this gem of a forfeit video of TabTV editor Angus having to give a Domino's pizza guy a "run-down" of his abysmal FIFA performance:
Best of luck to anyone who will now have to undergo a FIFA 14 forfeit this year – perhaps you may be forced to send in an "apology article" to be posted on the London Tab.
With thousands of unique readers a week across the Tab, it could be the perfect public punishment…