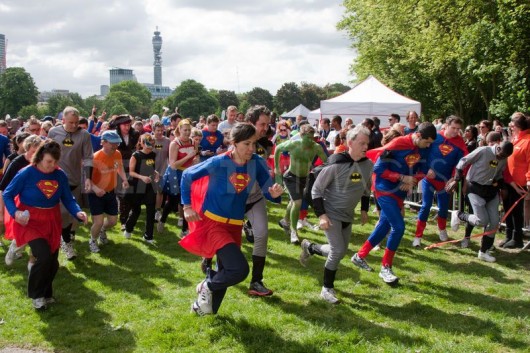 I'm No Mo Farah…
Alexandra Simpson shares the ups, the downs and the downright dirty side of training for a half marathon.
Exercise: some of us were born to do it! I usually want to die at the prospect of it. Yet in less than a month, I'll be running my first half marathon for charity. Cue an all-consuming wave of terror…
Why am I doing it? That's the question that usually begins to nag at me approximately 5 minutes into a run. Having traded the warm solace of my pyjama bottoms for my unwelcoming thermal leggings and a particularly ugly pair of trainers, getting going is always hard (and keeping going for that matter). For 6 months, come rain or, urm, rain, I've forced myself out onto the city streets in a clumsy attempt to get myself 'match fit'. I've caked myself in mud in Regent's Park, been overtaken by many-a-60 year-old woman and even ran 8 miles looking like Gene Simmons from Kiss (liquid eyeliner and rain: terrible combination). With less than three weeks until D-day, my short legs, half-dead iPod and ugly pair of trainers are just about ready for the challenge. But it hasn't been a smooth ride…
Running has its glamorous side: glutei that defy gravity, legs eleven and the immediate respect and admiration of everyone around you. Nonetheless, it can also be as unglamorous as Boris Johnson after a night out: black toenails, the insatiable and inappropriate need to exclaim ooh! each time you get up from your chair in the library and blisters deep enough to swim in, to name but a few.
Despite sounding like a twisted scene from one of the Saw movies, running remains rife among health freaks, philanthropists and students alike. If you're thinking of joining the crazy, cartilage destroying cult, here are a few things to consider:
1. Trade the treadmill
With Regents Park (quite literally) around the corner, don't waste your time running on the spot in the gym. Make use of nature's treadmill: breezy, beautiful and not showing Flog It! on repeat…
2. The running/philanthropy combo
If you're looking to start running and stay running, commit to a race: that way, you'll look like a heartless moron if you pull out and will actually have to put some effort in. Plus, it's a rather kind thing to do.
3. Shop wisely
For all your running needs visit Runner's Need. Yes, they'll film you running on a treadmill (a tad awkward until you build up a rapport with the salesman), but you won't leave the shop with anything less than the perfect trainers for you. With shops in Camden and King's Cross, they're geographically student friendly (even if their prices aren't always).
Gore and reluctance aside, I'm secretly quite excited. I'm running on behalf of a wonderful cause, so if your student loans will allow it, please click here and sponsor me.